The 8 Best Wine Tumblers
Enjoy your vino on the go.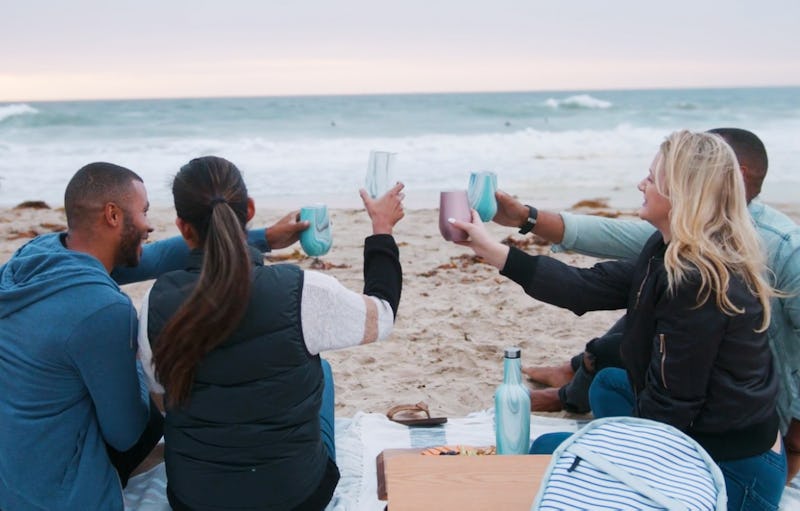 Amazon
We may receive a portion of sales if you purchase a product through a link in this article.
For taking your beverages on the go, wine tumblers are the perfect alternative to fragile wine glasses that can easily shatter. The best wine tumblers are vacuum-insulated and ideally made from durable stainless steel. You'll also want to consider a tumbler that is either splash-proof or leakproof, so you can take them anywhere without worrying about spills.
When shopping around, don't settle for anything less than double-wall insulated wine tumblers. Double-wall insulated cups have two layers of stainless steel separated by air, so it's harder for heat to enter or escape from your cup. This makes them the best for regulating the temperature of hot and cold drinks. Some tumblers even have triple-wall insulation to keep both hot and cold drinks temperature-regulated for even longer, which is nice to have if you're willing to spend a little more
The highest-quality tumblers on the market are kitchen-grade stainless steel — most of which have rust-resistant properties so they'll last longer. Since most tumblers will feature some plastic in their design, particularly in the lid, keep your eyes peeled for BPA-free and dishwasher-safe tumblers, as well.
Not all wine tumblers are leakproof, although any with a lid should be at least splash-proof. For this measure, I combed the reviews to ensure that reviewers agreed each tumbler below is leakproof for maximum protection.
Shop The Best Wine Tumblers
In a hurry? Here are the best wine tumblers.
With all of this in consideration, here are some of the best wine tumblers perfect for any occasion — whether you're exploring the outdoors or simply relaxing on your couch.
1. Overall Best: BrüMate Uncork'd XL MÜV
The BrüMate wine tumbler separates itself from the rest in every category. It is made from durable and rust-resistant stainless steel. The BPA-free plastic lid has a magnetic locking mechanism to prevent spills, so this is about as close to "leakproof" as you'll get. Most impressively, it's triple-wall insulated rather than double, which will keep your wine colder longer than any other tumbler on this list. And while the amount of your pour is at your own discretion, this is a generous 14 ounces, making it big enough to hold over half a bottle of wine. It's also entirely dishwasher safe and comes in 34 vibrant colors and patterns for you to choose from.
Material: Stainless steel | Size: 14 ounces | BPA-Free: Yes | Dishwasher Safe: Yes | Color Options: 26
Positive Review: "I love the idea that drinks stay cold with or without ice. The tumbler doesn't sweat when containing ice. Perfect for keeping temperature correct for whatever wine you may be drinking."
2. Best Wine Tumbler Set: Simple Modern Wine Tumbler and Bottle Gift Set
Looking for a complete set? This tumbler set from Simple Modern includes two 12-ounce tumblers and one large 25-ounce tumbler. Easily transfer your favorite wine into the tumbler for up to 28 hours and it will stay chilled. Each of these tumblers is double-walled, vacuum-insulated, and dipped in copper — which reduces the transfer of temperature. The set comes with splash-proof lids made of Tritan™, a BPA-free plastic, and are also top-rack dishwasher safe.
Material: Stainless steel | Size: Two 12-ounce tumblers and one 25-ounce bottle chiller | BPA-Free: Yes | Dishwasher Safe: Yes | Color Options: 22
Positive Review: "I love the complete set! The wine bottle/cooler tumbler fits an entire bottle of wine. The tumblers are awesome because they keep your wine cold, my favorite part about this set is that it is so elegant and the tumblers are a lifesaver with the tops! No more bugs flying around my drinks."
3. Best Budget-Friendly: SUNWILL Insulated Wine Tumbler
This wine tumbler is super affordable and is backed by more than 13,000 five-star ratings. It's made of durable stainless steel, is BPA-free, and comes in 11 different colors. Plus, it's double-wall insulated and will keep your wine cold for up to nine hours. You can purchase this as a single tumbler or a pack of two.
Material: 18/8 stainless steel | Size: 12 ounces | BPA-Free: Yes | Dishwasher Safe: No | Color Options: 19
Positive Review: "Absolutely love these cups! Filled up the cup with water and ice before I went to bed and in the morning, there was still ice in the cup. Great size. Will be perfect to take to events."
4. Best Flute For Sparkling Wine & Champagne: Brümate Champagne Flute
The major difference between BrüMate's champagne flute and others is its impressive size. Measuring just over six inches tall with a 12-ounce capacity, this flute is twice the size of a typical one and helps beverages retain their carbonation up to five times longer. Like other Brümate tumblers, this one features a non-slip base and spill-proof lead. You also won't have to worry about a funky metallic taste either.
Material: Stainless steel | Size: 12 ounces | BPA-Free: Yes | Dishwasher Safe: Yes |Color Options: 17
Positive Review: "I love these insulated champagne flutes. I have a few of my own, and have given many as gifts. The biggest pro of the flute is that it is not so wide that it makes it hard to hold if you [have smaller hands]. The insulated wine tumblers I have used in the past are to round and hard to grip."
5. A Trusted Brand: YETI Rambler
This is the smallest tumbler on this list at 10 ounces, but the YETI Rambler is a fan-favorite with all of the qualifications you could want in a solid wine tumbler. Not only is it double-wall insulated and made of stainless steel, but the plastic lid is BPA-free and the entire thing is dishwasher safe. It also has YETI's trademarked "MagSlider" lid which, while not 100% leakproof, will keep your drink cold or warm and prevents splashing and spills.
Material: 18/8 stainless steel | Size: 10 ounces | BPA-Free: Yes | Dishwasher Safe: Yes | Color Options: 8
Positive Review: "I have bought 100s of dollars of cups over the years and the only one that doesn't seem to disappoint is the yeti cup. My drinks stay warm, they stay cold, they wash nicely, just love them. The colors are super fun too!"
6. Best Wine Tumbler With A Handle: Brümate Toddy
This leakproof mug from BrüMate is great for anyone who wants extra stability when handling their drink. The handle can accommodate both left and right-handed people and the leakproof locking lid prevents any spills. Plus, this mug will keep your wine chilled for up to 24 hours. You can even use it for coffee and other warm beverages as it keeps warm beverages hot for up to four hours. The 16-ounce is pictured above but 22-ounce and 32-ounce options are also available.
Material: Stainless steel | Size: 16, 22, and 32 ounces | BPA-Free: Yes | Dishwasher Safe: Yes | Color Options: 29
Positive Review: "We love the Toddy for mixed drinks! We prefer the handle, so opted to get the Toddy over the Rocks. These are great for year-round, but are going to be great for sitting outside sipping cocktails on our patio!!"
7. Best Value: FineDine Stainless Steel Unbreakable Wine Glasses
If you're looking for the best value, FineDine's wine tumblers come in a set of four for only $25. These shatterproof tumblers have the capacity to hold 18 ounces of wine each and feel a sleek design that's comfortable to hold. Although they aren't listed as being dishwasher safe, several reviewers mention running them through the dishwasher and having no problems.
Material: Stainless steel | Size: 18 ounces | BPA-Free: N/A | Dishwasher Safe: No | Color Options: 25
Positive Review: "The tumblers are really pretty to begin with. They hold a nice amount of wine and are easy to wash. They look very expensive and make an excellent gift."
8. The Best Full-Bottle Wine Tumbler: Brümate Winesulator™ Infinity
You can enjoy your wine all day long with the BrüMate Winesulator™ Infinity. It's designed with the slogan "rosé all day" in mind and can hold an entire bottle of wine (18 ounces!). It's also triple-insulated to keep your drink at its ideal temperature throughout the day. Plus it also comes with a convenient twist-on straw that reviewers love.
Material: Stainless steel | Size: 18 ounces | BPA-Free: Yes | Dishwasher Safe: Yes | Color Options: 17
Positive Review: "I absolutely love my Infinity Bottle! I don't just use it for wine either. During the work day I alternate between water and iced tea in my bottle, sometimes even soda, and then when the work clock is over mixed drinks or wine will go in! It truly is a bottle that can wear many hats without me having to get up often for refills! Thanks Brümate for making such an amazing bottle!"
This article was originally published on