5 People Have Been Arrested On Suspicion Of The Attempted Murder Of Sasha Johnson
The activist remains in critical care after she was shot on Sunday, May 23.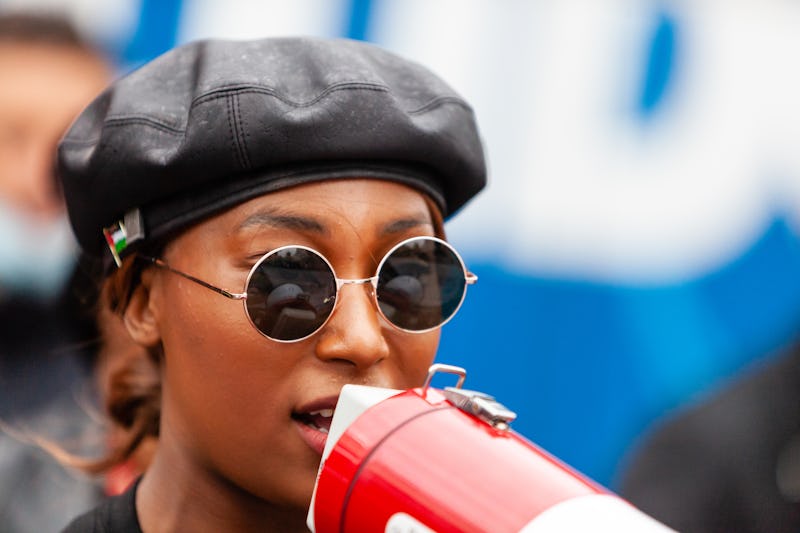 Daniel Samray/Shutterstock
Trigger warning: This article contains mentions of violence.
Police have confirmed two men and three teenagers have been arrested on suspicion of the attempted murder of Black Lives Matter activist Sasha Johnson, who was shot during a party in South London on May 23. The 27-year-old mother-of-two is said to have received life-threatening gunshot wounds to the head and remains in intensive care following surgery.
At the time of the incident, Johnson was attending a party at an address in Peckham, according to her friend and fellow activist Imarn Ayton. Speaking to the BBC, Ayton said Johnson's surgery had gone well and she was "now with her parents."
Johnson is a member of the Taking The Initiative Party (TTIP) and serves as part of the leadership committee. The TTIP have said the attack followed "numerous death threats" made against them.
Met Commander Alison Heydari told the BBC that the perpetrators had "entered the garden of the property and discharged a firearm", but added that detectives were "not aware of any report of threats made against [Johnson] prior to this incident".
Another man, thought to be in his 20s, was also hurt by a "superficial knife injury". He has since been discharged from hospital following treatment.
The shooting took place at a property in Consort Road around 03:00 BST on Sunday, where about 30 guests had gathered for a party held in the back garden. Detective Chief Inspector Richard Leonard told Sky News that the investigation had made progress but was still in its early stages. "I continue to appeal to those who may hold information about the events that led to Sasha receiving her horrific injuries, or about those responsible, to do the right thing and come forward and speak to police," he added.
In a statement made Monday evening, the TTIP criticised the police, saying, "The irony, is in the fact that the police have stated that there is no clear evidence that Sasha was the target of the attack, and that there are no credible death threats made towards her; however, how have the police come to this conclusion without being able to speak with Sasha?"
In the statement, founding TTIP member Charles Gordon said, "We are deeply concerned about the attack on our sister. She is a pillar of our community. We have had calls from various activists and leaders within the community, worried about whether the next attack could be on them."
The Guardian reports that one theory as to the cause of the attack is that the perpetrators came to the party in a gang feud, and struck Johnson by accident while looking for someone else. Ayton previously told the BBC, "As far as I'm aware ... this incident is more related to rival gangs." Ayton said she does not believe Johnson was "the intended victim" of the crime.
As Johnson's profile on the TTIP website states, she is an Oxford graduate with a First in Social Care. "She has an immense passion for implementing change and justice and has been actively supporting the eradication of injustices in society by attending and leading protests," the website reads. "Although not everyone may agree with her methods, she is not afraid to stand up for what she believes in. She is also committed to feeding the homeless and has personally been involved in delivering food and groceries to families that are in need."
Taking to Instagram on the night of May 23, the TTIP posted a picture of Johnson. "It is with great sadness that we inform you that our own Sasha Johnson has been brutally attacked and sustained a gunshot wound to her head," the accompanying caption read.
They added: "Sasha has always been actively fighting for black people and the injustices that surround the black community, as well as being both a member of BLM and a member of Taking the Initiative Party's Executive Leadership Committee. Sasha is also a mother of 2 and a strong, powerful voice for our people and our community. Let's all come together and pray for Sasha, pray for her recovery and show our support to her family and loved ones. #prayforsashajohnson"
A vigil was held for Johnson on Monday afternoon at Ruskin Park, which is near the hospital where Johnsons is being treated. Attendees shared hopes and prayers for her survival and wellbeing.
This article was originally published on