A Breakdown Of The Jennifer Arcuri & Boris Johnson Scandal
The Prime Minister is currently being investigated by the Greater London Authority Oversight Committee.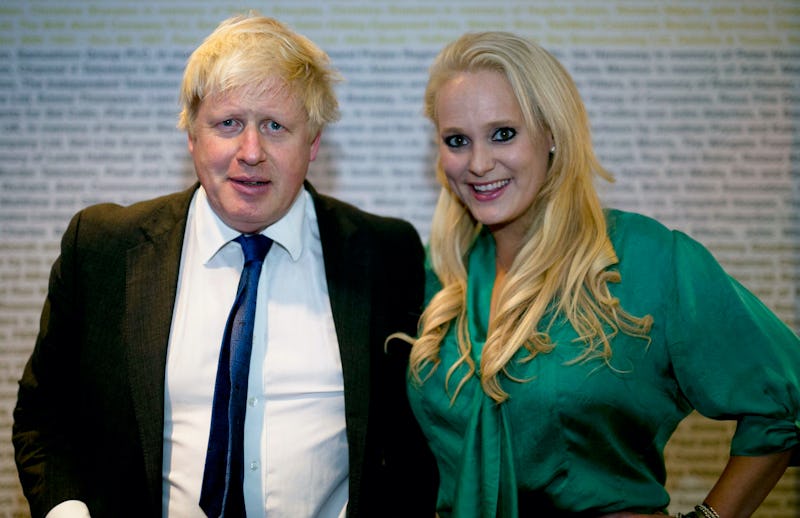 Vicki Couchman/Shutterstock
Prime Minister Boris Johnson may have to give evidence during an inquiry into his relationship with American technology entrepreneur Jennifer Arcuri. Arcuri, who had previously not confirmed that she and the Prime Minister had a relationship during his time as London Mayor, told the Sunday Mirror on March 27 that the pair were in fact involved in a four-year affair between 2012 and 2016.
Beyond In 2019, reports began to emerge alleging Arcuri had received money for her technology firm Innotech through government grants overseen by Johnson, raising concerns about conflict of interest. These alleged transactions came under scrutiny in September that year as the result of a report by the Sunday Times and now they are in the spotlight again following Arcuri's recent interview.
Who Is Jennifer Arcuri?
Arcuri is a technology entrepreneur who moved to the UK in 2011, according to The Sun, and founded three tech companies: Playbox Ltd., Innotech, and Hacker House. She is also a video producer and cyber security ethical hacker, according to her LinkedIn bio.
Johnson and Arcuri met in October 2011 "at a summit for venture capitalists," per the Guardian, when Arcuri was a business student. Johnson went on to appear at multiple events for Innotech as a keynote speaker and Arcuri was a vocal supporter of his on social media and took part in his mayoral campaign.
What Happened In September 2019?
In September 2019, a report by the Sunday Times revealed that Innotech had received £100,000 in public money through tech innovation schemes, including £15,000 from the Sirius scheme. As well as money, this scheme would have granted Arcuri a visa to live and work in the UK.
In the Times article, it was also alleged that Johnson had given Arcuri access to three overseas trade missions he was leading despite the fact her businesses did not meet the eligibility criteria. The Times wrote that "[i]nitial decisions to turn her down for two of those trips were overturned after intervention by Johnson and his close team in the mayor's office."
However, in her Sunday Mirror interview this week, Arcuri maintained that she was invited to these trips "as a member of the London tech-scene 'ecosystem'" and not because of her alleged relationship with Johnson.
What Happened With The IOPC Review?
As a result of the Times reports, a review was conducted by the Independent Office for Police Conduct (IOPC). The report, published in May 2020, found "no evidence indicating Mr Johnson influenced the sponsorship of any monies to Ms Arcuri of that he influenced or played an active part in securing her participation in trade missions."
However, the review did establish there was a "close association" between Arcuri and Johnson, and that there may have been an "intimate relationship."
The IOPC concluded that "under the broader Nolan Principles of Public Life, our review suggests it would have been wise for Mr Johnson to have declared this as a conflict of interest, and a failure to do so could have constituted a breach of these broader principles contained within the GLA 2012 Code of Conduct."
The Nolan Principles was established in 1994 by then Prime Minister John Major, which were set out "for the benefit of all who serve the public in any way." There are seven principles, one of which being that public office holders "should not act or take decisions in order to gain financial or other material benefits" for family and friends and that "they must declare and resolve any interests or relationships."
What Is Happening Now?
Following Arcuri's Mirror interview, the Prime Minister will now face an inquiry by the Greater London Authority (GLA) Oversight Committee. "Our investigation will consider whether Boris Johnson conducted himself in a way that's expected from anyone in that position," Len Duvall, the chair of the GLA oversight committee said in a statement. "It's important we get those answers, because Londoners deserve to have their politicians held accountable."
It's not yet clear whether Johnson will be required to give evidence in the inquiry. According to the Telegraph, the GLA will write to him "asking why he didn't declare his relationship" and if they are unhappy with the response, "it could demand that he gives evidence in public."
Downing Street has neither confirmed nor denied the possibility, but the Prime Minister's press secretary Allegra Stratton say on March 29 that they would "cross those bridges when they come."