Are Strawberry & Cream Doritos Really A Thing?
Food fans seem disgusted & intrigued in equal measure.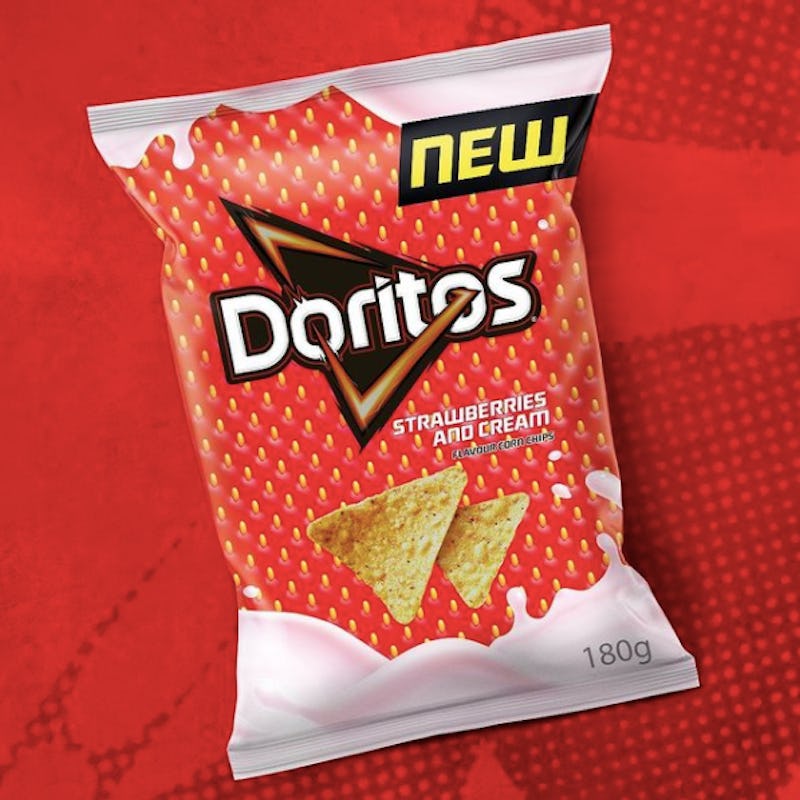 Doritos
Nothing says British summertime like strawberries and cream. But food fans have been sent into a bit of a frenzy over the past week when Doritos appeared to announce a new strawberries and cream flavour. Yes, you read that right.
On June 17, Doritos posted an image of a redesigned packet of Doritos crisps with the caption, "Strawberries & Cream Doritos, you didn't ask for them, but you'll definitely want to try them." Unsurprisingly, the comments section soon lit up with reactions to the proposed new snack.
"DoritNOS" one user wrote, while another added "more like strawberries and crime."
Soon, however, users started to question the meaning behind the post. One person wrote on Instagram, "Did anyone else for a split second think it must be April 1?" Another said "These sound too good to be true... a Wimbledon collab maybe?"
Almost. As it turns out, Doritos were indeed pulling our leg and the announcement was all a PR stunt to raise awareness about a partnership between the brand, DICE, and the Strawberries and Creem Festival taking place in Cambridge this summer.
In a later post, Doritos said, "No, we're not doing Strawberries and Cream Doritos, but we have been cooking up something sweet with @dicefm & @strawberriesandcreem."
Doritos will be giving fans the chance to win tickets to the festival. You can find all the information about the Make Your Play campaign on the Doritos website. According to the snack brand, from June 21, posters with scannable play buttons will appear in London, Birmingham, Leeds, Manchester, Glasgow, Liverpool, Bristol, Brighton, Cardiff and Southampton. They'll also appear across Doritos' social media over the summer. Scan the play button and you may be in with the chance of getting some much-desired gig tickets.