4 Candles That Smell Like Capri Blue Volcano
Get the tropical, sugared citrus scent for less.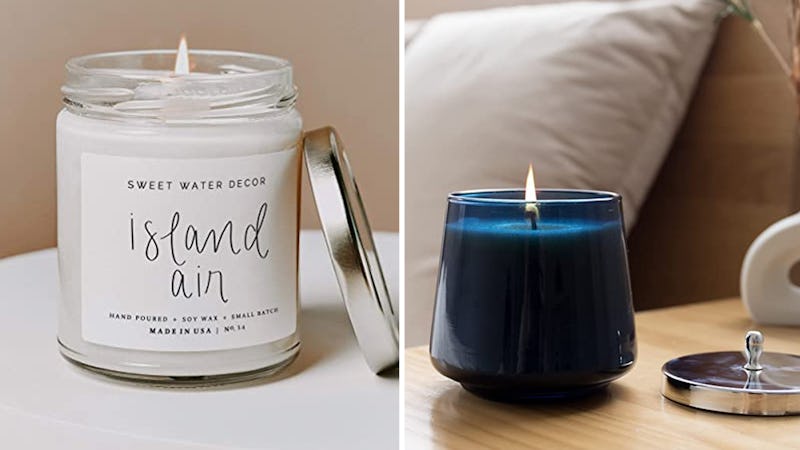 Amazon
We may receive a portion of sales if you purchase a product through a link in this article.
If you're in love with the ever-popular Capri Blue Volcano scented candle, you know that the incredible smell doesn't come cheap. However, devoted fans of the nuanced citrusy scent have discovered some that are pretty close to the real thing. Best of all, these candles that smell like Capri Blue Volcano cost much less than the original.
What To Look For When Shopping For Candles That Smell Like Capri Blue Volcano
There's just something about the smell of a Capri Blue Volcano candle that people (myself included) love. According to the brand, the fragrance contains "notes of tropical fruits and sugared citrus," but the scent isn't the only thing to love about the famed candle; the stylish cobalt blue jar also creates the iconic look that the brand's known for. So if you're into trying new scents but also love the decorative aspect of the Volcano jars, I've added an option to consider at the end of the list.
There's a whole community of fans who have discovered alternatives that smell pretty similar and cost much less. Scroll on for the best candles that smell like Capri Blue Volcano — and they're all available on Amazon.
1. The Candle That Smells Just Like Capri Blue, According To TikTok & Reddit Fans
TikTok users and Reddit fans swear by this Red Lava Citrus candle, with one Reddit user writing "everyone says it smells just like the Anthropologie Capri Blue!" This scent features tropical fruits, sugared citrus, red currant, and blood orange mixed with lemon leaf and musk for an earthy base. Each candle is 12 ounces, comes in a beautiful red glass jar, and has wood lids for a natural touch. Plus, you get two candles per order.
One reviewer wrote: "These really do smell good. Everyone walked in my home and complemented the scent."
Fragrance notes: Tropical fruit, sugared citrus, red currant, blood orange, lemon leaf, musk | Wax: n/a | Size: 12 oz.
2. A Fan-Favorite Candle Made With Coconut & Soy Wax
Made with a coconut-soy wax blend, this mango tangerine candle from Trader Joe's is a fan favorite, with one Reddit user writing, "TJ's new Mango Tangerine candle smells just like the (much more expensive) Capri Blue Volcano candle," and another noting: "I couldn't tell between the two!" The 5.7-ounce candle comes in a cute aluminum vessel and provides approximately 55 hours of burn time.
One reviewer wrote: "Doesn't fill multiple rooms like the Volcano candle does, but still incredibly similar and smells great."
Fragrance notes: Mango, tangerine | Wax: Coconut-soy blend | Size: 5.7 oz.
3. A Bath & Body Works Candle That's Similar To Capri Blue Volcano
Containing notes of citrus, spring water, and mango, the Midnight Citrus candle from Bath & Body Works is another popular option with fans who love the scent of Capri Blue Volcano. The pretty blue jar is also reminiscent of the Volcano candle, and there are three wicks to help create an even burn. According to the brand website, the candle provides up to 45 hours of burn time.
One reviewer wrote: "This candle has been my favorite for a few years. it never disappoints honestly. You have to buy it if you like sweet citrus scents."
Fragrance notes: Citrus, spring water, mango | Wax: n/a | Size: 14.5 oz. (according to the brand website)
4. This Soy Candle That Smells Like "A Tropical Vacation"
While the Island Air candle from Sweet Water Decor is less of a tried-and-true alternative for Capri Blue Volcano fans, the scent contains notes of tropical fruit, sugared citrus, and mountain greens, so it's similar to the cult favorite. "This candle has a beautiful scent that reminds me of a tropical vacation," wrote one Amazon shopper. The 9-ounce candle is made with soy wax and offers a 40-hour burn time, and the simple glass jar with a gold lid complements any decor.
One reviewer wrote: "This candle is THE BEST. I was worried about getting one from online since usually I spend a few minutes sniffing between multiples in a store but I am SO happy I took the risk on this."
Fragrance notes: Tropical fruit, sugared citrus, mountain greens | Wax: Soy | Size: 9 oz.
Also Great: This Mini Capri Blue Volcano Candle That's Only $12
If you want the original but want to spend less, opt for this smaller version that provides up to 30 hours of smell-good burning time for just $12. The 3-ounce tin is great as a small gift or to take with you while traveling, and the cute diamond pattern design delivers true Capri Blue style.
One reviewer wrote: "This candle has an amazing fragrance! I bought the smaller ones this time, they were great for stocking stuffers. We also like to take them when we travel."
Wax: Soy/paraffin blend, according to the brand website | Size: 3 oz.
Also Consider: A Luxury Candle With A Similar Look
If you love the look of the glass cobalt blue Capri Blue Volcano candle but are open to different scents, consider this luxe eucalyptus fig candle from La Jolie Muse. This elegant candle boasts a deep blue tapered glass jar with a decorative silver lid. Inside, 12.3 ounces of soy wax provides up to 75 hours of aromatherapy with notes of eucalyptus, ivy, fig, violet, jasmine, cedarwood, amber, and tonka bean. Reviewers note that this particular scent is light, but there are six other colors and scents to choose from, including vanilla cake, honey citrus, and apricot rose.
One reviewer wrote: "I just love this candle. This candle not only looks great, but the smell is just fabulous. It burn slow and clean therefore lasting a long time. Then the candle wick burns all the way down, I place it on and electric candle burner which has great throw for the scent."
Fragrance notes: Eucalyptus, fig, jasmine, amber, and more | Wax: Soy | Size: 12.3 oz.
Also Nice: This Fragrance Oil For Aroma Diffusers & More
Candles aren't the only way to infuse your home with the Capri Blue Volcano scent, and while the brand offers a Capri Blue Volcano diffuser oil, it's a little pricey at $22 for a 0.5-ounce bottle. For more bang for your buck, consider this 8-ounce bottle of phthalate-free Volcano Island fragrance oil from Virginia Candle Supply. The brand describes the scent as a blend of tropical fruits, sugared oranges, lemons, and limes, plus hints of tropical florals and mountain greens. It's great for creating aroma diffusers, potpourri, air fresheners, and more. And since it's safe to use in skin-care products, you can use it to make soap, hair products, and bath bombs, too.
One reviewer wrote: "This scent smells exactly like Capri Blue Volcano, we love it! Made hot process soap, sugar scrubs and bath salts with this fragrance and all turned out amazing. Gave the products away as gifts and I can't hear enough good things about it."
Size: 8 oz.