11 Canned Cocktails That Basically Taste Like A Tropical Vacation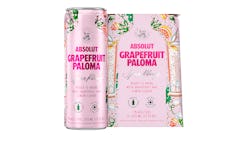 Courtesy of Absolut
With the summer season comes warm weather, sunshine, and a whole lot of fun. Well, at least that's the usual. This year, things may be a little different. With social distancing guidelines still suggested by experts, the way we go through this summer will be extremely different than anything in the past. But that doesn't mean you can't have a good time. You might be missing beach days and happy hours, but there are ways to celebrate right from home. And canned cocktails are just what you need this summer.
If you've ever heard someone say "things taste better from a can," they're absolutely right. While getting in the kitchen and getting creative with your alcoholic beverages can be fun, sometimes you just want to sit back, relax, and have your cocktail chilled and ready for you to grab. No fuss or hassle, all you have to do is pop open your can and enjoy.
But if you're new to the world of canned cocktails, it might be helpful to be pointed in the right direction. From hard lemonades to sparkling tequila, you have so many different options to choose from to help you find the perfect drink-in-a-can. Here are 11 options to get you started.