How To See Who's Viewed Your TikTok Profile
by Kaitlyn Wylde and Bustle Editors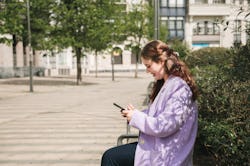 MarioGuti/E+/Getty Images
If you thought TikTok was a safe space to keep tabs on your ex or just invisibly and shamelessly explore content, you'd probably be pretty disappointed if you found out that your viewing history was public. But if your latest vlog blew up and you're curious to see which of your exes tapped into your profile, a new tool may pique your interest. In April, TikTok quietly dropped a profile view history feature, which will tell you who's looked at your TikTok page.
Don't rush to your Activity tab right away, though. The new feature appears to be rolling out slowly, TechCrunch reported, and will only be available for users who are older than 16 with fewer than 5,000 followers. What's more, you have to opt in to the feature in order to see who's viewed your profile, and only people who have also toggled the tool on will show up. (Meaning, if you don't want people knowing that you're creeping their page, you can continue to do so by just not opting in.) The feature will only show who's viewed your TikTok profile in the last 30 days. And fortunately, you're the only person who'll be able to see who's viewed your profile, so you don't have to worry about people lurking on your lurkers.
Ready to see and be seen? Here's how to turn on your TikTok profile view history.
How To Turn On Profile View History In TikTok
If you have access to the profile view history tool, you'll see an eye icon in the top right of your profile page. Tap the eye icon to be taken to a page enabling you to turn on the feature. You can also turn on the feature by going directly to your settings. Tap Profile, then the hamburger menu in the top right. Once in settings, click Privacy, then Profile Views. Toggle on the Profile View History icon. (You can also toggle it back off here if you don't need to know who's looking at your page any more).
How To See Who Viewed Your TikTok Profile
When you've opted into the TikTok profile view history page, you'll start receiving notifications when someone's viewed your profile. Tap on one of these notifications to be taken to your profile views page, where you'll see all the accounts that have visited your page in the last 30 days — though again, only the ones that have also enabled this feature. You can also visit this page at any time by tapping on the eye icon on your profile.
How To See Your TikTok Analytics
You don't need access to the profile view history tool to get more info about your audience. If you're a content creator, or just interested in understanding how your posts perform, you can switch over to a TikTok Pro account. While it won't tell you who exactly is watching your videos or checking out your profile, it will give you insights about the people who are watching. The analytics page will show you how many people see your videos, where they found it — via the For You Page or from your profile — and where in the world they're viewing from.
To switch to a TikTok Pro account, tap the three dots on the upper right corner of your screen, tap Manage My Account, and you'll see in red at the bottom of the list of options, "Switch to Pro Account." Once you turn this feature on, all of your videos will have a three-dot icon on the right side, below the comments, which you can tap for analytics to learn more about how the video performed.
But if the real reason you clicked on this article is because you were terrified that people could see your viewing habits, fear not. What you watch is your business, at least on TikTok.
This article was originally published on