How To Use The CapCut Feature You've Seen All Over TikTok
You'll feel like a TikTok pro in no time.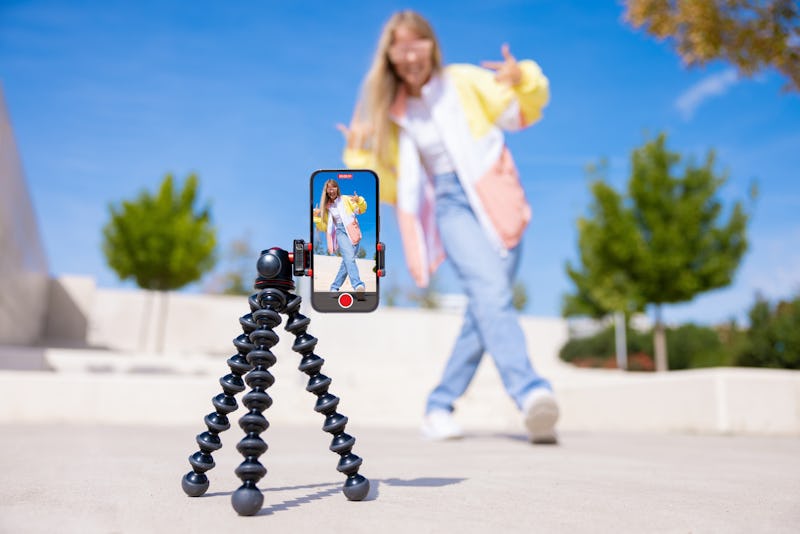 Shutterstock
Though many creators on TikTok are known for their seriously masterful editing skills, you don't need to be an expert to make your videos look impressive. There are tons of unique filters and editing tools that can give your content that professional look, starting with the popular CapCut feature on TikTok. There's so much you can do with CapCut to take your videos to the next level, so if you're looking to up your content game, here's how to use the CapCut app for your next TikTok.
IYDK, CapCut is a free video editor app that makes creating eye-catching content so simple. The app allows you to import your own videos and photos into different editing templates to generate a high quality video with little to no effort on your end. Some of the editing features you'll find on CapCut include cool transition templates, unique photo layering tools, and edits set to specific songs, to name a few. Some of CapCut's most viral templates on TikTok include the boat sailing in the moonlight meme, the Finn Wolfhard snapping transition clip, and the soulmate moon phase matchups.
Though you've probably seen the option to make a video with CapCut on the app before, you can't actually use the video editor directly on the TikTok app. In order to access all the unique editing features CapCut has to offer, you'll need to download and edit your content in the CapCut app. So, how does editing on CapCut actually work? Here's a rundown on how to use the app, so you can start producing some seriously skillful content without putting in hours of work.
How To Use The CapCut App
Before you can start editing with CapCut, the first thing you'll need to do is download the app. Once you've done that, you'll be able to start importing footage into your desired template before you even make an account.
Start A Project
If you're ready to bring your video idea to life, tap the "New Project" button on the Edit page to get started, then select the videos or photos you'd like to use via your Camera Roll. Next, tap the "Add" button in the bottom right corner to import footage into your project. From there, you can play around with all of the editing tools, including transitions, video effects, filters, and more. You'll also be able to add stickers, text, and audio to your future TikToks, as well as adjust the brightness, contrast, saturation, exposure, and shadows as needed.
Find A Template
If you're not sure what kind of video you want to make, you can always peruse the long list of available templates under the Template tab. If you're looking for a template that's going viral on TikTok, you'll want to select the "For TikTok" option, or you can also scroll through the "For You," "For Reels," or "Following" tabs to spark some inspiration, too.
Use CapCut Through TikTok
Next time you're scrolling through your FYP and come across a template you'd like to use, all you have to do is tap the "CapCut — Try this template" button above the original poster's TikTok handle. Then, tap the "Use template in CapCut" option, then tap "Open." Once you've done that, the template will open in the CapCut app, and you can start putting your own spin on the viral trend by tapping the "Use template" option in the bottom right corner.
Next, you'll be asked to select the footage you'd like to import by tapping the circle in the corner of each video. When you're done, make sure to tap the "Preview" button to see how it came out before saving your work with the Export button. Yup, it's that easy.
CapCut Tutorials
If you're looking for even more in-depth explanations on how to use your favorite templates and editing tools, CapCut also offers a Tutorial section filled with short, easy-to-follow videos with step-by-step instructions that are great for learning your way around the app. So long, iMovie — hello, CapCut.
Editing your TikTok content doesn't have to be hard. As long as you've got the CapCut app and some top-notch content to go with it, making seriously impressive vids for TikTok is sure to be a breeze.