Without This Woman, I Would Be Less Brave
When Cleo Wade was struggling through her latest book, she called up this longtime friend.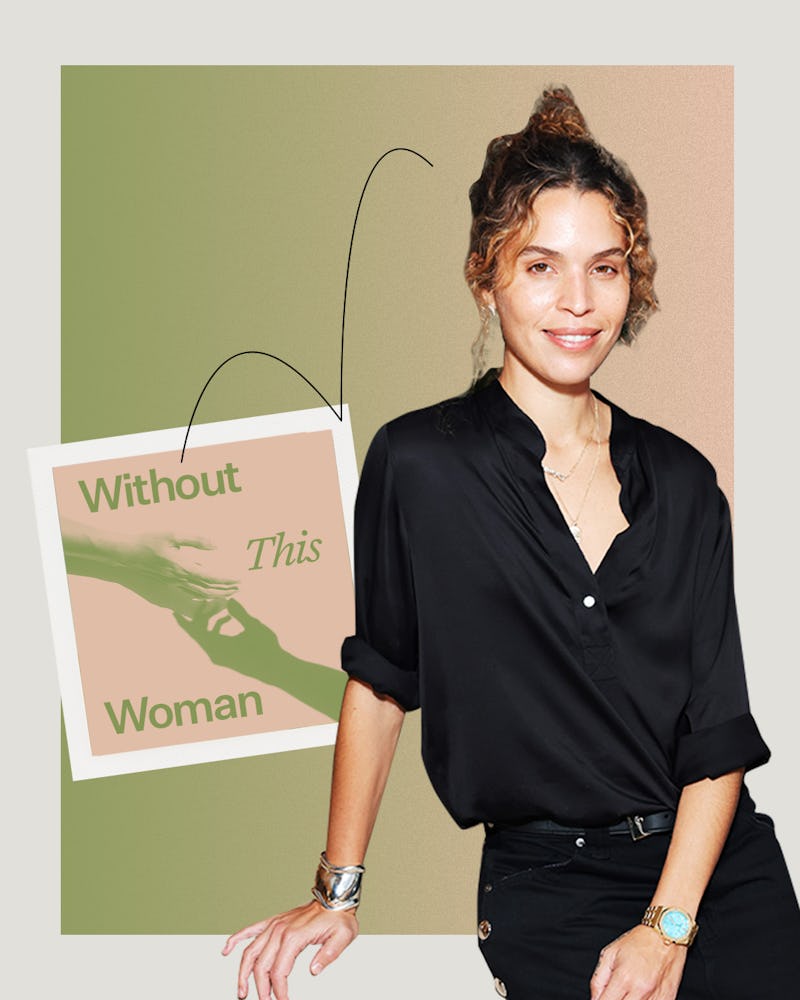 Caroline Wurtzel/Bustle; Stefanie Keenan /Getty Images
Bustle's Without This Woman is a series of essays honoring the women who change and challenge us every day. This week Cleo Wade, author of the new prose-and-poetry collection Remember Love: Words for Tender Times, reflects on her relationship with filmmaker Liza Voloshin.
The thing I probably value most in life is my friendships, and I say that as a partner and a mother of two kids.
Especially as a Black woman writer in the world, you think, "God, I couldn't have done this without Toni Morrison or Maya Angelou or Lucille Clifton. I couldn't be a poet without Mary Oliver." But I want to focus on the day-to-dayness of friendship. Often we don't give flowers to the people who are in the minute-to-minute smallness of life that creates our bigness of life. The people who always pick up that phone, who are always on your side, and who help you become who you are.
Every friendship is a love story. We fall in love with our friends, and we go on dates to get to know them.
I met my best friend, Liza Voloshin, 15 years ago in New York City. We had some mutual friends and had seen each other around. She had this very dramatic appearance; I thought she was so cool.
I said, "You know, I found this witch shop in my neighborhood. Would you want to go with me and get something?" (I grew up watching Practical Magic. I think any woman who really loves her sisterhood of friends is a little bit like "Witchy things are so cool.") She said, "Yeah, of course." That was the first time we'd ever spoken.
I'd invited her over to my little apartment on 30 St. Mark's Place. It was the tiniest little thing. We called it the "litchen" because it was a living room and kitchen in one.
We both come from families that don't have a lot of money, so we didn't have safety nets when we moved to New York. We had to work so hard to feel safe and "make it." It was harder to take chances, because we always wondered: What would we fall back on if we failed? In the end, we learned we could fall back on each other, which helped us take necessary risks in order to create lives as artists.
I truly don't feel we can get anywhere we want to go in life without co-dreamers and people loving us on our way. Liza was my first call every time I went through a breakup — even if I was going through the 10th breakup with the same person.
She helped me write my first poems. I'd written poetry as a child but buried the dream for a long time. She helped me rediscover it. We would go to a bar in the East Village, and we'd have wine, and I would take out a notebook and start writing. We'd have a few of our other girlfriends with us, and we'd each write a different line in the poem.
"We learned we could fall back on each other, which helped us take necessary risks in order to create lives as artists."
Liza truly impacted this book. Like with most writing, first drafts are bad. I'd written a big chunk of the book, and I called Liza. "I need you to come over. I'm going to order dinner. I'm going to pour wine. I need you to sit and read these pages in front of me. I'm missing something. I'm lost."
She came over and did exactly that. She really helped me find my way. She's the one who helped me remember that I could take on this big challenge — of writing something in a different way — while also holding the person I already am to my readers. She was like, "You are your readers' friend, so they shouldn't feel like a new person is coming to the table. They should feel like their friend is sharing a deeper experience with them."
So much of our bond is that we're proud of each other. We're so happy for each other. I think that to be happy for another person is the greatest blessing you can give. It affirms that what you have, you deserve — regardless of impostor syndrome, of struggling with your own "not-enoughness," or your own insecurities.
Without this woman, I would be less brave. I wouldn't have been able to heal the wounds of my life, and I'd be overwhelmed and afraid of my dreams and hopes for myself.
As told to Leila Barghouty. This interview has been condensed and edited for clarity.