The 7 Best Dog Cone Alternatives, According To Vets
Say goodbye to the cone of shame.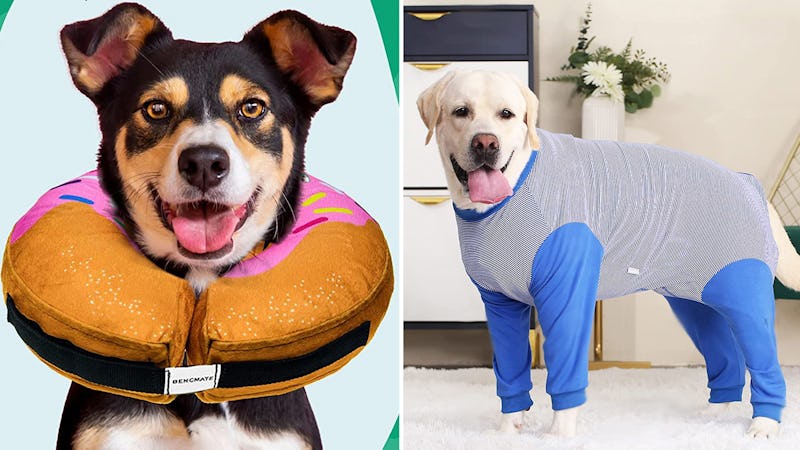 Amazon
We may receive a portion of sales if you purchase a product through a link in this article.
When dealing with a wound, surgical incision, or skin irritation, it's vital to prevent your dog from licking or biting the site. However, some pets (and pet parents) would prefer something other than the standard rigid plastic cone. That's where the best dog cone alternatives come into play — while there is a wide variety of types to choose from, Dr. Michelle Lugones, DVM, told Bustle in an email that the most important factors are "that they are safe to use, reasonably comfortable, and that they will actually be effective." Dr. Alex Schechter, DVM, also stresses taking your pet's size and shape into account. "The replacement should be well-fitting and pleasant for the animal to wear without impairing their mobility," he explains.
The Experts
Dr. Alex Schechter, DVM, is the founding veterinarian of Burrwood Veterinary, which is located in Michigan. He earned his Doctorate in Veterinary Medicine from Michigan State University College of Veterinary Medicine. He also completed advanced training in small animal medicine and surgery at BluePearl Veterinary Partners in Manhattan.
Dr. Amari Wells, DVM, is the managing veterinarian at Small Door Veterinary. She attended Bucknell University and graduated magna cum laude with a bachelor's degree in Animal Behavior. She then gained her veterinary degree from Cornell University Veterinary School.
Dr. Anna Massey, VMD, is the director of emergency and critical care at Red Bank Veterinary Hospital. She earned her doctorate in veterinary medicine from the University of Pennsylvania, School of Veterinary Medicine, and she is located in New Jersey.
Dr. Michelle Lugones, DVM, is a veterinarian at Best Friends Animal Society in New York City. She's also an associate adjunct professor at LaGuardia Community College's Veterinary Technology Program.
What To Look For When Shopping For The Best Dog Cone Alternatives
Type
Consider replacing your dog's cone of shame with one of the following options and speak with your vet to determine if the product is appropriate for your pup.
Inflatable collar: As the name suggests, these collars are blown up and wrapped around your dog's neck. They're cushiony, lightweight, and typically more comfortable than a plastic pick. "Compared to traditional cones, inflatable collars are less limiting, allowing your pet to move about more freely and carry out everyday tasks like drinking and eating more effortlessly," explains Dr. Schechter. However, several veterinarians that Bustle interviewed mention they've seen dogs puncture them (rendering them ineffective), so consider your pup's habits.
Soft e-collar: While soft e-collars have the same conical shape as their plastic counterparts, these options feature a more flexible and lightweight material for comfort. However, the downside is "some pets may still be able to reach the affected area, [...] especially if it is not fitted correctly or if the pet is [...] determined," notes Dr. Schechter.
Recovery clothing: Dr. Amari Wells, DVM, explains that recovery clothing (sometimes referred to as onesies or surgery suits) "can provide a barrier to a surgical site" without inhibiting movement. These specialized garments fit snugly on your pet's body (providing a level of compression), and they're made from breathable materials. Some recovery clothing covers your dog's entire body, while others protect specific parts. It's important to note that recovery clothing is not suitable for every situation. "Some surgical sites and wounds may heal better uncovered or need to be easily visible to make sure they're healing appropriately," explains Dr. Lugones.
Neck control collar: These products wrap around your pooch's neck to restrict movement; they may not be suitable for injuries on the head. Neck control collars don't impede a dog's vision, and they allow for normal drinking, eating, and playing. However, Dr. Schechter mentioned these products can cause anxiety for certain dogs, "as they can feel restricted and unable to move their head freely."
Fit
It's imperative that the dog cone alternative you choose fits your pup properly — an incorrectly sized product will never be effective. Most products come in several sizes — pay close attention to the size chart provided by the manufacturer.
Shop The Best Dog Cone Alternatives
In a hurry? Here are the top picks for the best dog cone alternatives:
Simply put: The best dog cone alternative will "ultimately be the one that satisfies the pet's unique needs and is practical and pleasant for its use," Dr. Schechter explains. Here are seven stellar options that all get the stamp of approval from pet parents on Amazon:
1. A Cute Inflatable Collar That's A Best-Seller On Amazon
Pros:
More than 44,000 reviews, 4.1-star rating overall
Comfortable; many Amazon commenters noted their dogs used this as a pillow
Cover is machine washable
Con:
May need to be re-inflated occasionally
This inflatable dog collar boasts more than 44,000 reviews on Amazon and a 4.1-star rating overall, giving you the assurance that other pet parents have had success with it. The exterior material is super soft (in fact, many reviewers noted their dogs rested their heads on it, using it as a pillow) and the adjustable strap allows for a secure fit. The collar doesn't impede your pet's vision, and they should be able to eat, drink, and play while wearing it. It's recommended to size up for breeds with longer snouts or limbs, or if your pet is between sizes.
Choose from various sizes and fun patterns, including this donut one or a colorful rainbow pick. This product comes with a one-year warranty; if it punctures, the manufacturer will issue a replacement.
One Reviewer Wrote: "Highly recommend! My dog had surgery and the vet advised he'd have to wear a cone for 3 weeks. Bought him this donut without many expectations but hoping it would be more comfortable for my boy. And it was! He's been able to sleep comfortably and doesn't seem to mind the donut at all! It has withstood running into walls, the side of brick buildings, dragging on the ground when smelling outside, and it stood up! Holds air as I only had to re-inflate once within 2 weeks. Highly recommend buying one for your animal needs to be coned for a long period of time!"
Type: Inflatable collar | Sizes: X-Small — X-Large | Colors: 7 | Machine Washable: Yes (exterior)
2. An Expert-Recommended Soft E-Collar With An Adjustable Drawstring Neck
Pros:
Adjustable sizing thanks to toggle at the neck
Soft & flexible for comfort
Machine washable
Con:
Some reviewers reported their pets could bend the cone to reach their wound
Dr. Anna Massey, VMD, says that this soft e-collar is one of her personal favorites. It's made from a lightweight fabric material (with a lycra neckline for additional comfort) with internal stays that'll help to maintain the conical shape. A toggle at the drawstring neckline allows the collar to be adjusted for a custom fit, and the Velcro closure ensures it stays shut.
If you find that your pet is having difficulty partaking in normal activities while wearing this collar, Dr. Massey notes that "in some instances, you can turn them around backwards and they appear like a cape (Super Dog!) and pet owners feel these can be easier to eat, drink and maneuver around the house" though note that this impacts its effectiveness, so proceed with caution.
One Reviewer Wrote: "This is the first cone that any of our dogs have ever had to wear that they actually liked. We've always dreaded when our dogs needs to wear one but not with this ... they really didn't mind it at all. It's great quality, easy to take on/off and very flexible."
Type: Soft e-collar | Sizes: 3.5 — 14-inch neck | Colors: 1 | Machine Washable: Yes
3. A Breathable Recovery Suit That Covers Your Pet's Torso
Pros:
Allows for head freedom of movement
Adjustable turtleneck for higher neck protection
Light blue fabric on the interior for fluid observation
Machine washable
Con:
Made from cotton and Lycra, this recovery suit is the ultimate combination of soft, breathable, and stretchy — it even has extra-soft bindings around the legs, collar, and tail for added comfort. The onesie covers your pet's entire abdomen (the turtleneck is adjustable, should more neck protection be necessary) with snaps near the base and around the tail for easy on and off. The light blue fabric layer on the interior allows for fluid observation, while the loose air pocket feature on the belly keeps air circulating so your pet's wounds stay dry. If your dog excessively licks the area though, you can place a pad on the interior for added protection. If after measuring your dog is between two sizes, size down.
One Reviewer Wrote: "This product is perfect. My dog got neutered and this suit protects him the best. I tried a large donut but he still could reach the area. With this suit he is not able to lick and it protects his wound from getting dirty. My dog is pretty furry and the suits fits perfectly. There is a snap that allows for the suit to be rolled closed to his front legs, for when I take him on a walk with a leash. He feels much more comfortable than with a cone or a donut around his neck. My dog does not have a tail, but the suit obviously allows for one who does. The inside is clear blue on the belly and I can see if the wound has leaked or not. Thank you for creating this suit!"
Type: Recovery suit | Sizes: XXXS — 2X-Large | Colors: 1 | Machine Washable: Yes
4. Editor's Pick: A Soft E-Collar With 11,000+ 5-Star Reviews
Pros:
Soft and padded, but removable plastic pieces provide structure if needed
Can be worn as a cone or inverted
Con:
This soft e-collar is made from foam-padded nylon with removable plastic stays for structure, allowing you to fold the cone back over your dog's body for easier eating, drinking, and playing when needed. Multiple hook-and-loop closures allow for a more customized fit, and loops at the neck mean you can secure this cone through your pet's regular collar. The fabric is reflective for better visibility on walks at night, though this option is not machine washable; wipe it with soap and water to get it clean.
Editor's Praise: "We used this cone on our 10-pound adult rescue dog when he was neutered. It was very lightweight for a small dog to carry around and because it flexes and flattens more than a plastic cone, he was able to get more comfortable in it — especially laying down. I wish we had desensitized him to the noise of the Velcro before using this by giving him high-value treats while opening it nearby — the Velcro scared him a bit."
Type: Soft e-collar | Sizes: X-Small — XX-Large | Colors: 2 | Machine Washable: No
5. A Recovery Suit That'll Cover Your Pet's Body & Legs
Pros:
Covers body and legs
Machine washable
Con:
Not suitable for most dogs under 16 pounds
Some reviewers reported it was a bit difficult for dogs to use the bathroom while wearing it
This surgery suit is designed to cover your dog's entire abdomen and all four legs for the most protection while still allowing for total freedom of movement. It's made from 95% cotton and 5% spandex — so it's breathable and soft with a touch of stretch — and it'll fit snugly on your pet's body (but shouldn't be overly tight), offering a calming effect. The zipper makes for simple on and off, though the abdominal section opens up when a potty break is needed. If your dog is between two sizes, size up.
One Reviewer Wrote: "My 5 year old, 60 pound German Shepherd had a procedure on her knee and the vet sent us home with a plastic cone which of course she hated - she is an anxious rescue that I have only had for about a month and I wanted to make sure she was comfortable but also that her wound healed.[...] I decided to order this and it was truly a lifesaver and really worked. Not only does she love it and basically doesn't realize it's on but she looks so cute and it does the job of protecting her wound. This relieved a ton of stress for me and my dog and I highly recommend!"
Type: Recovery suit | Sizes: 2XL — 7X-Large | Colors: 6 | Machine Washable: Yes
6. A Neck Control Collar That Won't Limit Vision
Pros:
Does not impede peripheral vision
Cons:
Some reviewers reported irritation and hot spots with extended use
Not recommended for protecting eyes or ears
Many people choose a BiteNot collar as an alternative to the traditional Elizabethan collar because it doesn't impede a dog's peripheral vision — they can still do all of their favorite activities (like eating, sleeping, and playing) as normal. Made from flexible plastic and foam, the collar wraps around your pet's neck and the harness strap helps it stay firmly in place.
One Reviewer Wrote: "After having surgery on our puppy, we went through two of the traditional Elizabethan collars. He was banging it into everything, was stressed out and he looked miserable. We thought we'd try this as an alternative and I'll only use these from now on. From the moment we put it on him, he looked happier. He could see where he was going, could get a drink of water when he wanted, and he could [go] outside to relieve himself without it catching on everything. So far, he can't chew on the surgical site, I can comfort him without risking getting beat up by the Elizabethan collar and I'm completely sold on this product!"
Type: Neck control collar| Sizes: 3.5 x 16 inches — 8 x 32 inches | Colors: 1 | Machine Washable: Yes
7. A Recovery Sleeve For One Of Your Pet's Front Legs
Pros:
Great if you only need to cover one of your pet's legs
Allows for freedom of movement
Adjustable snap fastener and stretch band for a better fit
Con:
Some reviewers indicate it runs large
If only one of your pet's front legs has a wound, you may prefer this recovery sleeve that covers just that specific area (it can be used on the left or right leg). It's made from two layers of soft cotton with an adjustable fastener and stretchy band for an ideal fit. If your pet has shorter legs, you can always fold the sleeve if it's too long. If your dog is between two sizes, size down.
One Reviewer Wrote: "Excellent for the purpose, and much preferable to the cone of shame! Our goldendoodle has no objection to wearing it, and it is well designed to stay comfortably in place. The large size fits her well."
Type: Recovery suit | Sizes: XXXS — XXL | Colors: 1 | Machine Washable: Yes
Experts:
Dr. Alex Schechter, DVM, founding veterinarian of Burrwood Veterinary
Dr. Amari Wells, DVM, managing veterinarian at Small Door Veterinary
Dr. Anna Massey, VMD, director of emergency and critical care at Red Bank Veterinary Hospital
Dr. Michelle Lugones, DVM, veterinarian at Best Friends Animal Society and associate adjunct professor at LaGuardia Community College's Veterinary Technology Program