These Soft, Cooling Sheets Are The Most Comfortable Bedding I've Ever Slept On
Hear me out — these silky sheets are the best I've ever slept on.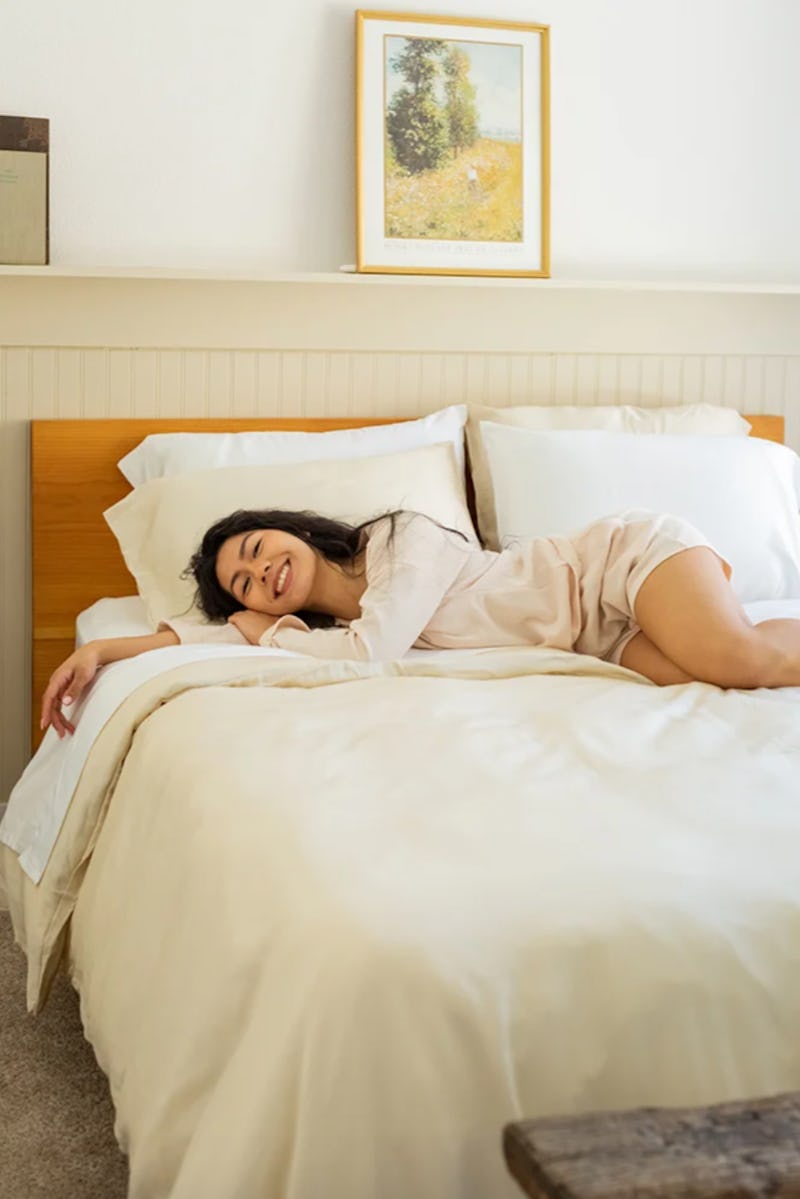 Eucalypso
We may receive a portion of sales if you purchase a product through a link in this article.
When it comes to bed sheets, I've tried it all. I've slept on cotton sheets with a high thread count; affordable microfiber sets that don't wrinkle; soft bamboo sheets that feel straight out of a hotel. But after hours of strenuous research (okay, naps), one fabric really stands out from the rest. I can say that TENCEL™ sheets are the cream of the crop when it comes to cooling, lightweight, and soft bedding. And I feel even more certain of this after spending a few weeks sleeping Eucalypso's TENCEL™ lyocell sheets.
As a shopping editor, I can get a little jaded about bedding. Between thread counts, fabric weaves, and lofty claims, it can be hard to tell whether you're paying for high-quality sheets or high-quality marketing language. But after of sleeping on Eucalypso's sheets, I was sold. These are by far the silkiest sheets I've ever slept on, and thanks to their proprietary DreamWeave™ technology, they truly did a better job keeping me cool in my overheated apartment than some of my favorite cooling sheets.
So, what is TENCEL™?
I've long been a fan of lyocell sheets which are often labeled by their trademark TENCEL™. Made from sustainably-sourced raw wood pulp (often eucalyptus), lyocell fibers are lighter and more moisture-wicking than cotton. They also tend to feel softer and thinner than similarly priced cotton sheets, which boast high thread counts that translate into stiff and thick sheets.
These sheets could also be a game-changer for anyone whose skin is prone to eczema, acne, or irritation. They're antibacterial and hypoallergenic but also designed to be breathable, so they don't trap heat (or sweat) and feel lightweight and soft on sensitive skin.
Is TENCEL™ more eco-friendly?
TENCEL™ is manufactured with recyclable materials to eliminate waste. Its fibers are produced in a closed-loop system that allows 99% of the water and solvents used in the production process to be recycled. This is an environmentally friendly alternative compared to the water-guzzling production process of cotton fabrics. Eucalypso's sheets are also produced in fair-trade factories to ensure safe working conditions and high-quality production.
My Experience Sleeping On Eucalyposo's Sheets
If these benefits weren't enough, let me throw in my glowing endorsement. I have been sleeping on these sheets for weeks and am in no small way obsessed with them. They're the kind of sheets I'd recommend to a friend or that I'd splurge on as a wedding gift. I have a feeling it's only a matter of time until my entire bedroom is outfitted in their eucalyptus bedding — they also have a dreamy comforter, a eucalyptus sleep mask, and even entire sleep bundles.
I'm not alone: These sheets have racked up so many positive reviews from fans who swear by them for hot nights and sweaty sleeps. One fan of their sheets raves, "This is the first set of sheets that I have purchased that really are what they claim to be. They are very soft and work great at keeping you cool at night. Love them!!"
I could sing the praises of Eucalypso's classic sheet set for hours, that's how much I love this set of eucalyptus sheets. But you can take my word for it. These sheets are luxurious, cooling, eco-friendly, and — most importantly — worth every single penny.
This article was originally published on