The UK Online Safety Bill, Explained
Here's what you need to know about the divisive legislation.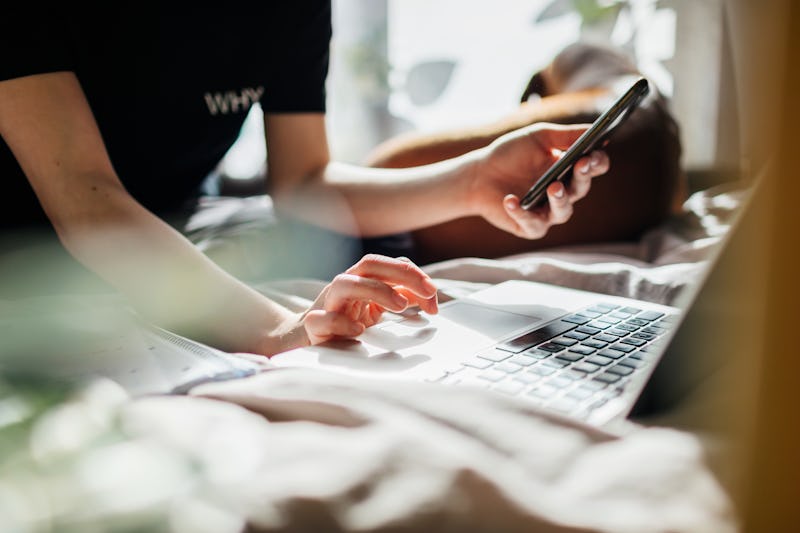 Getty Images/Tom Werner
A group of campaigners, survivors, and families who have experienced online abuse penned an open letter to the future prime minister in August, asking that they keep the Online Safety Bill at the forefront of their mind once they enter No. 10 in September 2022. This comes after the bill was delayed in July, when it was moved from the legislative calendar to make room for a no-confidence vote in the government.
The letter, signed by a coalition led by the National Soceity for Prevention of Cruelty to Children (NSPCC), was addressed to prime minister candidates Rishi Sunak and Liz Truss. Within the note, campaigners expressed their "frustration and disappointment" at the Online Safety Bill being "delayed rather than passed through parliament."
"With every month the legislation is delayed, the NSPCC say we will see more than 3,500 online child sexual abuse crimes against children," the letter reads. "These offences have increased tenfold in just a decade. And bullying, pro-anorexia posts, harmful self-harm and suicide content continue to fill children's streams."
The letter continued: "This level of harm against children would not be accepted in any other industry, which is why the next prime minister must make the Online Safety Bill a national priority and pave the way for urgent regulation to begin."
Amid calls for the Online Safety Bill to be finalised, the proposal has received criticism from both government ministers and outside detractors. Below, find out more about the important piece of legislation.
What is the Online Safety Bill?
The government first announced its plan to introduce legislation pertaining to online safety and social media in 2019. The Online Harms White Paper was published in Dec. 2020, promoting the idea that if social media platforms failed to protect their users from harmful content, there would be legal ramifications.
The BBC outlines that the draft Online Safety Bill was published in May 2021. Within, the government stated that social media platforms and websites where people can share content have a "duty of care" for all users. The government has proposed that Ofcom will have the power to fine companies up to 10% of their annual global turnover, and block access to sites, if they fail to protect users from harmful content.
Abuse that isn't classified as criminal, spreading misinformation, and encouraging self-harm all count as harmful content. However, the government has noted that under the new legislation, platforms also need to "protect content defined as 'democratically important.'" This means not discriminating against political viewpoints presented online, whether they come from the left or right.
Two months after the publishing of the draft bill, a joint committee put forward a series of recommendations including making cyberflashing — sending somebody naked images without consent — a criminal offence, and requiring porn websites to block minors from being able to access material. This came after actor Emily Atack met with MPs in parliament in Nov. 2021 to share the impact of receiving sexually explicit messages from strangers online.
Speaking about the Online Safety Bill, then-Secretary of State for DCMS Oliver Dowden said: "We will protect children on the internet, crackdown on racist abuse on social media, and through new measures to safeguard our liberties, create a truly democratic digital age."
In March 2022, the Online Safety Bill was introduced to parliament. Under proposed rules, social networks could be blocked or fined for failing to take down harmful content, and porn sites would have to ensure they block all under-18s from accessing their content, among other new additions. New powers will also allow Ofcom to request information from companies, and executives who don't comply could face up to two years in prison.
The Online Safety Bill was due to be debated by MPs in parliament in July 2022, but it was delayed to make space for a no-confidence motion. In Aug. 2022, the government published significant changes to two clauses within the bill. These amendments were made "in response to engagement with a broad range of stakeholders" which included the Joint Select Committee. According to the government, the committee "expressed concerns that the bill was overly focused on content removal, rather than design" and that there was "uncertainty about how providers should determine whether content is illegal."
As a result, these clauses now state that companies "must take preventative measures to mitigate a broad spectrum of factors that enable illegal activity" and to look into how "service providers should make judgments about content on their service."
What is the criticism about the Online Safety Bill?
The legislation has been met with push back from both sides: some say that it infringes on people's freedom of expression, while others have argued that it doesn't go far enough to tackle the problem of online abuse.
Former Girls Aloud member Nicola Roberts posted a statement on Twitter explaining that the Department for Digital, Culture, Media & Sport (DCMS) had asked her to support the Online Safety Bill. However, the singer-songwriter, who has received online abuse in the past, said there was too many loopholes for her to advocate for the proposal. She remarked: "The biggest loophole and inadequacy I found in the efficiency of the bill is that they had failed to combat the problem of someone's account being taken down, only for them to start a new one under a different name. I couldn't support the bill until something more concrete was developed to tackle that problem."
Roberts went on to cite the example of the racist abuse England footballer's faced online following the Euro 2020 final. She wrote: "Regardless of whether an abuser's account is blocked or taken down, perpetrators take the time to make another and start again. It highlights why these loopholes need to be filled and this has to stop."
Meanwhile, ex-Cabinet Minister David Davis presents the other side of the argument, leading a campaign that believes the bill, which he's described as a "censor charter," will give big tech firms too much power in stifling freedom of expression. "Lobby groups will be able to push social networks to take down content they view as not politically correct, even though the content is legal," he said, per the BBC.
Meanwhile, avid campaigners have expressed their disappointment in those opposing the bill, adding that it was "upsetting" to see some "rejoicing at this delay and calling for the legislation to be scrapped altogether."
This article was originally published on