Genesis Invites You To Drive What You Want: The Vibrantly Designed GV70
A new kind of SUV just rolled into town.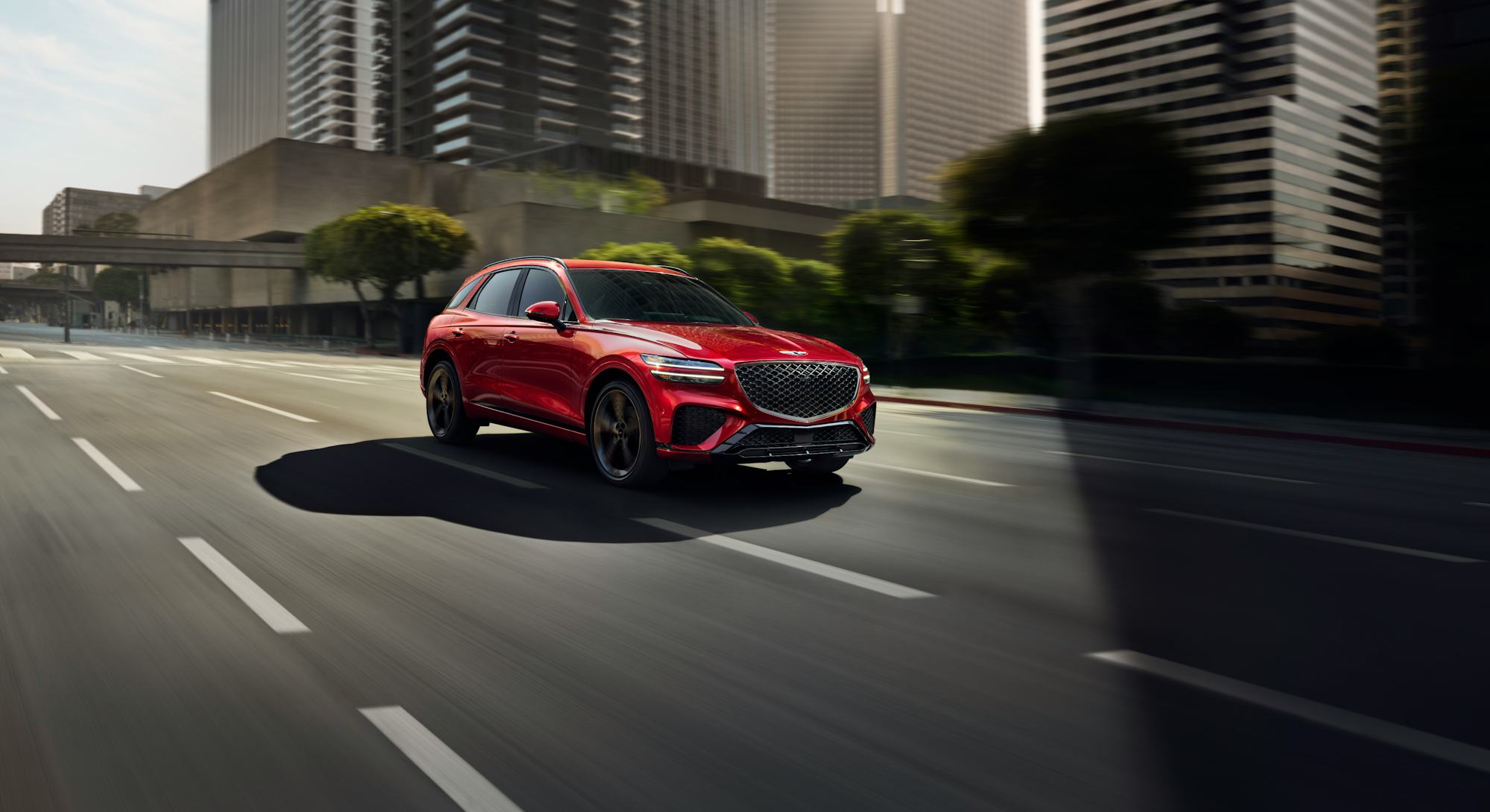 Security, gas efficiency and compatibility are typically the top needs you'll probably look for when searching for your next vehicle. Those are important factors, but let's be honest for a second about what you really want. Wants take a driving experience from routine to the highlight of your day, injecting luxury into your life when you might need it most: in the middle of your mundane daily commute. Which is why Genesis has designed the first-ever GV70 performance SUV to not only deliver on what you need, but also what you didn't even know you wanted. Because #WantWins with Genesis.
An Unexpected Level Of Detail
With a silhouette more akin to a two-door sports car than a traditional SUV, the Genesis GV70 embodies the ideal combination of comfort, style, and utility. A refined athletically elegant design proves the vehicle was crafted with attention to detail. Its signature Quad LED headlights and taillights combine with a wide and low frame for a sleek and sporty profile that stands out. Elegant parabolic lines create a dynamic contrast to shoulder volume without distracting from the eye-catching Genesis Crest Grille, complete with a glinting G-Matrix pattern. The interior is a plush, stylish, driver-focused experience that echoes the aerodynamic curvature of aircraft wings. Available front-quilted Nappa seats provide both soft comfort and firm support, as well as options for heat, ventilation, and even driver's seat massage.
A Truly Modern SUV
The available smartphone-integrated Genesis Digital Key will unlock GV70's doors, while its industry-first in-vehicle fingerprint enables you to start the engine without a key. Artfully placed into the car's dash, a 14.5" touchscreen display syncs with your devices for more accurate routing and will even suggest destinations based on what's in your calendar. Center console controls make using the panel easy and relaxed, and complementary regular multimedia and map updates ensure a seamless experience every time.
A Thrilling Amount Of Power
GV70 is an SUV with the soul of a sports car, with standard all-wheel drive and a 300hp 2.5-liter turbocharged engine. For extra punch enthusiasts will love, you can opt for the 375 horsepower, twin-turbo V6. Custom drive modes include snow, sport, eco and comfort settings, offering a dynamic driving experience in normal conditions, and improved grip in slippery and low-traction situations. While GV70 offers a smooth and quiet ride, drivers can also enhance the interior environment with a selection of ambient soundscapes, including forest sounds, sea waves, a fireplace, or soft summer rain, filling the car's cabin with crystal clear sound, thanks to the available 18-speaker Lexicon audio system.
With Dependability On Every Trip
Outfitted with a bevy of cameras, radar and sonar sensors, GV70 offers some seriously innovative safety features, including an available 360º Surround View Monitor and Blind Spot View Monitor to protect you against potential accidents. Forward Collision-Avoidance Assist, available Parking Collision-Avoidance Assist-Reverse, and Blind-Spot Collision-Avoidance Assist make it easier than ever before to drive safely and park scuff-free in any busy city setting. With its available Surround View Monitor and remote image capture, you can even use your smartphone to keep an eye on your vehicle at any given moment.
Rounding out the entire Genesis Ownership Experience, Genesis Connected Services and Genesis Service Valet make upkeep of your GV70 simple and painless. Genesis Connected Services enables your smartphone to monitor the status of your SUV, alerting you to any needs, while Genesis Service Valet will pick up your vehicle for routine servicing, so you never have to leave your home. And of course, like every Genesis, GV70 comes with one of the best warranties around, with a 10 year/100,000-mile powertrain warranty and 5 year/60,000-mile new vehicle limited warranty.
From its clean and contemporary design down to its rugged, performance-oriented features, GV70 checks every box when it comes to both needs and wants. Whether you're searching for your next adventure or looking for a vehicle that keeps up with your busy life, the GV70 never misses the mark.
Legal Disclaimer: Preproduction model with optional features shown. Initial availability limited. See your Genesis Retailer regarding availability.