Grenada Is The Ultimate Caribbean Hotspot For Relaxation & Adventure
From sparkling beaches to lush rainforests, you'll want to soak up the island's unbeatable scenery.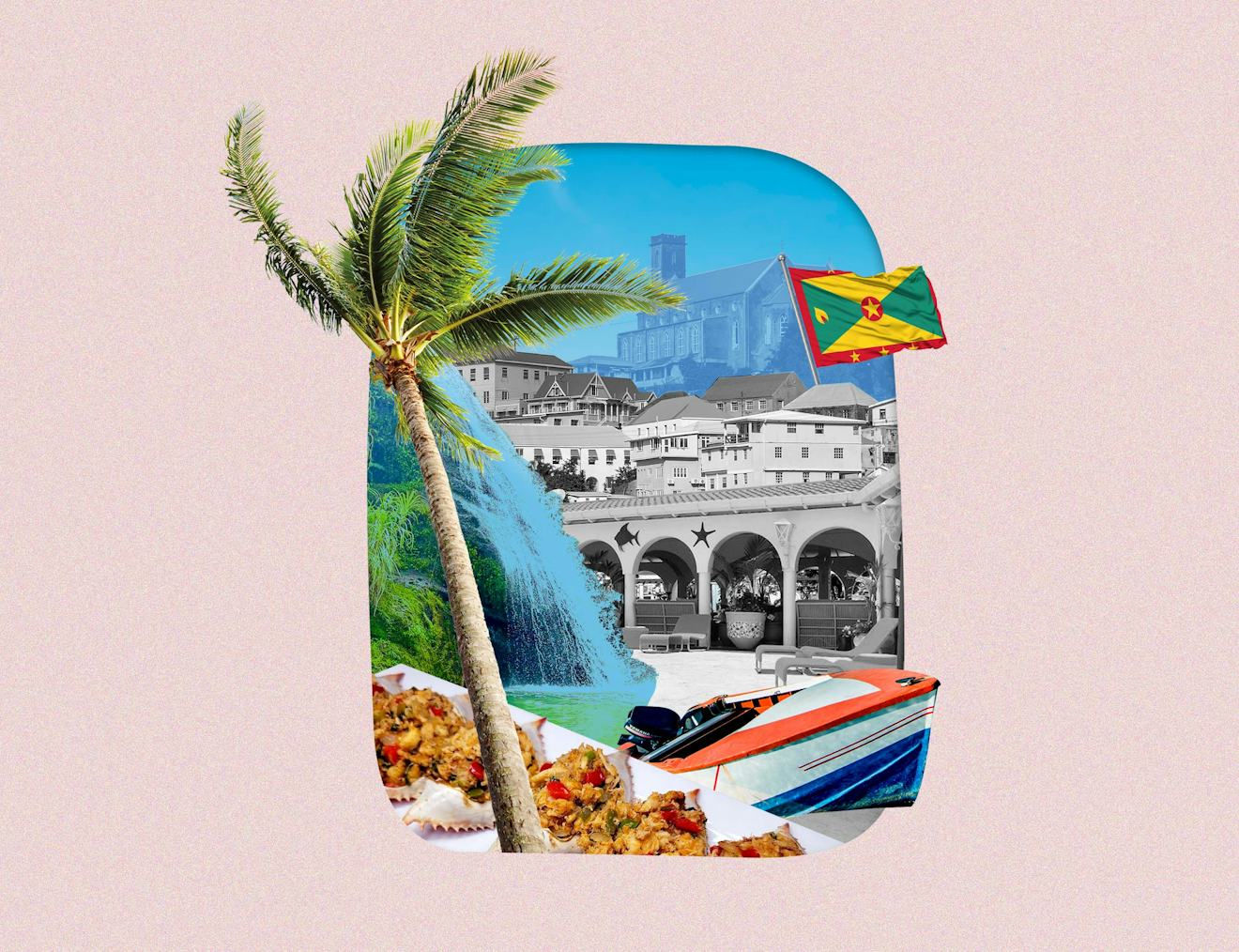 I've traveled all over the Caribbean, staying everywhere from a big, family-friendly resort in Aruba to a tiny yoga retreat in Tobago. I've loved every trip, but some places feel a little too touristy for my tastes; others are quieter but tricky to get to. Recently, however, the Grenada Tourism Authority invited me to stay on the island, and I'm already dreaming about heading back for a second Grenada vacation.
The country, composed of Grenada itself plus the smaller islands of Carriacou and Petite Martinique, sits 100 miles north of Venezuela. It packs a lot into its 134 square miles: peaceful beaches, lush mountains and valleys, and misty rainforests featuring waterfalls and hot sulphur springs. Grenada was originally home to the Carib and Arawak peoples and was colonized by the French and British before it gained independence in 1974. Today, it has a population of 112,000 and is known as the Island of Spice thanks to its production of nutmeg and mace.
Compared to bigger-name tourist destinations in the Caribbean, Grenada has a slower pace of life. The culture places an emphasis on sustainability; many people use home-grown produce and herbs for food, medicine, and beauty, and single-use plastic and Styrofoam was banned in 2018. The cuisine makes it a particularly vegetarian- and vegan-friendly destination. If you're thinking of making a trip, read on for the best places to stay and eat, what to do, and more.
Where To Stay In Grenada
Most hotels are family-owned and have been in the family for many generations. I stayed at two: True Blue Bay Boutique Resort and Mount Cinnamon Hotel & Beach Club.
True Blue Bay comprises 70 rooms housed in 10 colorful buildings, as well as four pools, a restaurant, a bar, a yoga studio, and a spa. My room was spacious, with beachy décor and a balcony. The first thing I did after checking in was hit the spa. I tried the chocolate body wrap ($150), which involved getting slathered in cocoa from head to toe, then cocooned in plastic wrap and blankets for 25 minutes to sweat out toxins. The result was super-soft skin (and a chocolate smudge behind my ear I didn't notice until hours later — oops). I sprawled out on a lounge chair for an hour of reading, and then it was time for happy hour. Guests and staff mingled at the bar while a tour guide gave an entertaining presentation about the island's spices, including nutmeg, turmeric, cinnamon, and ginger. There was no shortage of spots to swim and sunbathe, although I did find myself wishing the resort had access to a beach. Rooms begin at $157 per night.
Mount Cinnamon is, hands-down, the prettiest hotel I've ever stayed at. It's made up of 37 white stucco suites and villas featuring terracotta Spanish roofs, and an open-air lobby, restaurant, pool, spa, and yoga studio. The catch? It's built on a steep hill that's a real thigh-burner. The reward once you get there? Jaw-dropping oceanfront vistas from each room, with views of Grand Anse Beach and lush green hills dotted with colorful houses. The beach is a five-minute walk away; part of it is reserved for hotel guests and includes a volleyball court and a bar. I'm a wimp when it comes to cold water, but even I didn't flinch as I walked waist-deep into the ocean with a glass of Chardonnay in hand. (This is the exact moment my life peaked.) Rooms begin at $490 per night, and a portion of every booking goes toward full scholarships for students at the West Indies School of Hospitality — especially meaningful since tourism is the country's largest industry.
What To Do In Grenada
You'll likely want to spend some time in the southwest corner of the island, including Grand Anse Beach. Grooms Beach is another popular destination, and on Carriacou, Paradise Beach was named the best Caribbean beach by USA Today in 2022.
I easily could have spent my entire trip relaxing on the sand but I'm glad I didn't. My favorite activity was actually a misty, muddy, and moderately challenging 1.3-mile hike through the rainforest to the Seven Sisters Waterfall. I also waded into Annandale Waterfall and Clabony Sulphur Springs. Other fun outings included a private yoga class by local teacher Malaika Brooks-Smith-Lowe, a tour of Diamond Chocolate Factory, and a trip to The Tower, a historic mansion with an award-winning garden. On my final night, I took a sunset cruise and watched the sky turn magical shades of gold, peach, and purple. Equally special was the sight of the island's glittering lights reflected on the water as we docked later that evening.
Though I didn't experience it firsthand, I heard rave reviews about Cayaks, a guided tour in clear kayaks while drones overhead snap photos of you floating in the bay. If you visit in May, make sure to check out True Blue Bay's popular annual chocolate festival.
Where To Eat In Grenada
Locals take pride in their national dish, oildown — a stew of meats, vegetables, breadfruit, and turmeric cooked in coconut milk. You can order it in plenty of restaurants, but I learned to make it from scratch during a private cooking lesson at local chef Kennedy Roberts' home. He also shared the easiest Grenadian rum punch recipe: mix one part lime juice, two parts simple syrup, three parts rum, and four parts juice (he used fruit punch), then sprinkle nutmeg and cinnamon on top.
You can't leave Grenada without trying a variety of fresh fruit juices: tamarind, soursop, golden apple, and more. They're refreshing and wildly flavorful, unlike any grocery store OJ you might have at home. You can order the drinks at a variety of places, from sit-down restaurants to beach bars.
Grenada's most famous restaurant is BB's Crabback, an open-air seafood spot where I tried another local specialty called — what else? — crabback, a creamy, fragrant crab dish. I also enjoyed Dodgy Dock, True Blue Bay's restaurant. Their most popular dinner choice is callaloo chicken with decadent nutmeg sauce (callaloo, similar to spinach, is a local staple), and I savored their bay leaf tea every morning at breakfast.
Before you head to the airport, squeeze in a final meal nearby at Friday's. The brightly-painted spot seats only about a dozen people, but what it lacks in size it makes up for in character and seaside views. (Another perk: Breakfast is served with a shot.)
Other hot spots on the island include Esther's (Grenada's favorite cocktail spot on Grand Anse Beach), Umbrella's (a beach bar beloved by students), Spice Affair (one of the few restaurants with air conditioning), and Carib Sushi (exactly what it sounds like).
Tips For Visiting Grenada
While there is a public bus system, it has no set schedule, so driving is the easiest way to get around. If you aren't comfortable driving on the left side of the road, or if you want to get the most out of your trip, consider booking a tour guide. Their extensive knowledge of the island's history made my experience so much richer. I usually get restless when traveling from place to place on vacation, since I'm eager to get to wherever I'm going, but in Grenada, taking in the scenery from the car window was a treat in itself. I loved seeing the soaring mountains and valleys, the colorful towns, and the charming marina, all set against the backdrop of the Caribbean Sea.
Some places don't accept credit or debit cards, so bring cash. The United States dollar is accepted in some places, but it doesn't hurt to have the local currency, the East Caribbean dollar. And whatever you do, don't forget bug spray: I racked up more than 20 new mosquito bites just on my feet during an hour-long sunset tai chi class.
The climate is warm year-round, with an average range of 75 to 85 degrees. April and May are considered the best months to visit, since the rainy season's humidity is still at bay and there's high visibility for both snorkeling and diving. A heads up: Though the island is bursting with mouth-watering souvenirs, my guava-nutmeg jam was confiscated at the airport in Grenada, and I've heard similar stories from other visitors.
My four days and nights in Grenada were among the most peaceful, beautiful moments of my year. If you're looking for a scenic mix of relaxation and adventure, consider exploring this Caribbean gem.