7 Ways You Can Help Those Affected By The California Wildfires Right Now
Over 2.5 million acres have burned.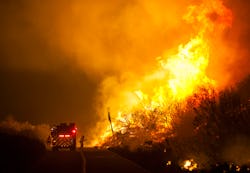 MediaNews Group/Orange County Register via Getty Images/MediaNews Group/Getty Images
With more than 2.5 million acres burned since the start of the year, this is one of the most severe California wildfire seasons in recent history, the New York Times reports. The fires were started by lightning and have now engulfed the Lake Napa, San Mateo, Santa Cruz, Solano, Sonoma, and Yolo counties in California, extending as far north as Oregon and Washington, according to CNN. And with forecasts of dry thunderstorms that could spark more fires, it's difficult to tell how long it'll be before the fires are put out. In the meantime, there are ways to help victims of the wildfires.
It can get confusing figuring out exactly how to help victims of wildfires because the effects are so widespread. There are those that have lost family members to the fires, residents whose homes have been taken by the flames, people whose businesses have been burned down, amongst other things. But there are so many different ways to help the people that are in need, even while California continues to fight off the wildfires.
Despite many experts calling these particular wildfires unusual , California is no stranger to wildfires. This means that there are already many organizations set up to help you aid those who may be in need as a result of the fires.
Here are seven ways you can help the victims who have been affected by the California wildfires.
This article was originally published on