The Extremely Creepy History Of Ouija Boards
Love them or hate them, they have a fascinating origin story.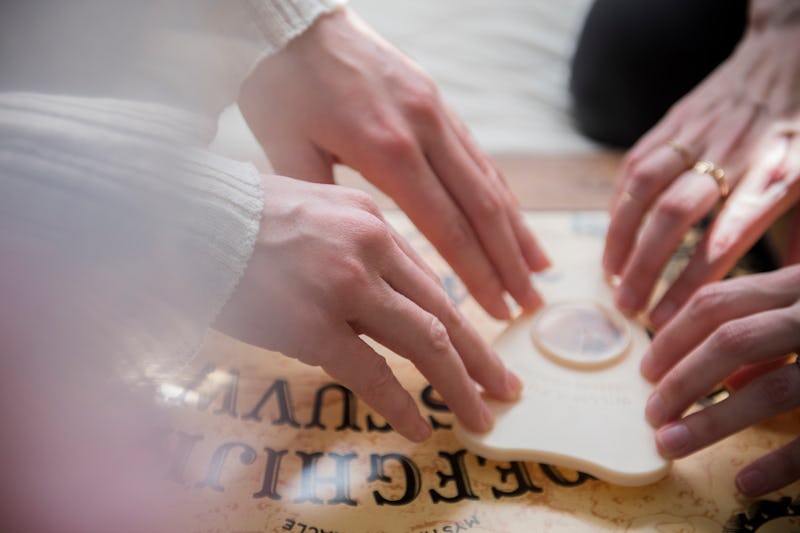 JGI/Jamie Grill/Tetra images/Getty Images
There are plenty of horror movies that use Ouija boards, usually involving extremely attractive teenagers who unwittingly summon an unfriendly demon. (Sad!) But the history of the Ouija board itself is more complicated and fascinating than Hollywood makes it out to be. It involves ancient Roman sacrifices, coffin-makers, sister spiritualists, and a murder trial — and that's before you even touch its occult reputation. The popularity of the Ouija board dates back to its first introduction onto the American market in the 1890s, but the idea behind it is far older. And it's had a tumultuous time ever since it first came out.
If you've never used a Ouija board, it's a type of "talking board." It has a series of letters and numbers on it. Users put their fingers on a planchette, a small piece of wood or metal on top of the board, and the theory is that spiritual forces will push peoples' fingers on the planchette towards particular letters and numbers to spell messages and communicate from the afterlife. Or so they say. Whether you believe in the spiritual world or not, the Ouija board is an incredibly interesting object — and you'll sound deeply cultured if you can talk about 19th century Spiritualism when someone inevitably brings one out at Halloween.
If you bring out a Ouija board to entertain yourself on a dull night, you're tapping into a very long history of spiritual communication. Even if you don't manage to get any friendly ghosts to take your call.
This article was originally published on