How Carla Hall Stays Close To Home In A Socially Distant World
The Chef & TV host uses food to stay connected...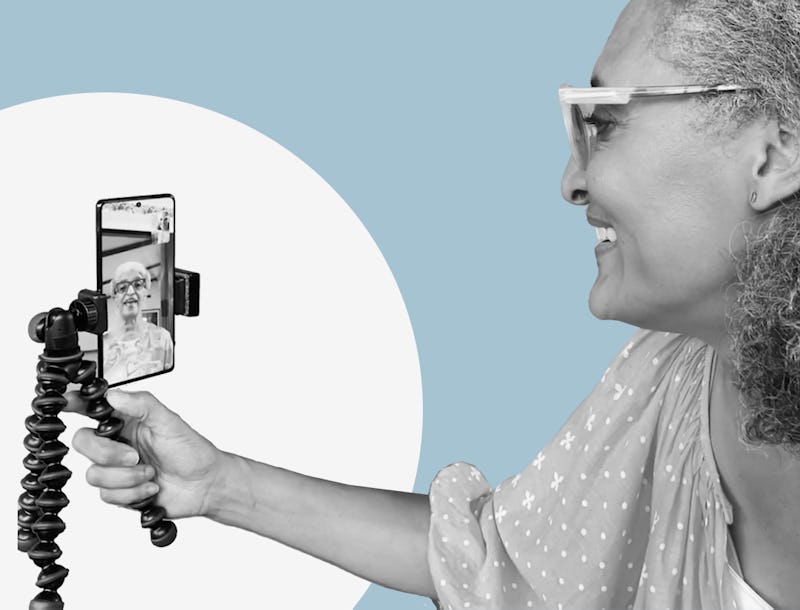 Every family has that one member — the guardian of the culinary oral tradition, the one who keeps grandma's recipes alive. For anyone who knows TV host, chef, and cookbook author Carla Hall, you know that in her family, this role belongs to her.
"When I make a recipe, I start with my grandmother's Sunday suppers, and I make twists," Hall tells Bustle from her bright living room. Today, she's making a dish with her mother Audrey via video chat on her Samsung Galaxy A71 5G — chicken meatloaf balls. "I consider myself the culinary matriarch — very different from my mother being the actual matriarch — of my family because I hold the family's recipes, and make sure my nephews know them." Now, the meatloaf balls are a healthy twist on one of her mother's few staple recipes, but it's one of her favorites. "She used to put the peas inside a mashed potato volcano, and it was everything!"
According to Hall, many assume that she had a front row seat in grandma's kitchen growing up. It wasn't until she ventured away from home while modeling in Europe that she found her culinary passion.
"I didn't start cooking until I was in my twenties, when I was living in Paris and London. All the models would get together at the same house, and it felt to me like Sunday suppers," Hall remembers. "Everyone shared how their mothers cooked, and I realized I had no idea what my grandmother and mother did. I bought cook books and followed recipes and it fascinated me."
Contrary to what you might think, Hall doesn't work from a recipe box handed down from her grandmother. Nothing is written down, so she looks more for the emotional and taste connection. This inspired the gustatory detective in her, and her professional life naturally moved into food. From ages 25-30, she ran a lunch catering service, beginning culinary school shortly after. It wasn't until she was 44 that she landed her breakout role on a famous food competition show, and things really blew up.
"When I was on a daily talk show, I thought, 'Wow, here I am!' But I also thought 'How am I going to use this platform?'" she says. "The one thing that I've always enjoyed along the way was teaching. For me, it's teaching people on every level how to cook, and giving them a feeling of empowerment."
Often, this means teaching her own mom how to get a recipe just right for her club or her church group. "My mom had about five specialty dishes when we were growing up, but otherwise she doesn't like to cook," Hall says. "She eats for sustenance, whereas I start thinking about lunch at breakfast, dinner at lunch. But that means she'll call me up, saying, 'OK, I have two ingredients and I want to make a soup. What do I do?'"
But where Carla is the keeper of the food connections, her mother Audrey — turning 80 this year — is the social director. "If I'm the culinary matriarch, my mother is the connector in our family," Hall says. "She makes sure we don't go too long without talking." Naturally, in this time, smartphones like the Samsung Galaxy A71 5G have been a lifesaver. Whether it's for daily chats, or remote dinner parties, this phone has the battery life, display, and speed that makes connecting with the ultimate connector easier than ever.
"I'm always running several programs on my phone at one time — my video chat, texts, my browser — I'm always multitasking," says Carla. "With the Samsung Galaxy A71's 5G speeds, I never have to worry about my phone slowing down. I just never have a hiccup, and I never need to delete anything because the storage is so great."
Though her mother lives in Nashville, and Carla lives in D.C., Carla can still have kitchen tutor time with her mom thanks to technology. "When I'm making a recipe for my mom, I know it needs to be simple," Hall says. "I want to show her what I'm doing in the kitchen, and it's so easy when I'm using my Samsung Galaxy A71 5G. I don't have to worry about being tethered to the cord or my phone dying because the battery life is so long!" Not to mention, the 6.7" screen allows for maximum visibility. "And that screen size?! It even goes all the way to the sides! I love it."
And is it still Sunday supper if they're enjoying the meal on a Tuesday from separate kitchens? Of course! "In talking to my mom, the connection no matter where we are is important."
This article is sponsored by Samsung Galaxy A71 5G.