How One Chef Puts A Modern Twist On A Classic Comfort Food
Gillie Houston uses an unexpected ingredient to make her mac and cheese pop.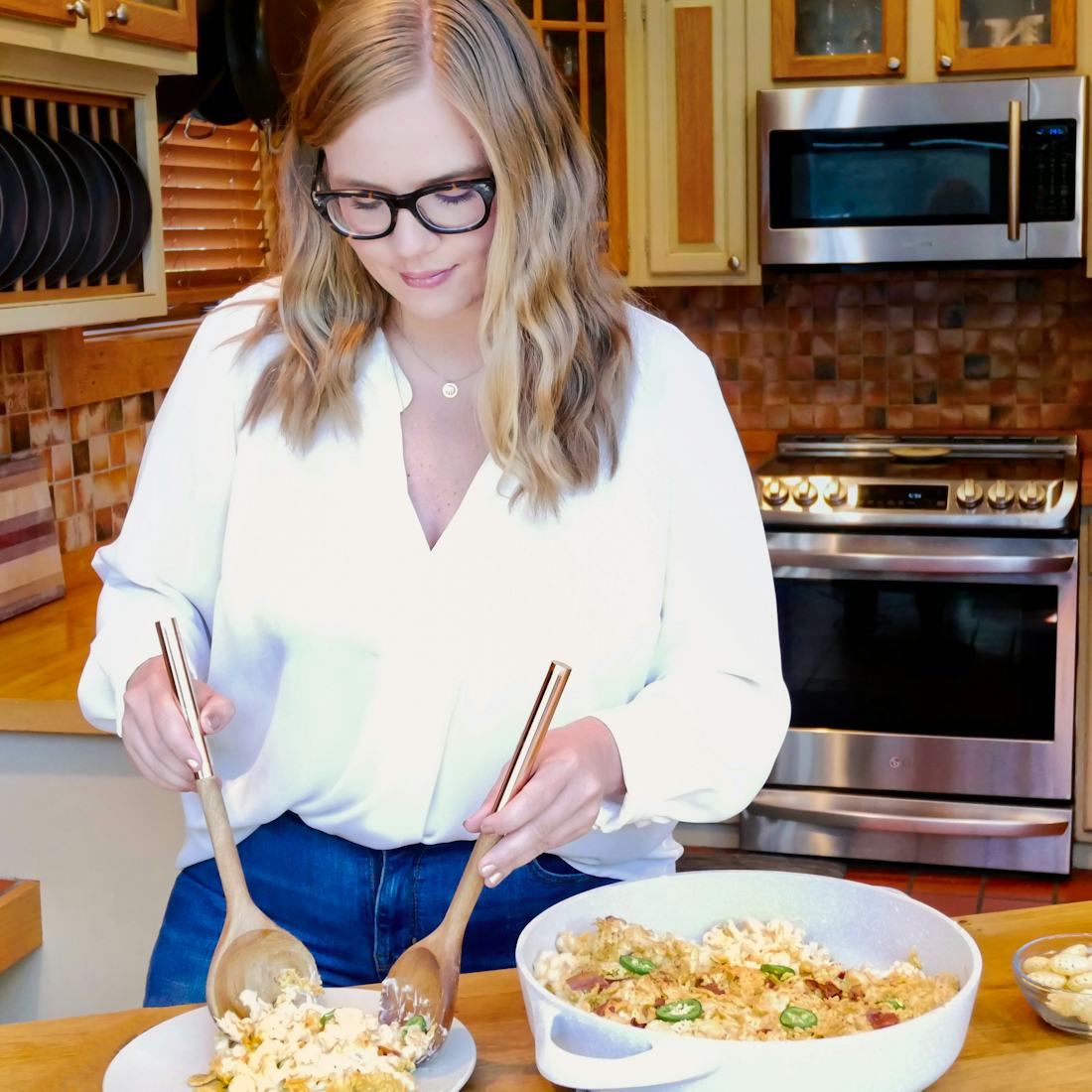 When it comes to my favorite comfort foods, mac and cheese is probably the ultimate contender. There's nothing like carbs doused in rich, creamy cheese to brighten up even the dullest days. Let's be real, though: Sometimes even my go-to comfort food can get a little boring, especially if I've been relying on a stove-top — or gasp, a boxed — recipe alone.
Since we're all spending more time than usual in our kitchens these days, Bustle teamed up with LAY'S® Poppables™ to enlist chef and food writer Gillie Houston to give this feel-good food a little pop — quite literally. With mouth-watering additions like fresh jalapeños, bacon, and a LAY'S® Poppables™ Creamy Jalapeño Flavored Potato Snacks topping, Houston's recipe puts a much-needed twist on an old fave. And lucky for everyone, you don't need to be an expert in the kitchen to whip this up yourself.
"My mission is to make food and cooking content fun and accessible for everyone, no matter their background or experience level," Houston tells Bustle. "I love to show my audience that cooking doesn't have to be intimidating or fussy, and that anyone can have a great time creating delicious things in the kitchen."
According to Houston, crafting a new recipe can be as simple as turning to what you already have in your kitchen. And who isn't stocked up on cheese and pasta? Houston likes using shredded cheddar and mozzarella, as well as a third cheese, like Pepper Jack, but whatever you have on hand will work. The cheeses are combined with other household staples including butter, cream cheese, and half-and-half to form the perfect base for the ultimate treat yourself meal.
"I prefer making simple and delicious recipes with ingredients that can be found in most people's pantries," Houston tells Bustle. "I also love to make recipes as fun, colorful, and of course, as flavorful as possible!"
For Houston, "flavorful" means bold and surprising. In her take on mac and cheese, Houston incorporates fresh jalapeños, diced onion, garlic, and crumbled bacon (yes, bacon) to take this dish to the next level.
As the pièce de résistance, Houston creates a crunchy topping by adding a layer of LAY'S® Poppables™ Creamy Jalapeño Flavored Potato Snacks before the dish goes in the oven. The light, airy snacks are the perfect way to add a little pop to any recipe, not to mention they double as a snack while you wait (impatiently) for your dish to bake.
And while it's always a little intimidating to try your hand at a new recipe, Houston's got your back:
"I'm a passionate self-taught home cook myself, without formal culinary training, so I prefer cooking that's approachable, rustic, and easily explainable over anything too complex or exclusionary."
OK, now she's speaking my language. Check out the video and recipe below, and get ready to get poppin'!
Watch Here
Baked 3-Cheese Jalapeño Popper Mac and Cheese with a LAY'S® Poppables™ Creamy Jalapeño Topping
Ingredients:
1 pound dried cavatappi pasta (or another short pasta)
6 tbsp unsalted butter, divided
1/2 medium yellow onion, diced
3 fresh jalapeños, deseeded and diced
4 cloves garlic, minced
1/4 cup all-purpose flour
3 cups half-and-half
5 oz cream cheese
1 cup Colby Jack, Monterrey Jack, our Pepper Jack cheese, shredded
1 cup cheddar cheese, shredded
2 cups mozzarella cheese, shredded
1 tsp salt
1/2 tsp black pepper
1/4 tsp cayenne powder (optional)
8 slices bacon, cooked and crumbled
2 cups LAY'S® Poppables™ Creamy Jalapeño Flavored Potato Snacks
Directions:
Preheat the oven to 350°F. Add butter to a large saucepan over medium heat. Add diced onion and jalapeño and cook for 3 minutes, stirring occasionally. Add garlic and cook 1 minute.
While the vegetables cook, add the pasta to a pot of boiling water and cook according to package instructions until just shy of al dente.
To the saucepan, stir in flour and cook for 2 minutes. Add in half-and-half, whisking until all flour lumps are gone. Cook for 7-8 minutes, stirring frequently, until the mixture has thickened.
Add in cubed cream cheese and stir until melted. Add in most of the shredded Jack, cheddar, and mozzarella cheese, reserving some for the topping. Stir until the cheese has melted and the sauce is creamy; if the sauce is too thick, add a splash of half-and-half or milk as needed. Add in salt, pepper, and cayenne and stir.
Remove the sauce from the heat and add in the drained pasta and most of the crumbled bacon, stirring until well combined. Transfer the pasta mixture to a greased casserole dish or large cast iron skillet.
For the crunchy topping, crush 2 cups LAY'S® Poppables™ Creamy Jalapeño Flavored Potato Snacks to a coarse texture and combine with 3 tbsp melted butter.
Top the pasta with remaining cheese, bacon, and the LAY'S® Poppables™ Creamy Jalapeño crumble. Bake 20-25 minutes until the topping is golden brown. Optional: top with sliced fresh jalapeño. Serve, and enjoy!
This article is sponsored by LAY'S® Poppables™.