How This Apartment Dweller Went From Renter To Homeowner
One 30-something and the REALTOR®, member of the National Association of REALTORS®, who helped her tackle the New York housing market.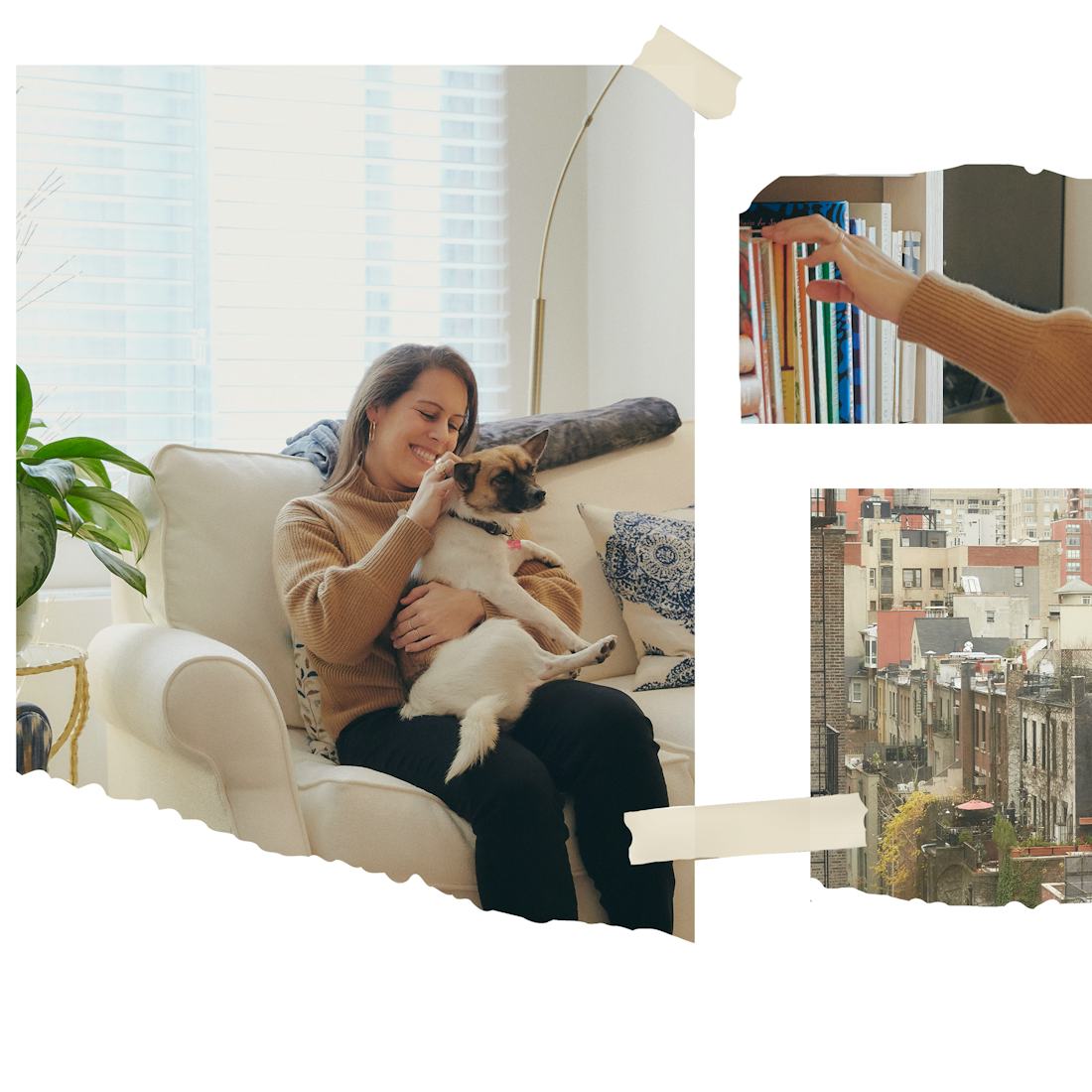 If you've ever rented an apartment in New York, you know the sense of impermanence. Even if you've been at one place for a while, moving around a lot is the norm; at least, that's what 33-year-old Erica Shaw has experienced. "In my old place, I never really bothered to put anything up on the walls because it always felt temporary," Erica says. "I got used to moving out of places after the lease was up."
But in the craziest year ever, in the middle of a pandemic, she slayed the proverbial New York renter's white whale and bought the condo she long had wished for. "It's always been a dream of mine to own my own apartment in NYC," the advertising executive and Westchester native tells us. This year, she made that dream come true. "Finally, I have a real sense of permanence."
The process of getting there, however, was no easy feat. New York's real estate market is one of the most competitive and expensive in the world. In order to get exactly what she wanted, Erica needed the help of someone who knew how to make the most out of the market. Enter real estate agent Tim Malone, who is also a REALTOR®, meaning a member of the National Association of REALTORS®. Tim has worked for three years for a well-respected brokerage in New York.
From establishing exactly what she wanted, to getting all the paperwork in on time and working around the insanity of a pandemic, here's how a 30-something apartment dweller became an owner with the help of a REALTOR®.
1. She Put Her Trust In The Expertise Of A REALTOR®
Erica was used to the typical security deposit plus first month's rent shuffle of apartments in New York, but buying was a different story. When she decided to buy, Erica put her trust in an agent who had the expertise to guide her through one of the biggest purchases of her life — specifically, a REALTOR, meaning a member of the National Association of REALTORS®. The Association provides premium resources to all its members, who are held to a Code of Ethics that requires them to treat all their clients fairly and equitably. By having Tim, a REALTOR®, guide her through the transaction from start to finish, Erica had an advocate working on her behalf throughout the entire process.
"Having an agent who is a REALTOR® to help you with all of the nuances of home buying is essential, especially if it's your first time," says Erica. "There are so many rules and regulations — from securing the paperwork guaranteeing that you can pay the mortgage, to proving that you're going to be a good neighbor — when it comes to owning a co-op or condo in New York, and it really helps to have an expert as a guide. Every building, area, and type of establishment has different rules and that can be very overwhelming to navigate."
Enter Tim, whom Erica put all her trust in. She sent him her home criteria, and he did the rest. From searching for first-to-market places to doing preliminary walk-throughs, connecting her with real estate lawyers, and talking through mortgage rates clearly, Tim went above and beyond to find the best place for Erica.
"To me, being a REALTOR® is all about listening to people, synthesizing what they want, and providing my expertise throughout the entire process. Giving my clients the utmost level of service, and adhering to the REALTOR® Code of Ethics makes all the difference," says Tim. "Erica had a very specific list of needs, but she was really calm through the whole process, which can be overwhelming — especially in the time of a pandemic."
On top of that, he also served as a 24/7 resource to answer any and all questions she had. "I had so many questions along the way about what to do, and Tim was there to answer them day and night," Erica says. "He never made me feel silly about asking anything, and for that I was very grateful."
2. She Identified Her Needs And Wants
In terms of specifics, Erica was seeking out a one-bedroom, one-bathroom place on the Upper West Side of Manhattan. There were the standard desires — like proximity to subways and her gym, and closet space — and some amenities that are difficult to find in New York buildings. She was looking for an outdoor space, a doorman, and an in-unit washer dryer. "After 10 years of throwing money away on the absurdly expensive basement laundry fixtures in my old apartment building, I was ready for an upgrade!"
On top of it all, the dream was to find a place that was dog-friendly because Erica was considering adopting a furry friend.
Plus, as Tim tells us, there's a lot of competition for apartments in the neighborhood. "Upper West Side one-bedrooms are always in high demand," says Tim. "Young people typically want to buy here because it's a moderately affordable area, has sophisticated restaurants, and good proximity to the park. Erica's price range was lower than the market rate, and her asks were very specific." Suffice it to say, Erica and Tim had their work cut out for them.
3. Persistence, Persistence, Persistence
Most homebuyers experience losing out on at least one place before they find the right one. And when Erica first began her search in January 2020, there was already a rush to buy condos in her desired area. "Inventory was tight when I started looking," she tells us. "This was about a month pre-pandemic, and at the time, it was a buyer's market. Still, there weren't a lot of condo/co-op one-bedrooms on the Upper West Side in my price range." Tim was able to help her navigate this process and maintain hope to find the right apartment for her.
Add the usual stress of house hunting to the fact that we're in a pandemic, and you have a very different kind of house search. Instead of the usual walk-throughs, everything had to be virtual. "It was one of the first deals that I did during the pandemic," Tim tells us. "Everything is being done virtually, so you need to establish a really solid level of trust with your client and use all the new technology available to you in order to conduct business safely."
Fortunately, Erica and Tim found a place that she loved rather quickly. "I actually fell in love with — and put an offer in — on the first apartment I saw," says Erica. "I went through the whole process, dredging up every piece of information on my financial situation for the co-op board. I had to pull the last three years of my financials — pay stubs, W2s, tax returns, copies of my IDs, proof of employment, reference letters from employers and individuals of my good standing, reference letters from my bank. I needed all this just to secure the pre-approval of my mortgage." After her offer was accepted with a mortgage contingency, she mentally began preparing for her move. But at the 11th hour, someone came in with an all-cash offer that trumped hers and the purchase was off.
But there was a silver lining. Now, she had all the financial paperwork done and ready for the next opportunity. As Erica tells us, Tim helped her navigate the complicated legal jargon involved in the process, and made sure she was always on track to deliver the required documents on time.
4. When Lightning Struck Twice, They Were Ready To Pounce
"After the first place I lost, nothing seemed to compare. That apartment really checked all the boxes and that's a rarity. That is, until I found the second one," Erica tells us. She loved the building, the location, and it had great proximity to Central Park. Plus, there were subways nearby, great restaurants, and shopping.
After further consideration, she realized it was a gem that would meet her needs. "Bonus," she says, "it was the rare condo in my price range!"
For all the hardships caused by the pandemic, housing affordability was improving in NYC. Tim recognized that this was a great deal, and that they should move on it. "In this case, we were able to negotiate a lower mortgage rate than her first offer, because of the pandemic," says Tim. "Mortgage rates are low, prices are low. Down the line, you will just be so happy that you own in NYC."
5. Her New Place Has Become Everything She Wanted And Much More
Now that she's moved in and made the place her own, Erica is totally in love with her condo. One of her favorite features is its 9-foot ceilings. "You don't realize how closed-in you feel [in other apartments] until you have the taller ceilings. It really makes a huge difference," Erica tells us. "Otherwise, the place checks all the boxes of things I was looking for — there's a doorman, walk-in closet, washer and dryer, open and updated kitchen, gorgeous molding along the ceiling that really gives the place such character." On top of that, she's really been able to put her personal spin on the decor, with the help of her friend and interior decorator SuElyn Chase, of Cottages 2 Castles. The building is also dog-friendly, and Erica's been able to adopt her own puppy.
Looking back on the experience, she's grateful she used an agent who is also a REALTOR®. "Being a first-time home buyer is EXTREMELY overwhelming. The process, the paperwork, the legal jargon, timeline, and everything in between is stressful," says Erica. "Tim, however, made things as simple as they could be. He made my life so much easier, and really helped to ensure I was making the right decision."
This article is sponsored by the National Association of REALTORS®.