How This Couple Moved From City To Small Town In The Pandemic
The expertise of a REALTOR® made all the difference.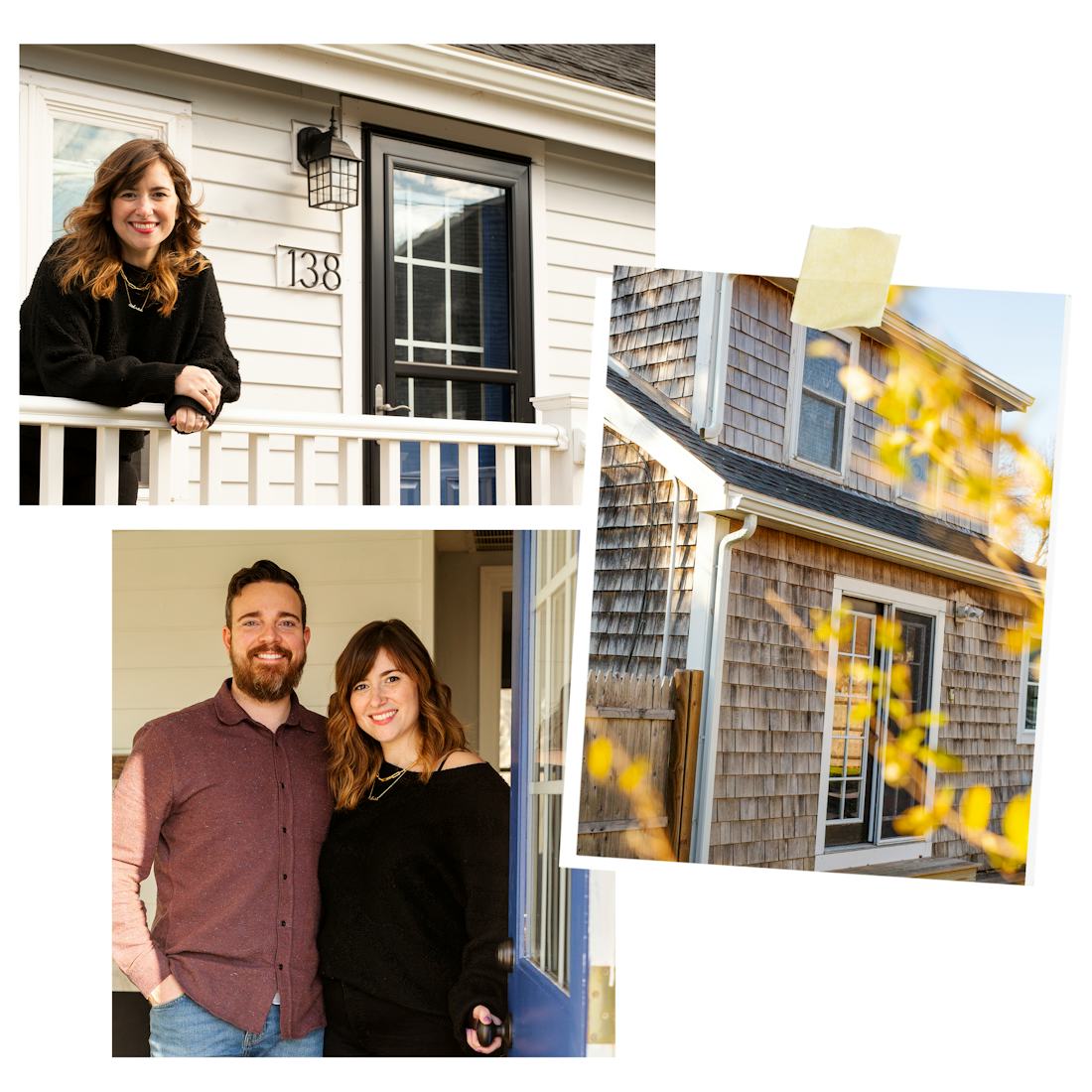 The COVID-19 pandemic has seen us all do plenty of things we'd never do. For Brooklynite Angela DiMarzio, this meant picking up her life, and moving her entire new little family — her husband Sean, her eight-month-old son, and herself—back in with her parents in Massachusetts.
"We loved our life in Brooklyn and were looking forward to raising our son in our favorite city in the world," says the 33-year-old. "Then the pandemic happened, and we realized we just couldn't swing it without some help from family." She and her husband early on moved into her parents' home, where they all worked remotely full-time. But after a few months of everyone being on top of each other, it became a bit too much. "Moving back to Massachusetts to be with my folks was an instant relief, but we had a loose plan to buy a home by the beach so we could rent it out seasonally if we ever wanted to return to New York." They knew they were venturing into unfamiliar territory, and would need help navigating through it.
As of November 2020, Angela and her young family have been living in their Marshfield home for just a few weeks, and they couldn't be happier. How did they make it happen? They turned to the expertise of REALTOR® Jan Bruno, who has been a member of the National Association of REALTORS® since 2016. Though they encountered plenty of ups and downs throughout the process, Jan made things as easy for the family as possible by providing expertise throughout the complex process of buying a home.
Read on to see how this young family made the move from metropolis to small New England coastal town, in the midst of the craziest year on record.
1. The Expert Guidance Of A REALTOR®
Angela went into the process a little bit apprehensive. She was worried that she'd encounter a lot of competition because everyone had similar ideas of fleeing the city in the midst of the pandemic. But by putting her trust in Jan, she got expertise and professionalism that helped her through the transaction." Jan knows EVERYTHING," Angela says. "Beyond just being available all the time and showing us a LOT of homes, she has so many incredible connections. Her knowledge of the community was indispensable in helping us get to know where we were moving, and what was available that fit our needs. She knew just who to introduce us to — like our mortgage lender, and our lawyer — in order to make the whole process easy. It was so much less stressful than I was anticipating, all because Jan works with the best of the best."
That's exactly the difference that a REALTOR® like Jan can offer. FYI, a REALTOR® is a member of the National Association of REALTORS®, and in order to be a member, they're held to an institutional and enforced Code of Ethics. The Code of Ethics forbids REALTORS® from discriminating, inside and outside of the real estate transaction. In addition to trusting that you will receive fair treatment, you can count on REALTORS® for their expertise. They have access to educational and training opportunities, and the latest information about market and economic news and trends. That means, if you're a customer or client working with a REALTOR®, you know you're working with an expert.
In Jan's own words, "I believe we REALTORS® are held to a higher standard. We're required to be informed, and have the most up-to-date information at our fingertips. From the onset of the pandemic, the National Association of REALTORS® would keep us abreast of any new codes, regulations and guidelines to service our clients. They have also added many courses online, so we're able to continue learning and growing while stuck in the house during quarantine." In addition to keeping up with her clients, Jan has spent lots of time beefing up on these courses. "Anyone can get their real estate license. If you look for a member of the National Association of REALTORS®, you can be confident that we hold ourselves to these higher standards as REALTORS®!"
2. They Had A Vision For Their Life As A Family
The community of Marshfield where the young family is looking is a dream place to raise kids. It's in the Plymouth area of the Massachusetts South Shore, and is the picture-perfect New England beach town. It's a historical area, with great schools, and a definite community feel. That was just what Angela wanted.
"We were looking for a nice family-friendly neighborhood, with a home that was essentially move-in ready," Angela tells us. "Plus, both my husband and I work from home. We also want space for staying active, and for our young son to explore as he grows up."
When it came to their actual criteria, they were looking for a three bedroom, one-and-a-half bath, with a fireplace and a nice yard. They also wanted to make sure they were in an area that celebrated diversity and equality. "Coming from a large city to a small town is a bit of a culture shock, and we wanted to make sure we were going to be happy and comfortable," she says.
Jan knew she had her work cut out for her. The area is a competitive one, especially now with so many people fleeing urban areas because of COVID-19. "There are so many buyers wanting to move out of the city and into the small towns of Massachusetts," says Jan. "There literally aren't enough homes for the buyers that are looking. Normally, we are slowing down during the holidays, but I don't see that happening this year."
On top of that, there's the sheer fact that the pandemic has made the home search a little different than before. Walk-throughs often have to be virtual, and people are spending far more time seeing homes online than in-person. But Jan found a way to make this work. "I added Angela to something called a Multiple Listing Search, which is basically the database where agents see new properties coming onto the market. There, I could add all her criteria, and the moment something that fit the bill showed up, she could choose to see it." Plus, of course, when they did schedule in-person showings, Jan always had a huge supply of PPE, like masks, gloves, and sanitizer.
3. They Worked As A Team, And Never Gave Up
Because the market was so flooded with buyers, Angela knew she needed to act fast. Jan helped her put in a total of five offers on different houses over the course of two months. Why did they put in so many offers, you might ask? Because the competition for each house was insanely fierce.
"The main challenge wasn't so much finding a home, it was having our offer accepted," says Jan. "Of course, the best homes that came on the market were the most popular, and in a matter of one day, a single house could end up with 20-plus offers." So, you might ask, how did they get a competitive edge? "We presented an offer as high as we could go without overbidding," Jan continues. "Keeping the appraisal in mind, we provided a strong pre-approval from a local trusted lender."
"The most difficult part was losing out on the homes we loved and put offers on," Angela tells us. We would see a house at 9 A.M. and it would be off the market by mid-afternoon (with offers above asking price). It was madness!" Even something that seems daunting — like getting a loan for the house — was significantly easier than they expected. Jan had a connection with the loan processor that really paid off, so that when they found the house, they knew they'd be able to access the funds to make an offer.
But Jan and Angela made a great team, and in the end, their combined tenacity set them up for success. They found the perfect place and their offer was accepted!
4. Living Their Dream
In spite of the many homes that got away, this young family finally found a place they could really envision building a life in. "We fell in love with our place the moment we saw it," Angela says. "The inside has an open floor plan and looks out over a marsh. The sunsets are amazing, and during the day so much light pours in. Plus, we're about five minutes from the beach in a really cool neighborhood!"
Soon after moving in, they started to feel at home. "I thought the transition to small-town life would be difficult, to be honest, but I'm really happy. We found some great coffee, great pizza, and we have family and friends around." Many things are still closed down in the pandemic, but she's looking forward to exploring when things gradually return to normal.
After her experience, Angela would recommend using an agent who is also a REALTOR® to any friend looking to buy a new home. "Working with a REALTOR® like Jan makes the home-buying process smooth," she says. "Jan really cares, and you know she'll work tirelessly until you find something perfect. She went out of her way to showed that she cared about us from start to finish.Her honesty, professionalism and partnership is truly a model for why we worked with a REALTOR®."
This article is sponsored by the National Association of REALTORS®.