Everything We Know About UK Vaccine Passports
Certain countries now require proof that you've been double-jabbed.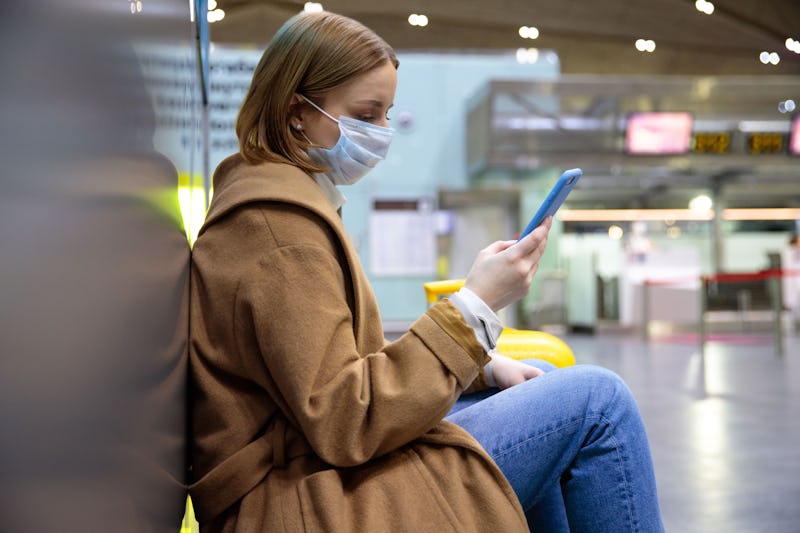 Shutterstock
With around 47 million people in the UK having already had at least one dose of the COVID vaccine, the country is cautiously beginning to feel optimistic about the future. And one thing that the UK government is using to aid the return to "normal" are vaccine passports – a record that acts as proof that you've been vaccinated so you could travel to certain countries or attend large scale events now that some restrictions are lifted. So here's everything we know so far about how to get a vaccine passport, and whether they'll be mandatory when flying into or out of the UK.
What Is A Vaccine Passport?
If you hear people referring to vaccine passports in 2021, it is most likely they are talking about some sort of document (digital or otherwise) that proves the carrier has been inoculated against COVID-19. Such schemes are already in development in countries including Denmark, Sweden, and China.
Currently, once you have the vaccine in the UK, you receive a vaccination card and details about your status are added to your medical record.
As of May 17, people who have had both doses of their COVID vaccine are able to use the NHS app to obtain their NHS COVID Pass as a means of proving that they're immunised before travel and large scale domestic events.
It's estimated that around 39 million people in the UK have had both of their vaccine doses and the vaccine passport through the NHS app could allow them to travel and socialise more easily.
Will Vaccine Passports Be Available In The UK?
It was announced that, from May 17, the NHS app introduced a feature that allows users to prove their vaccination status, also known as the NHS COVID pass.
To get one, you'll first need to be registered with a GP and then download the app to your phone. When logging into the app, you can find the NHS COVID Pass and choose between travel and domestic event options. From there, if you're eligible, it will generate a ​​scannable QR code that lasts for 30 days.
As per The Department for Health and Social Care (DHSC) the vaccine passport includes all of the details listed in the interim guidance on digital vaccine certification, including:
the brand of vaccine you received (and how many doses)
the name of the manufacturer
the batch number
the name of the vaccination facility
the name of the healthcare worker that administered the vaccine
Will I Need A Vaccine Passport To Travel Abroad?
There is no definitive answer on this yet although you can use the NHS COVID pass as proof of your COVID-19 status when travelling abroad.
To be eligible for the NHS COVID Pass for travel you either need:
2 doses of the Moderna, AstraZeneca or Pfizer vaccine
one dose of the Janssen vaccine
proof of natural immunity shown by a positive PCR test result for COVID-19, lasting for 180 days after the date of the positive test and following completion of the self-isolation period
However, you will still need to follow other procedures in order to travel abroad, like getting a negative COVID test results before departing. The government also urges travellers to "carefully research the requirements of your destination country before travelling"
It's more than worth noting that adults who can prove they are fully vaccinated do not have to quarantine when returning from amber countries.
Where Else Will A Vaccine Passport Be Required?
From the end of September 2021, clubbers will have to prove that they are fully vaccinated before they are allowed entry into nightclubs — so, that's two jabs or you're not comin' in.
The UK's Vaccines Minister Nadhim Zahawi introduced the proposed rules swiftly after the nightclubs reopened in an announcement on Monday, July, 19, stating negative covid tests would "no longer be sufficient" proof.
At the time of writing, it's not been confirmed whether bars and restaurants and other social venues will also require double vaccination upon entry, however, Prime Minister Boris Johnson stated it wouldn't be ruled out "if it's necessary to reduce transmission."
What Can Be Used Instead Of A Vaccine Passport?
The government has advised that you will need to follow all travel advice (ie. pre- and post-flight testing) over the coming months until the vaccine passports are more established around the world.
If you don't have a smartphone or cannot download the NHS app for another reason, you can call 119 to receive a NHS COVID Pass paper letter confirming your vaccine status. The paper pass will be signed and sent to you by your GP.
People are being asked to utilise this service rather than request a letter from their GP.
This article was originally published on