If Your Refrigerator Is A Mess, These 25 Organizing Products Can Help
This is what the experts call "glamour organizing."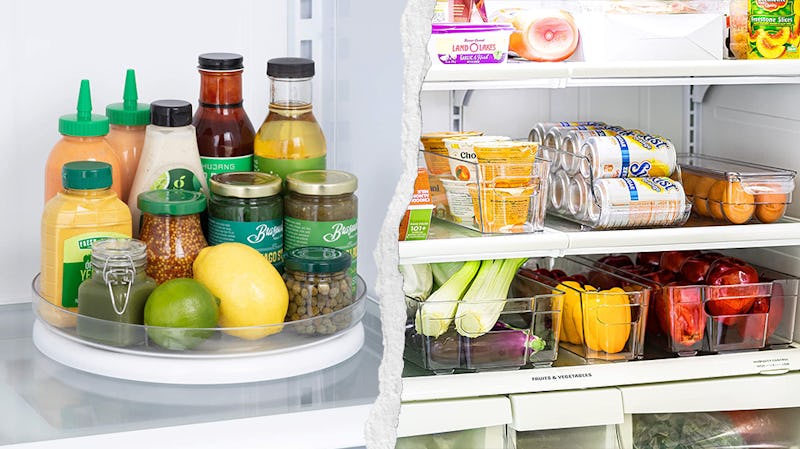 Amazon
On TikTok, an aesthetically pleasing fridge is a flex. A mainstay video genre on the app, the tag #fridgeorganization has a collective 1.3B views. Users just can't get enough of this organization content, but what makes a fridge go viral? The aesthetic fridge of your dreams is actually closer than you might think, and only requires a few simple steps and a bit of extra attention.
Take It From The Experts
Ashley Guzman, has gained nearly 200k followers on TikTok under the username @ash__guzman for her home organization content. Her kitchen is an organized dream, from her freezer, to her pantry, to her under-the-sink storage. "After years of reorganizing the same spaces in my home, I finally found a system that works," Guzman tells Bustle, "My organization style is called 'glamour organizing'. By making the insides of my fridge, cabinets, and drawers aesthetically pleasing, it makes me treat them more like I would a decorative shelf."
While it may sound ridiculous to beginners, the inside of your fridge is something you encounter every single day, multiple times a day. Think of how often a disorganized mess of a fridge been the final straw that made you say, "screw it, I'm ordering takeout." Maintaining the inside of your fridge should become a regular chore like any other, and with the right additions like clear bins and reusable bags, it can become the focal point of your kitchen. Remember Yolanda Hadid's glass door fridge? That's the goal.
Keep scrolling for fridge organization advice from the experts, plus a shopping list of items that will take your fridge from utility to decor.
We at Bustle only include products that have been independently selected by our editors. We may receive a portion of sales if you purchase a product through a link in this article.
Make An Organization Plan To Avoid Overbuying
Farah Merhi, @farahjmerhi, has 3M followers and 32M likes on TikTok where she helps her followers make their house a home. In her experience, a perfect fridge starts with a plan. "Start by making a list of essentials you constantly have in your fridge," says Merhi, "This will help you narrow down how many containers you'll need for your fridge. Before you invest and buy them, measure the depth of your fridge shelf and make sure the container will fit. You don't want it sticking out and blocking the fridge door from closing."
Using a planner before heading to the grocery store will help you avoid over purchasing, and thus, overcrowding your fridge. With a meal planning note pad, you can actually plan a week's worth of meals while also building out your grocery list, killing two birds with one stone.
With nearly 2,000 5-star reviews on Amazon, the above notepad is a perfect addition to your kitchen, and with easy-tear perforated edges, it's easy to take your list on the go. One reviewer said, "The perforated shopping list is actually brilliant. It's easy for me to quick write down needing groceries per recipe, tear off and off to the store I go! Good quality paper, decently strong magnets too."
Organize Your Fridge By Meal
While you're organizing your fridge, think about the week ahead and stock the shelves in a way that makes sense. Organizing your food by meal helps to declutter and also makes cooking a breeze. "I have four clear drawers that I store meals in for the week," says Guzman. "It's so nice to be able to pull out a drawer and have everything I need to cook dinner in one place."
A variety pack of clear storage bins is a great place to start. If you're looking to keep it simple, universally sized containers like the ones above can be used for everything from produce, to snacks, to drinks. If you want to take the organization one step further, opt for dedicated storage options like specific produce bins. Produce and berry bins, seen below, feature slotted strainers to keep condensation and liquid at bay, ensuring your food stays fresh for as long possible.
If you're organizing a smaller fridge, flat, wide bin trays are your best bet. The InterDesign tray above has more than 1,000 ratings on Amazon. "Due to the limited space on the top and middle shelves, I needed a container with lower sides," said one reviewer, "This one meets that criteria. I also love that it has the divider in the middle so that smaller items stay put, even when it's not full. In my fridge size, I can fit two of these across with a little wiggle room between and on the sides."
Not everything has to be clear, right? This cheese container has more than 3,000 positive reviews on Amazon and is super practical, keeping cheese fresh, organized, and hidden (if you don't like the look of a food packaging).
Gone are the days of halved lemons, avocados, and onions taking up fridge space in Tupperware containers twice their size. This Hutzler lemon saver on Amazon will keep your lemon halves fresh for your next meal, and the brand offers the same product for onions, garlic, tomatoes, peppers, and more.
Use Clear Organizers For Visibility
When it comes to fridge organization, Guzman's biggest recommendation is to essentially repackage your groceries with the use of clear drawers and uniform condiment bottles. "My fridge is more than just aesthetically pleasing," says Guzman, "It has actually helped me cut down on my food waste. My fruit would always go bad, so I took it out of the fridge drawers and moved it to the shelves so I could see it. If I can't see the food, it'll likely be wasted."
Pro: a clip on egg drawer actually adds space to your fridge, instead of taking it up. Con: a hanging egg drawer runs the risk of detaching, leaving eggs cracked inside your fridge. If you opt for one of these, just don't slam the door.
Swapping out store bought condiment bottles for clear squeeze bottles not only allows for a clean, uniformed look, but it also maximizes shelf space by eliminating a variety of uniquely shaped condiment bottles. With more than 4,000 positive reviews, this set comes with a silicone funnel for easy transfer, as well as chalk labels and an erasable marker.
Brown cardboard egg cartons are not welcome in the aesthetically pleasing fridges of the home decor elites. One reviewer of the above egg carton said, "I wanted something big enough to hold more than a dozen so that part was nice. It's clear and so you can see at a glance what you have and it's compact enough not to take up a ton of room."
Use Sustainable Bags For Smaller Items
Don't be afraid to get creative with your space, and remember that a bin or storage container may not always be the most logical option for your groceries. Reusable zipper bags are a great option for storing smaller food items, or swapping out throughout the week as your grocery supply dwindles.
This variety pack of storage bags are even water safe, according to one reviewer. "I haven't actually used these bags just yet, but I did experiment with their capacity to hold liquid while I was washing them. No leaks at all while plumb full of water held upside down." The item has more than 4,500 positive reviews on Amazon.
Use Jugs, Carafes & Bottle Organizers To Maximize Space
If a dedicated drink fridge hasn't quite made it from vision board to reality, take advantage of your fridge space and maximize your drink chilling potential. Bottle organizers are great for chilling wine or holding water bottles, and fridge jugs and glass carafes can take up less space than water and juice jugs you find at the grocery store.
Without a bottle organizer, 12 water bottles would likely take up at least half a shelf, or even a whole shelf depending on your fridge size. Use an organizer like this to stack them vertically, save space, and keep your water chilled.
Swapping cardboard boxes of soda cans for plastic dispenser bins may not clear up space, but it will go a long way in cleaning up the visuals of your fridge and making your shelves look a bit more glamorous. The above dispenser has nearly 7,000 positive reviews on Amazon, with reviewers echoing sentiments like, "I can get 10 cans of soda into one of the bins easily in the fridge. I also use it for other beverages that are in cans of the same size as a soda can. I enjoy that I can add a second layer of soda cans on top of the bottom layer so I am using the vertical space and thus saving space in my fridge."
Pro: A glass dispenser like this will look amazing in your fridge, and is nice enough to hold beverages at your next party. Con: it's heavier than plastic storage solutions and could take up a ton of room if you're working with a smaller fridge.
Slim jugs like the above are a great solution if you store your water in a a large jug. One Amazon reviewer said, "I got so tired of water gallons and a Brita pitcher taking up the entire top shelf of my fridge. This 2.5 gallon beast is awesome."
Label Your Containers To Make Ingredients Easy To Spot
As the chief fridge organizer of your home, you'll walk away knowing every square inch of your little icebox, but guests and housemates may not. Pre-printed and chalk labels provide a great little roadmap to your fridge, making it easy to see what everything is. Not to mention, they allow you to get a little creative.
Pro: these labels are completely dissolvable and environmentally friendly. Con: they could be cuter. If you're opting for function over form, then join the more than 1,500 happy purchasers on Amazon.
Don't ruin your perfect new fridge with bad handwriting. This pack of prelabeled stickers are perfect for the penmanship-challenged organizer, complete with labels for berries, fruit, eggs, cheese, and more — plus pantry stickers. On Amazon, the brand offers a variety of fonts and colors to best fit your kitchen aesthetic.
Use Rotating Organizers For Smaller Items
A functional fridge allows you to easily grab anything you might need without digging through boxes and bags on the shelves. A countertop staple, Lazy Susan's are a great option for organizing the inside of your fridge, especially for condiments.
One happy Amazon reviewer said of this item, "Fits perfectly on the refrigerator shelf and spins easily for quick access to the heavier glass items I prefer not to put in the plastic refrigerator door shelves. No matter how much weight it holds, this turntable spins smoothly. Takes up little space for the convenience it provides. The mat inside the turntable prevents bottles from slipping while turning. The high sides prevent things from falling while spinning fast."
Try An Organization Starter Kit For Beginners
If this list has overwhelmed you, fear not. Many home brands offer starter kits, including a basic collection of clear bins and storage solutions to kickstart your aesthetic fridge dreams.
Amazon purchasers agree, a starter kit is the way to go. With thousands of positive reviews, purchasers say, "My refrigerator looks amazing with these! We are loving the egg carriers. And the clear containers that are rectangle are perfect for putting fruits or putting cups or pretty much anything that will fit in them."