How To Report Sexual Harassment If You Can't Go To Your Boss Or HR
Employment law experts explain the options you may have.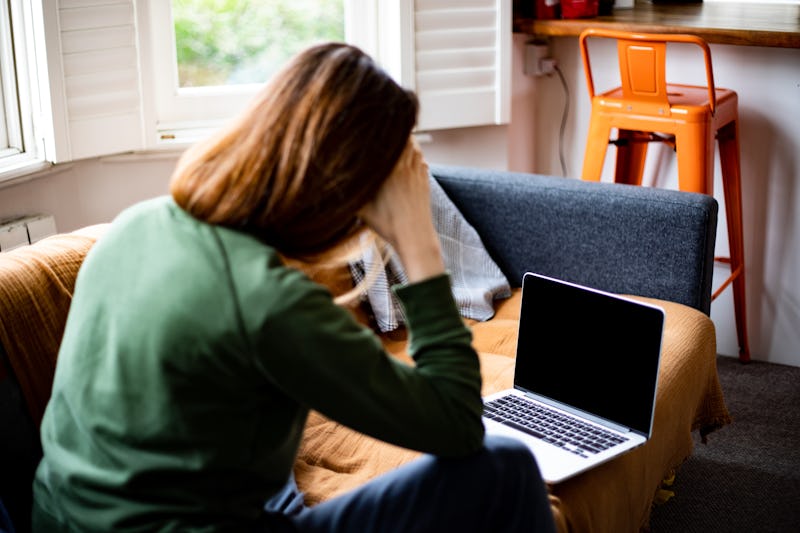 Photographer, Basak Gurbuz Derman/Moment/Getty Images
There are two common pieces of advice that are given when someone is sexually harassing you at work: Talk to your boss about it, or bring it up with HR. But how do you report sexual harassment at work when you can't go to your boss or HR? What if your company doesn't even have an HR department? Or if your boss is the one who's harassing you?
"If [sexual harassment] happens in a workplace without an HR department or formal procedures in place, you may feel powerless and unsure what steps you can take, if any," Gregory W. Pontrelli, president and CEO of Lausanne Business Solutions, tells Bustle. "However, there are certainly steps you can take to protect yourself professionally and personally."
Sexual harassment in the workplace is illegal. It's a violation of Title VII, which prohibits discrimination of certain protected classes, according to Equal Employment Opportunity Commission (EEOC). As Allison Green of Ask A Manager notes over at U.S. News & World Report, "If you're being sexually harassed or harassed on the basis of your race, sex, religion, disability, national origin, age (if you're 40 or older) or other protected class, HR has a legal obligation to investigate and put a stop to it." Because of this, HR typically has a system in place for how to deal with these issues effectively.
But if your company doesn't have an HR department — or if you don't feel comfortable going to them — that doesn't excuse your employer from needing to deal with the issue. "Every employer is responsible for addressing and preventing sexual harassment," says Nora Cassidy, an attorney at Legal Aid at Work, whether they have a designated HR department or not. That said, the protections change depending on what state you are in. "For harassment, California law applies to employers with at least one employee. Unfortunately, the equivalent federal law, Title VII, only applies to employers with 15 or more employees," so depending on where you live and the size of your company, your might not have the law to rely on for support.
Regardless, if going to HR or your boss don't seem like viable options, you have other options if you're dealing with sexual harassment at work.
If you or someone you know has been sexually assaulted, call the National Sexual Assault Telephone Hotline at 800-656-HOPE (4673) or visit online.rainn.org.
This article was originally published on