How To Support Five X More, As Seen On The Black Maternity Scandal
The campaign aims to help Black women advocate for themselves throughout their pregnancies and after childbirth.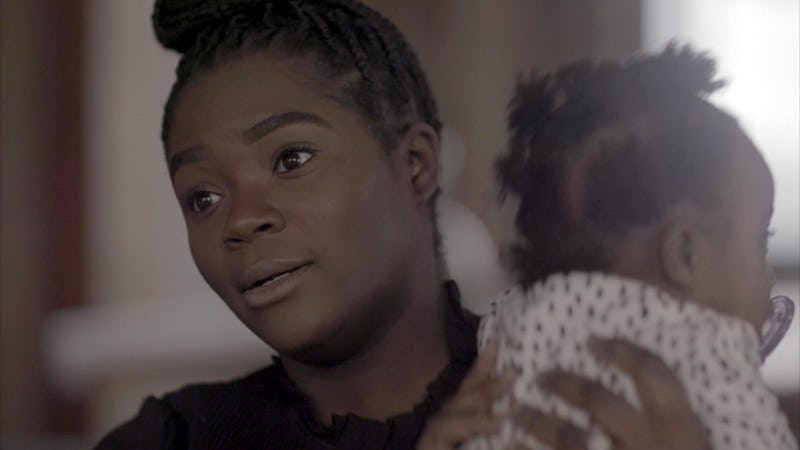 Courtesy of Channel 4
Black women are four times more likely to die during childbirth — this shocking statistic was the subject of Channel 4 Dispatches documentary, The Black Maternity Scandal, which aired last night (Mar 29). Hosted by Rochelle Humes, the programme examined the disparities between maternal deaths of white and non-white mothers through a series of challenging interviews. One of the conversations was with the founders of Five X More, Tinuke Awe and Clotilde Rebecca Abe, two mothers "committed to calling on those in power to change the outcomes for Black women." If you watched and want to know what you can do next, here's how to support the Five X More campaign.
Awe and Abe set up their petition in March 2020 to push officials to improve the maternal health of Black women in the UK. They both say they suffered poor experiences with the health service during childbirth. "We want to know why this is happening and we want to see a change," they said to Humes in the documentary.
As they shared on The Black Maternity Scandal, they received more than 180,000 signatures within one week of the death of George Floyd, support rising in line with the rise of the BLM movement during summer 2020. As a result of their campaign, the petition will be debated in parliament on April 19, 2021. The UK government is also funding new research, which is set to examine the disparity further.
While Five X More acknowledges that the UK has one of the lowest maternal mortality rates globally, they stress that "there is a clear disparity in who is dying." As one study showed, in 2014: "Compared with white European women, Black African women are 83% more likely, and Black Caribbean women 80% more likely to suffer a near miss."
As part of their commitment to "empowering Black women to make informed choices", and "advocate for themselves throughout their pregnancies and after childbirth", Awe and Abe joined the Health and Social Care Committee meeting in Dec. 2020 to discuss the safety of maternity services in England. In collaboration with parliament, they were also joined by members of Mbrrace UK, an organisation that investigates the causes of maternal deaths, stillbirths and infant deaths.
"Black women are not a homogenous group and we do not speak for all black women," said Awe to the panel, before going on to describe her own experience in 2017.
"There were signs of pre-eclampsia and protein in my urine from midway through my pregnancy. but it wasn't picked up. I wasn't monitored and I wasn't given any medication for it. It wasn't until a last-minute midwife appointment during the end of my pregnancy that I was so swollen that I was advised to go to the hospital by my midwife."
After hours left in agony without medication following an induced delivery, Awe went on to describe a traumatic delivery that left her feeling like "she wasn't important" and her "pain wasn't taken seriously."
She added: "The more I spoke to other mothers, I realised my experience was not an isolated one."
While the Five X More petition has now closed, next month, they're launching an April Advocacy month to "amplify the voices of Black women and create long-lasting change." The campaign includes writing letters to local MPs, and helping Black mothers to better understand their rights.