How To Tie Dye Clothes With Things You Already Have In The House
Including bleach, food colouring, and even onion skins.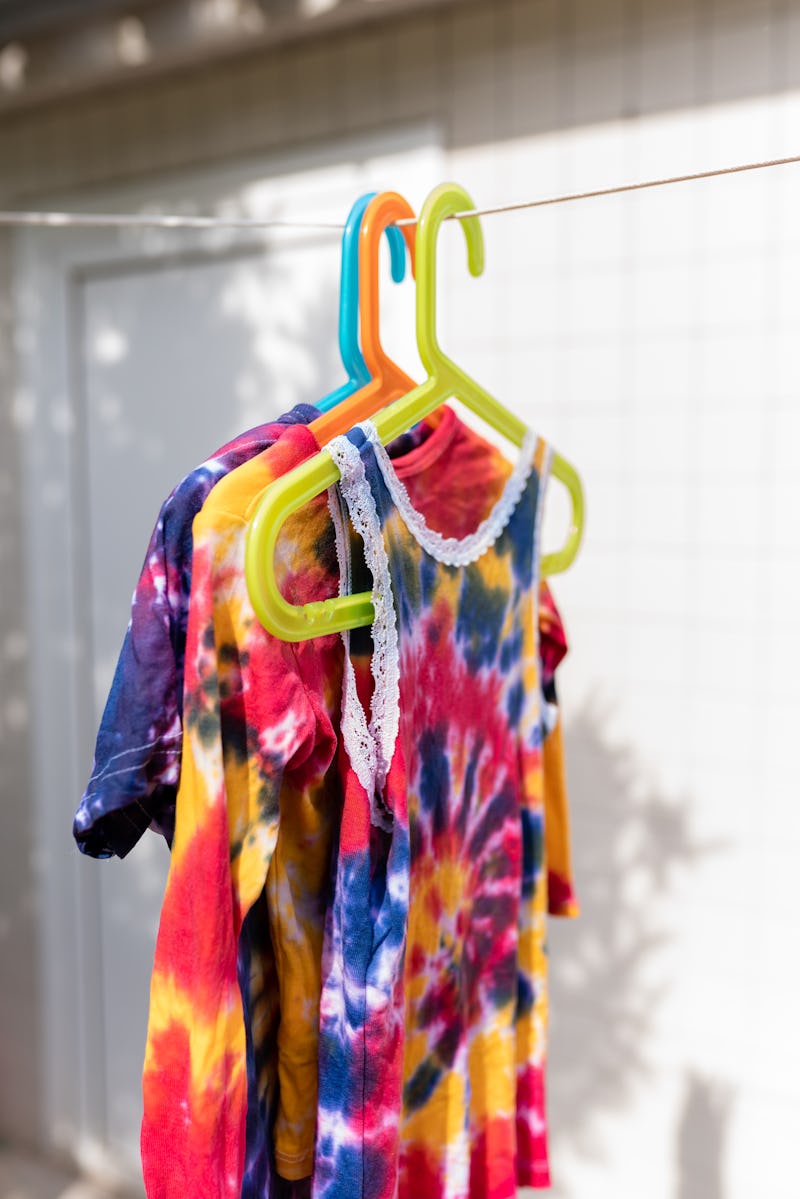 Volanthevist/Moment/Getty Images
As the days and weeks in lockdown continue, it seems our collective curiosity for arts and crafts is growing. Bored in the house? Then let's create something — anything! — be it painting a masterpiece, baking a cake, or hemming your jeans. And this may be one of the most niche of all craft creations: tie dying. Listen, I don't care if no one will see new my multi-coloured clothing, I'm stuck indoors, and I have a pile full of white t-shirts that need an update. And apparently, there's a whole host of people on the internet who've figured out how to tie dye with things around your house.
Now, you're probably thinking "this is going to cause a mess, isn't it?" Simply put, a mess is very likely. Also, there's the issue of finding dye. But don't worry, I've found an alternative method using household items that'll have you sporting your new hoodie, t-shirt, socks, dress, hat or erm... underwear around the house in no time.
First off, do I need any tools?
First and foremost, you're going to need gloves, whether it's plastic gloves or your classic marigolds. Everything else is subject to what you can get your hands on.
Otherwise, you'll need:
A few squeezy bottles (you can use old squeezy ketchup bottles or washing up liquid bottles. But if you can get your hands on an actual squeezy bottle, even better — they can sometimes be found in supermarket baking sections.)
Some rubber bands (you'll need a few).
A bucket.
Some bin-bags to protect your surfaces from a potential red dye disaster.
A ziplock bag.
Some white clothes to decorate. Do note, that dark colours work best with the bleach method. Oh, and remember, you should probably be wearing old clothes when attempting this. You can't reverse a tie-dye mishap, I'm afraid.
This article was originally published on