Yes, You Should Be Visiting Iceland In the Wintertime
The land of fire and ice is filled with geological wonders.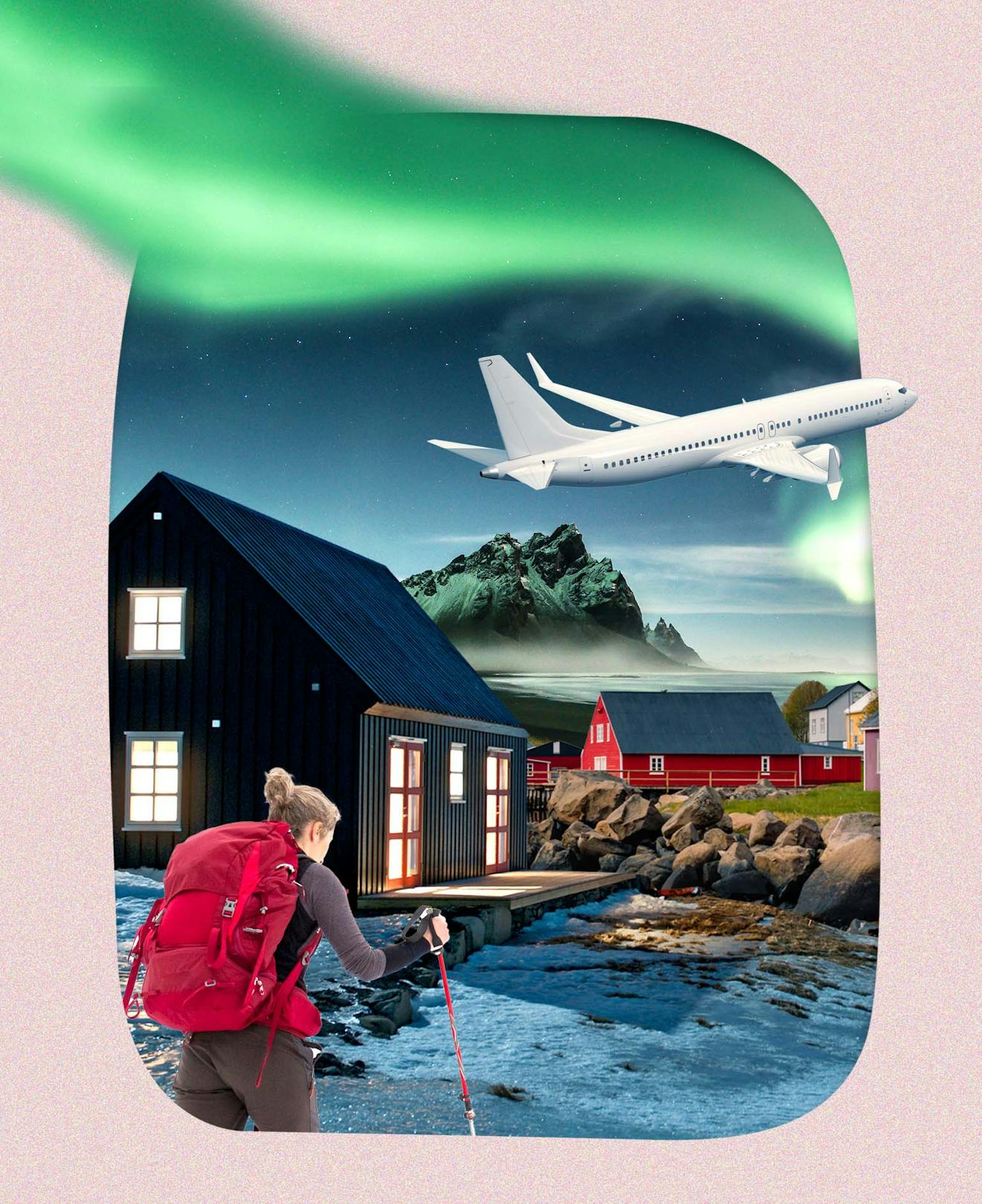 Going to Iceland in January isn't for the faint of heart. The second I stepped outside of the Keflavik International Airport, I got smacked in the face with an 18 mph wind gust and a 6-degree chill in the air. It was 8:30 a.m. and still dark outside; the coral-pink sunrise wouldn't be rearing its head until 10:30 a.m. As I made my way to the car that would take me to my hotel, I nearly fell three times on the slick, ice-covered ground. This was how I was introduced to the land of fire and ice.
Iceland probably isn't one of most people's dream travel destinations for a winter vacay. Any other time of the year, sure — it's lush and green and ripe for hiking throughout most of the spring, summer, and early fall. But smack-dab in the middle of winter? The country gets about four hours of full sunlight, average temperatures fall between 17 and 45 degrees, and that aforementioned wind can gust up to 22 mph, wreaking havoc on air travel. January also happens to be the coldest month of the year.
Despite the harsh elements and lack of much sunlight, Iceland has some pretty darn special things to offer in the wintertime — it's basically the set of Frozen IRL. You'll find iced-over waterfalls. You get to see Icelandic horses in all their fluffy-coated glory. The hot water at the geothermal spas feels more satisfying. And it's the best time of year to see the northern lights, a true bucket-list item. You won't experience any of this on a Caribbean island.
Iceland is, after all, a country that neighbors the Arctic Circle and consists primarily of lakes, glaciers, and fields of lava. With all its volcanos, cerulean blue-colored hot springs, and swaths of untouched land covered in ice, the entire eerie-looking landscape should be a wonder of the world. Ahead, everything I did in Iceland.
Where To Stay In Iceland
I was invited to explore Iceland with EF Ultimate Break, a travel company that puts together group vacations all over the world for people ages 18 to 35. (This is a great option for anyone traveling solo but doesn't necessarily want to be alone, BTW.) The group stayed at Hotel Klettur in Reykjavik, which is centrally located but totally no-frills: It'll run you about $160 per night for a standard twin room. I was only in the hotel to sleep, so its lack of a nice view or minibar didn't bother me.
If you prefer luxury, the place to stay in Iceland's capital is The Reykjavik Edition (starting at $657 per night): The five-star resort is located downtown by the Old Harbor port (waterfront views!) and has its own impressive roster of bars and restaurants — including Tide, from Michelin-star chef Gunnar Karl Gíslason — as well as a stunning spa.
Overall, Reykjavik is the area you'll want to find a hotel in. Iceland is roughly the same size as Ohio, so it's not tiny. And although you can post up in other towns (like Vik, Hofn, or the very remote East Fjords), Reykjavik is the country's capital and largest city, and it's home to tons of bars, restaurants, and shops. Plus, it's within driving distance of both the Blue Lagoon and the Golden Circle, two must-see destinations on the island.
What To Do In Iceland
You can do a lot without leaving Reykjavik. There's no shortage of places to eat (more on that later) and shop — don't forget to snag yourself a hand-knit Icelandic wool sweater from The Handknitting Association of Iceland while you're in town. For culture, you can also hit up the National Museum of Iceland for all the intel on the country's Viking origins, or visit The Icelandic Phallological Museum (read: penis museum) if you're not in the mood for a history lesson. A must-see is the Hallgrímskirkja church, even if you just gaze at it from outside, as its unique architecture was inspired by the island's geological landscape (you'll find a similar wavy columnar shape in the mountains outside of town).
Beyond the capital, the Golden Circle, aka one of the country's most famous sightseeing trails, is a must. It consists of three geological wonders: Thingvellir National Park, Great Geysir Geothermal Area, and Gullfoss. Thingvellir is about a half-hour drive from Reykjavik and is where the North American and Eurasian tectonic plates meet (and form a really cool rift valley), and also where the country met to declare its independence from Norway in 1944. Over in the Geysir Geothermal Area, you can watch Great Strokkur geyser erupt, which it does about every five to 10 minutes. Then, you'll make your way over to Gullfoss, which was my personal favorite site: It's a mind-bendingly massive waterfall and one of the most powerful in all of Europe. (Fun fact: It's also where my favorite band Echo & the Bunnymen shot their Porcupine album cover, which had me a little starstruck.)
All three points of the Golden Circle are east of Reykjavik, so if you're down to be in the car a little longer, you should make your way to the south coast. That's where you'll experience the lowland region's many awe-inspiring waterfalls (you'll find lots of waterfalls in this country), glaciers, and volcanoes. You can also walk along the Reynisfjara black sand beach. While you're admiring the goth sand underneath your feet, you'll be struck by how strong the water is; the waves are high and roll in with a bang, so don't get too close.
Of course, you can't go to Iceland without visiting the Blue Lagoon. It's the country's iconic geothermal spa that's known for its Instagram-friendly blue hot springs that you can float weightlessly in as you soak up all the skin-nourishing minerals, like silica and algae. You can also hit up the sauna or steam rooms for a full spa experience. I had seen the hot spot all over social media for years, but being there IRL still blew my mind — as I entered the lagoon and slowly waded my way to the mask bar (where you can grab a mud mask for your face), the sun was hazy and low in the sky, smoke was billowing off of the water... it felt like I had entered a new dimension. It happened to be my birthday, too, so the excursion felt extra special.
Don't sleep on the Sky Lagoon, though, a newer geothermal spa that opened in 2020. This one overlooks the North Atlantic Ocean, has a waterfall, and basically looks like a grotto. Like the Blue Lagoon, it has a swim-up bar and other spa features, but it also offers the Ritual, a seven-step spa experience complete with a cold plunge, sauna (with a view of the Atlantic!), body scrub, steam room, and shower. Its facilities are definitely nicer than those at Blue Lagoon — the locker room almost made me feel like I was at Equinox.
Where To Eat & Drink In Iceland
Anthony Bourdain famously ranked Icelandic fermented shark as the worst thing he's ever eaten, so I was nervous about going hungry during my stay. Thankfully, I had nothing to fear; the country is rife with great food (and I never once encountered the polarizing national dish). Kaffitár is a quaint and rustic coffee shop in Reykjavik (yes, it has oat milk). There's a spot called Hlemmur Food Hall that's similar to Chelsea Market in New York City that has various vendors with all different cuisines; I got a delicious pho from a Vietnamese spot called Bánh mì.
My pro tip? Try a traditional Icelandic hot dog while you're in town. You'll find a few stands that sell them — and you can even get them in the airport — but the most popular is the Bæjarins Beztu Hot Dog Stand (Bourdain went here in that same No Reservations episode). Iceland's specialty is a lamb hot dog with raw and fried onions on top, ketchup, sweet mustard, and a special mayo remoulade sauce. I'm drooling just thinking about it.
Other solid restaurants and bars in Reykjavik: Bryggjan Brugghús (a harbor-front steakhouse), Kaldi Bar (really savory spicy margaritas), Lebowski Bar (inspired by The Great Lebowski and features burgers, shakes, and an extensive White Russian menu), and Cafe Rosenberg (get the ham sandwich and vegetable soup — simple, I know, but delicious).
Tips For Visiting Iceland
Iceland will astonish you. Despite feeling so foreign with its lava and glacier-laden landscape, it's really easy to get to; from New York City, it's about a five-and-a-half-hour flight. The must-see destinations are pretty centrally located — the farthest you'll have to drive in the Golden Circle tour is 72 miles outside of Reykjavik. (And you will need to drive: If you're not traveling with a tour company like EF Ultimate Break, which has its own buses booked for your trip, you'll definitely need to rent a car if you're going to hit up the Golden Circle or book a tour bus.)
When you're in Iceland, some spots will accept U.S. dollars, but you should carry some Icelandic Króna on you (1 ISK equals .0074 USD).
While you can certainly experience Iceland's many wonders in more temperate months, don't sleep on visiting the country in the wintertime. It'll make you feel like you're on a different planet. The best advice I can give you? Bring plenty of layers and rain jackets. As long as you're properly dressed, the harsh elements will be bearable. My only regret is that I didn't get to see the aurora borealis when we went on a northern lights tour. That just means I'll have to come back — and I'm totally fine with that.