Finally, You Can Block Your Ex On Tinder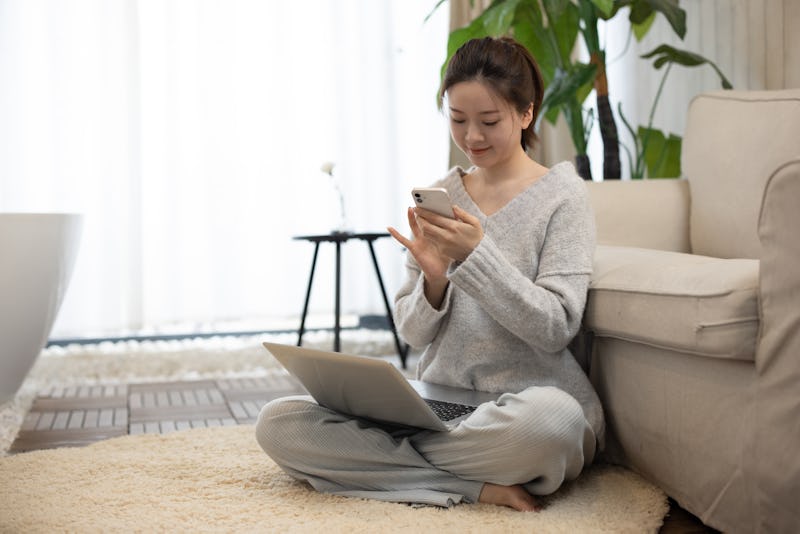 somethingway/E+/Getty Images
In the days before cell phones, you'd worry about seeing past hookups at the gym or the bar by your house. Yet, with more people using dating apps than ever, you now get to worry about seeing them on your phone screen, as you swipe your way to love. At least, you used to. As of June 1, Tinder launched a new Block Contacts feature, allowing you to select people from your phone contacts that you don't want to see or be seen by on Tinder.
"We may not be able to save you from awkward run-ins at the coffee shop, but we are giving you more control over your experience on Tinder," Bernadette Morgan, Group Product Manager, Trust & Safety at Tinder, said in a statement. "We're rolling out Block Contacts as an additional resource empowering members with peace of mind by helping create a worry-free space for them to spark new connections."
If you've run into someone you definitely don't want to see on Tinder, you're not the only one. In fact, according to a 2021 survey of Tinder users, 41% of people on Tinder have found their ex or their ex's friends on the app. Additionally, 24% of Tinder users have seen a family member or coworker in the swipe zone, and 10% have found their college professors. Of those who reported finding someone they know's profile, 78% said they'd like the option to block people on Tinder.
How To Use Block Contacts On Tinder
Much like muting your annoying coworker on Instagram, blocking someone from your contacts on Tinder is easy, painless, and leaves no trace. Contacts won't know that you blocked them. They'll just stop showing up on your feed, and you'll stop showing up on theirs. To use the feature, you first have to know the person you want to block's phone number, though you don't have to have them saved in your contacts.
To block someone out of your phone contacts, you need to select to "share" your phone contacts with Tinder. You can do this by opening the Tinder app, going to "Settings," and selecting "Block Contacts." After you share your contact list with Tinder, you can select from your contacts who you want to avoid on Tinder. When you find a name you want to block, hit "Block Contact" and poof, them and their Tinder will be gone.
If you don't have someone saved in your phone — like that ex you're trying to forget — or just don't want to share all your contacts with Tinder, you can manually block someone. After opening the Tinder app and getting to the Block Contacts feature in settings, you can hit the "+" icon at the top of the screen to manually put in their phone number. After you add their phone number and hit "done" that person will not show up in your Tinder deck.
Blocking people won't affect your existing Tinder matches or messages. But it's important to note that someone may have a Tinder account with a different phone number than the one you have for them, in which case, their Tinder may still show up. This feature only blocks the Tinder accounts associated with the phone number you give them.
How To Unblock A Contact On Tinder
If you work things out with an ex or decide you'd be OK seeing your coworkers' Tinder profiles, you're in the luck. The feature lets you unblock your contacts just as easily as you blocked them. When you open the app and to the Block Contacts feature, it will show you a list of who you've blocked. Next to the contact's name, you can select "Unblock" which will stop them from being blocked.
Additionally, if you want to stop sharing your contacts with Tinder, you can open the app, get into the Block Contacts feature, then select "Disconnect Contact List" from the menu icon in the top right corner. Disconnecting your contacts will not unblock your blocked contacts.
Dating's hard enough as is, you don't need to be worrying about seeing your cousin on Tinder. This feature gives you control in who you'll find on the app, meaning you can give all your attention to finding the right matches.