An Interior Designer's Tips For Infusing The Organic Modern Aesthetic Into Any Home
It's the décor trend you can't seem to escape.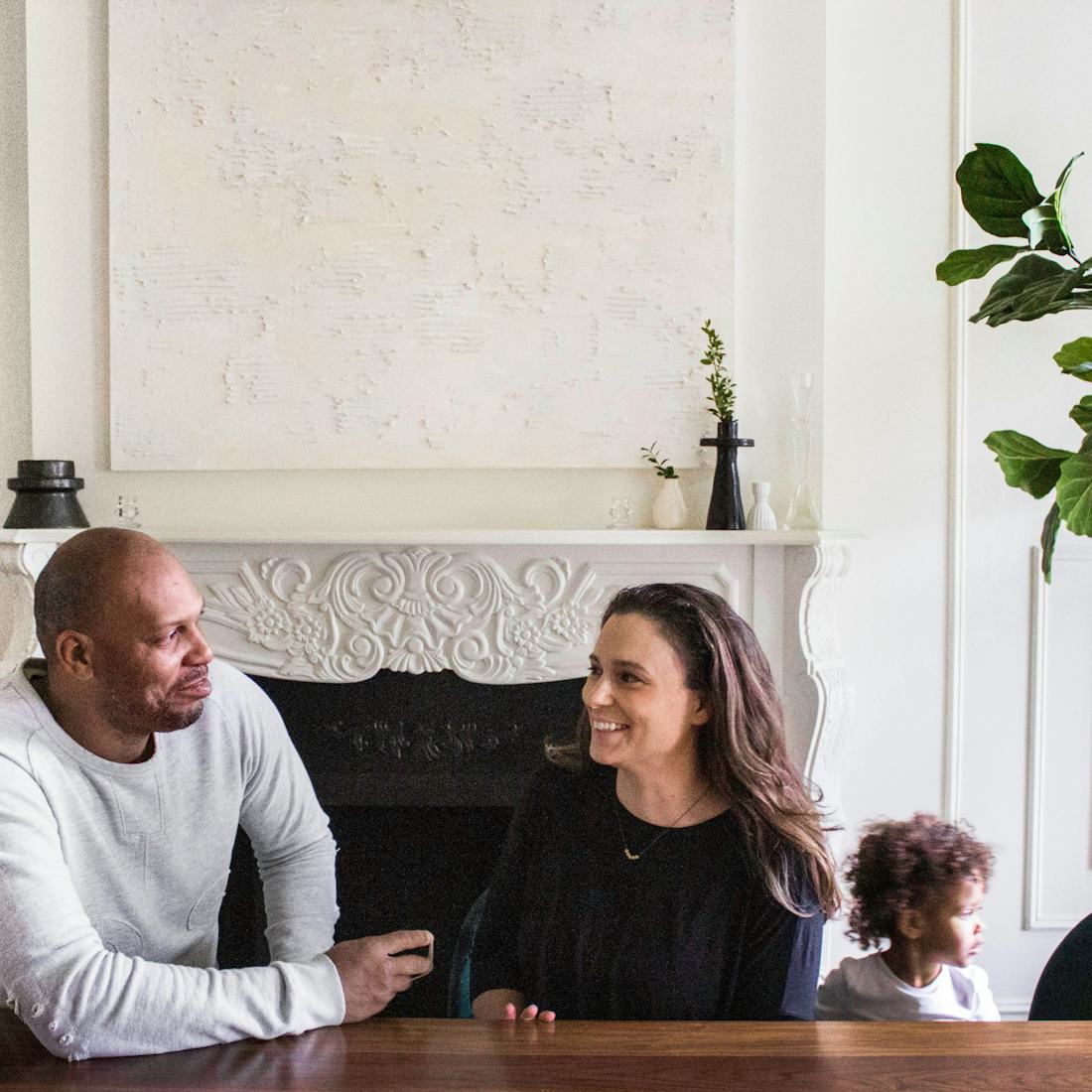 You may have noticed that there's a popular design aesthetic that always seems to capture your eye. When you're scrolling through social media, watching home design shows, and shopping for furniture, the combination of old and new has a powerful siren song that tends to draws you in and make you think, "I can do that! If only I knew how." Though you might not be able to put the style into words, interior designer Catherine Williamson can.
"Organic modernism combines all the best elements of modern design with organic and earthy elements," she says. "Think curves, earth tones, organic materials, textures, and colors. Minimal styling, intentional pieces, and lots of plants."
Catherine, who owns the Mix Design Collective with her husband and business partner, Bryan Williamson, loves to play with this concept in their design projects and in their family home, The Blonde Vic. Though the pair have "very different styles — he leans more toward modern, contemporary pieces and I lean toward vintage," Catherine says there are some rules of organic modernism that all can agree upon. Here, in partnership with WoodWick candles, she shares tips for infusing this trending style into your home.
Incorporate Living Finishes
Instead of opting for perfectly finished furniture, living finishes that will continue to age and evolve over time make for great choices if you're hoping to add an interesting layer of depth to your space — like a metal faucet that's left unsealed without a clear top coat to prevent corrosion.
"Unlacquered brass, copper, wood, leather and natural stone are inherently organic and patina over time — which creates a unique movement that's hard to imitate in faux finishes," Catherine says. You don't even need to completely replace furniture to add an interesting touch, she notes. Simply replace hardware on a dresser or cabinet, or even swap out your lighting.
Have Fun With Plants
It doesn't get much more organic than adding a green accent grown by Mother Nature herself. "[Plants] add so much life to any room, have a naturally organic shape and texture, and add a pop of color to neutral spaces," Catherine says. "Big branches picked from the backyard, and asymmetrically-shaped trees are our favorite."
Not sure where to begin? Consider focal pieces like a large bird of paradise or fiddle lead fig. These standing plants will add warmth to a room and feel more like trees rather than an accent piece. Though small, subtle greens like air plants shouldn't be discounted either. Not only are they relatively easy to care for, but air plants often double as wall art with the right planter.
And while none of the aforementioned are considered safe for pets, your fur babies can coexist with plants — as long as they're the right ones. Species like the weeping fig, spider plant, and the ponytail palm are great places to start your collection.
Engage The Senses
In addition to aesthetics, Catherine and Bryan consider all of the senses when designing a space — which is why there's always a WoodWick candle burning in their home. Not only does the beautiful vessel fit in with their clean and modern design, but WoodWick's aromas like Fireside and Frasier Fir, for example, add a warm atmosphere to any room. "Scent has the power to transport us to dreamy places, calm us, and energize us," Catherine says. "It adds an important layer to the comfort of home."
Opt For Modern Art
Unless you live in a historic palace, you'll likely want to fill your home with modern art you love or create yourself. Though, modern art isn't just any random piece created in today's society. Challenging the idea that art must realistically depict the world, modernism is defined by experiments with color and the use of non-traditional materials, techniques, and mediums.
"We DIY'd this piece above our fireplace and have other abstract pieces throughout our home," Catherine says, noting the juxtaposition between them and the ornate mantle and molding.
When shopping for pieces to include in your home, think broader than just wall art — even though that's a great place to start. Vases, fruit bowls, trays, and small sculptures that encompass the modernist traits can make your home feel less cookie-cutter and more uniquely yours.
Bring In Neutral Textures
You don't need every piece of furniture to be the focal point of the room. Take Catherine and Bryan's bed, for example. By using a wood frame, the bed now has "a neutral, minimal textured vibe," according to Catherine.
Neutral patterns and textures can be combined to make a room not only lively, but interesting as well. Building layers of the same color or texture can create depth in any room. Consider combining high-quality linens, cotton, and throws to add warmth to a bedroom or living room.
Skip The Sharp Edges
"Curvy pieces, especially those with some texture and asymmetry, add organic movement and elegance to a space," Catherine says. "They also balance out squared-off rooms, rugs, windows, artwork, and other architectural elements in a home, creating a beautiful balance of form and function."
Circular tables and round ottomans do wonders to break up a space, but if you're feeling extra ambitious, arches are all the rage. A simple painted arch behind the television set in the living room or framing your square bed will change the dynamic of the room and warm it right up.
Ready to design your own organic modern home? Start by incorporating WoodWick candle, then build out your furniture, accents, and wall colors from there.
This post is sponsored by WoodWick.