In A World Of Celebrity-Backed Tequila Brands, Kat Hantas Made A Name For Herself
Her company 21 Seeds sold for a record-breaking amount.
by Kat Hantas, as told to Jillian Giandurco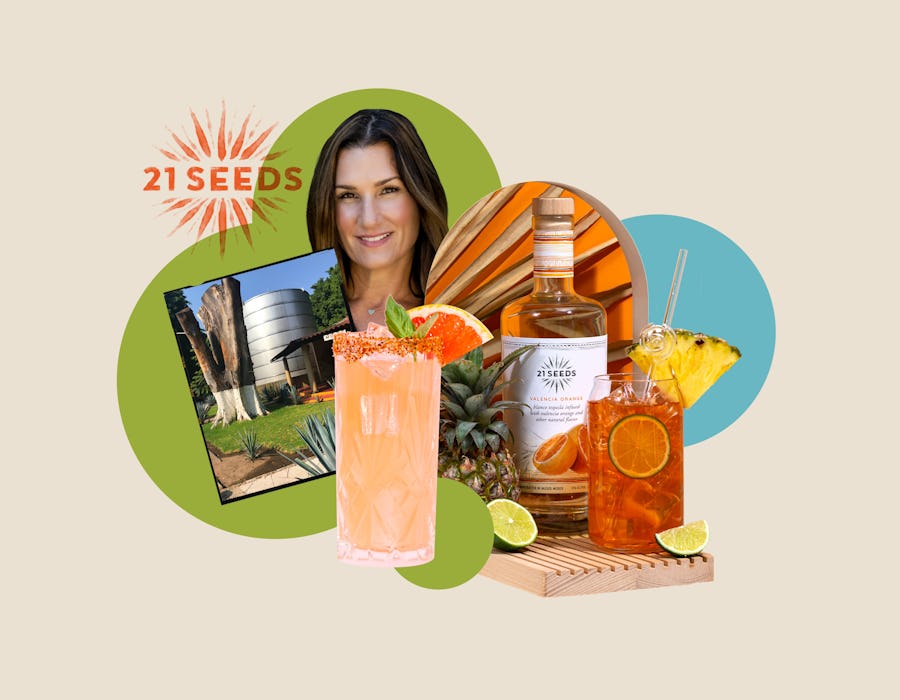 I've always loved the ritual of holding a wine glass. But in 2010, I began to notice that my nightly glass of rosé wasn't agreeing with me the way it used to. The frequent headaches and restless sleep just weren't worth it, and I knew it was time for a change.
After complaining about my new distaste for wine to my friends, I learned a lot of them had switched to tequila for similar reasons. They assured me it didn't have the same side effects as a glass of wine, despite how aggressive drinking tequila on a typical Tuesday night sounded to me at the time. I decided to give it a shot. I started conducting taste tests of different blanco tequilas to find one that was right for me but they were all too harsh. I spent so much time making complicated cocktails, but that didn't suit my lifestyle either. I needed something that was easy and enjoyable.
I'm not a mixologist, but I do love to cook, so I decided to try infusing the blanco tequila to see if that would help. I grabbed my Brita filter, removed its filtration system, poured the blanco tequila into the pitcher, then added pieces of fresh fruits like oranges and grapefruits that I know pair well with liquor. I love spice too, so I sliced up some English cucumbers and jalapeños for an extra kick of flavor, making sure to remove the jalapeño seeds before tossing them into the mix. I placed the Brita into my fridge, and the infusion waiting game began.
After about a day, I stuck my finger in the Brita and tasted it. Not spicy enough. I did this a few more times over the course of two days until the mixture tasted a little too spicy. I removed the jalapeños, and let the cucumbers sit even longer to smooth out the heat. After two days of waiting, I dipped my finger in again and thought, "Wow, this is really different than anything I've tried yet." It had a hint of flavor, but it wasn't overly sweet like the Palomas and margaritas I tried making before. It was at this moment that I discovered my new nightly drink of infused tequila, club soda, and a slice of orange — a drink that would later change my life forever.
I spent the next eight years happily making my infused tequila for my friends and family. Every occasion I hosted or attended, a bottle of infused tequila from me was expected. At my house, it was all you were served. I had never imagined turning this hobby into a business. But then I saw more people in my life start switching to tequila for the same reasons I did, and more demand for my infusions from those close to me. Outside of my circle of friends, I began to notice a lot of people were ordering tequila as an easy spritz, the way I was drinking it, and by 2018, I knew I couldn't keep my tequila concoction confined to my kitchen any longer.
I didn't have any experience in the spirits industry — by the time I decided to become an entrepreneur I had been "retired" from my role as a producer in the film industry for 15 years and had embraced my new title of stay-at-home mom. But if I was going to turn this into a business, I knew I'd need the help of my sister Nicole Emanuel and our friend Sarika Singh to make it work. Nicole has experience as an accomplished CFO for numerous companies, like Brit + Co and Refinery29, and Sarika has spent her entire career working in the food space, including managing innovation for brands like Gimme seaweed snacks. I couldn't do it without them. As two sisters and one girlfriend, we settled on the company name 21 Seeds.
During the early days, Nicole and Sarika had full-time day jobs. They worked around the clock on nights and weekends to get their work done, while I was able to handle all the marketing, sales, and content creation while my kids were at school. It was a side hustle at first, and it wasn't easy, but we worked really well together even from the outset. Going into business with your friends and family doesn't always have a happy ending, but with us it did.
When the time came in 2018 to find a distillery to help produce our own tequila from scratch, we took a trip to Mexico and toured five locations. On the last tour of our trip, we quickly realized that things felt palpably different. There were so many women working everywhere we looked. Even the plant manager was a woman, which we hadn't encountered at the other distilleries. Tequila is an extremely male-dominated space already, so to be surrounded by women during this process just felt right. We left that day knowing that tequila distillery was the spot for us to help bring 21 Seeds to life.
During another trip to the distillery when we tasted our tequila for the first time, we got our very first purchase order from a liquor store chain called BevMo!. We had pitched to them before the product was even finished, thinking maybe they'd pick up one or two infusions. Instead, they had ordered all three flavors for every location in California — all 146 of them, at the time. We didn't even have a website yet. We were so shocked, we thought we had read the product order incorrectly at first. But it was real, and we all had to work even harder to complete our first batch… fast.
21 Seeds launched in BevMo! in April 2019, and our bottles were flying off the shelves by that summer. When you start a business, you can probably attribute the first hundred, or thousand, bottles that you sell to your immediate network plus your reach — your family, your friends, and their family and friends. But when we started selling beyond our sphere of influence, that's when it hit me that this wasn't just a side hustle anymore; it was a real, full-time business.
It wasn't long before we had celebrities like Jessica Alba and Katie Couric endorsing our product naturally. We made an appearance on the Today Show in January 2020, and by June of that year, we had made it onto Oprah Daily's O List, a real "pinch me" moment. Apparently, Oprah prefers infusing her tequila, too.
By the end of 2021, we saw our sales skyrocketing. At that point, we wanted to bring our tequila to bars and restaurants across the country, and we knew we needed a partner to help us do that. So when we got an offer to buy 21 Seeds from multinational beverage company Diageo, it felt like the timing couldn't have been better. Diageo's portfolio houses huge brands like Don Julio, Casamigos, and Ketel One Vodka, so we knew this would be the perfect home for us because we'd be among some of the best in the spirits industry.
We ended up selling 21 Seeds for a historic and record-breaking amount for a female-founded spirits brand in March 2022, about three years after we came to market. I'm not at liberty to disclose the exact number, but to get an offer like that, especially from one of the biggest spirits companies in the world, feels incredibly gratifying. No morning talk show appearances or celebrity endorsements could come close to that feeling.
Despite hitting a major milestone early on, 21 Seeds is still getting started. We're working on making our tequila available everywhere — bars, restaurants, households, international markets, you name it. To have accomplished all that we have so far as female founders in the spirits industry feels out of body.
When you walk into Diageo, there's a whole wall of photos of all the founders of their brands, and it's mostly men. So to see the photo of myself, Sarika, and Nicole up there next to them, it feels like a true win for female entrepreneurs everywhere. If you're a woman looking to enter the spirits business, or any male-dominated business for that matter, you have to run your own playbook. Don't be swayed by what people in the industry tell you. They're serving a different person. Their priorities are different than your priorities. And if you believe in your project, a passionate consumer base will undoubtedly find you.