This Internet-Famous Water Filter Just Released New Pastel Colors & I Want Them All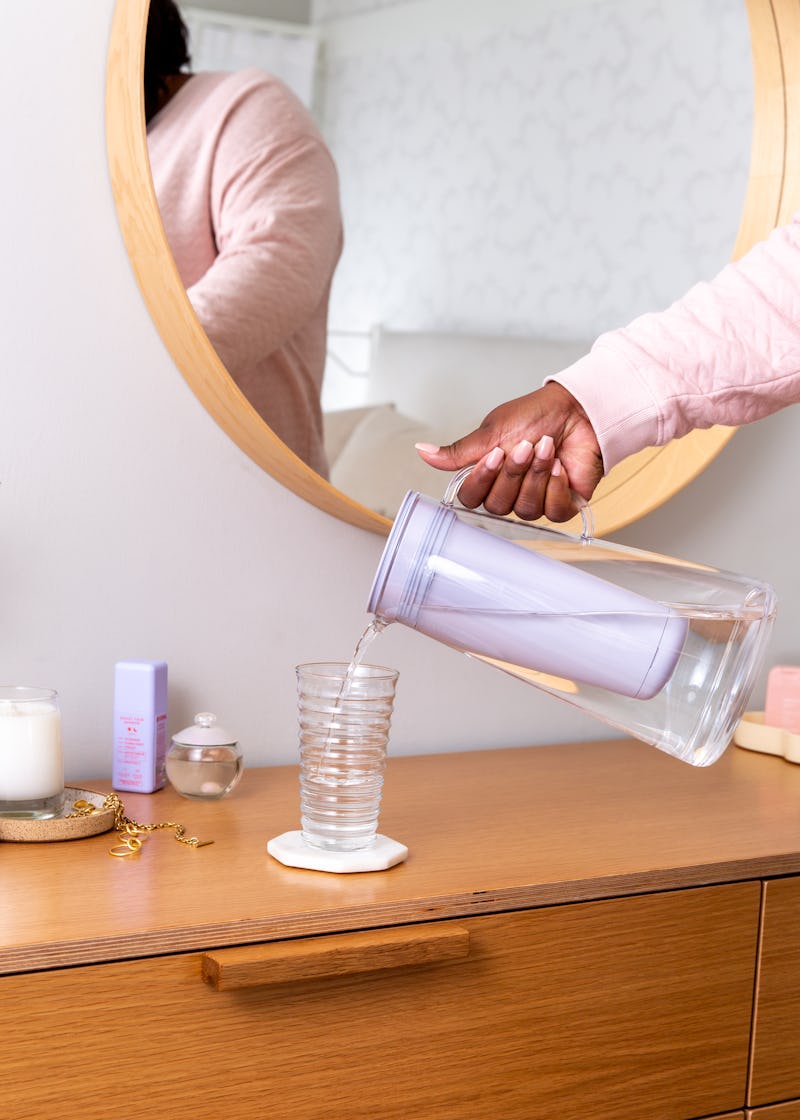 Courtesy Of LifeStraw
To say that I'm a water enthusiast is an understatement. I've been on virtual calls where colleagues laugh at my one-gallon jug of H2O (which I can easily chug in a single day, by the way), I require a full cup at the ready for every meal, and you'll never catch me without my 'security water bottle' at the gym, choir practice, or any time I'm in my car.
Part of this enthusiasm is attributed to the fact that I live in a very dry climate that requires a higher-than-average water intake. But no matter my location, water is truly my go-to beverage of choice.
Given my love for water, it was only a matter of time until I finally met LifeStraw Home, which has gone viral on socials not once, but twice. Inspired by Danish design and now available in a trio of subtly stunning hues (Pebble, Wisteria, and Seafoam, to be specific), this water filter pitcher is, like, ridiculously good looking. I prefer room-temperature water, and the chic piece looks as beautiful on my kitchen countertop as it does on the dinner table when I'm hosting guests.
Even better, LifeStraw is a legit game-changer on the at-home water front. I obviously did a taste test when I first got the pitcher, comparing its filtered water to a packaged water bottle, water from the regular faucet, and water from my reverse osmosis drinking faucet. The verdict? There was a clear difference in the quality of the water using the LifeStraw filtration pitcher.
Available in both BPA-free plastic and handblown glass options, LifeStraw Home offers a more advanced version of the technology in the brand's popular straw, and it's the only at-home water filter pitcher that actually removes microplastics, bacteria, and 30+ common contaminants. It's also tested to reduce lead, mercury, chlorine, herbicides, and pesticides. What's really cool, though, is that it keeps the good-for-you minerals — like magnesium and potassium — in the water.
I love that the LifeStraw Home doesn't just make invisible promises you have to believe in. There's an actual, very noticeable difference in the taste of the water, which translates to all sorts of benefits. In my experience, it makes for superior coffee and tea, better smoothies, and tastier home-cooked foods that call for water. (That said, I think our household might just give New York City a run for its money when it comes to tasty pizza dough.)
As a planetary plus, the LifeStraw Home pitcher filter saves over 2,000 single use plastic water bottles per year — that translates to way less plastic waste and money saved among those who frequently buy bottled water. LifeStraw is also a B-Corp and Climate Neutral Certified brand, which means that it adheres to the highest social and environmental standards and transparency. And for every product sold, a child in need receives safe water for a year. How amazing is that?
But truth be told, what I'm most jazzed about is LifeStraw's chic look. Call me shallow, but I'll never stop singing the praises of those trendy pastel hues and streamlined design. Well, except when I'm guzzling water, of course.