How The Designer Behind Twitter Spaces Found A Creative Path In Tech
Maya Gold Patterson explains how she made her career plan after a change that left her "shook."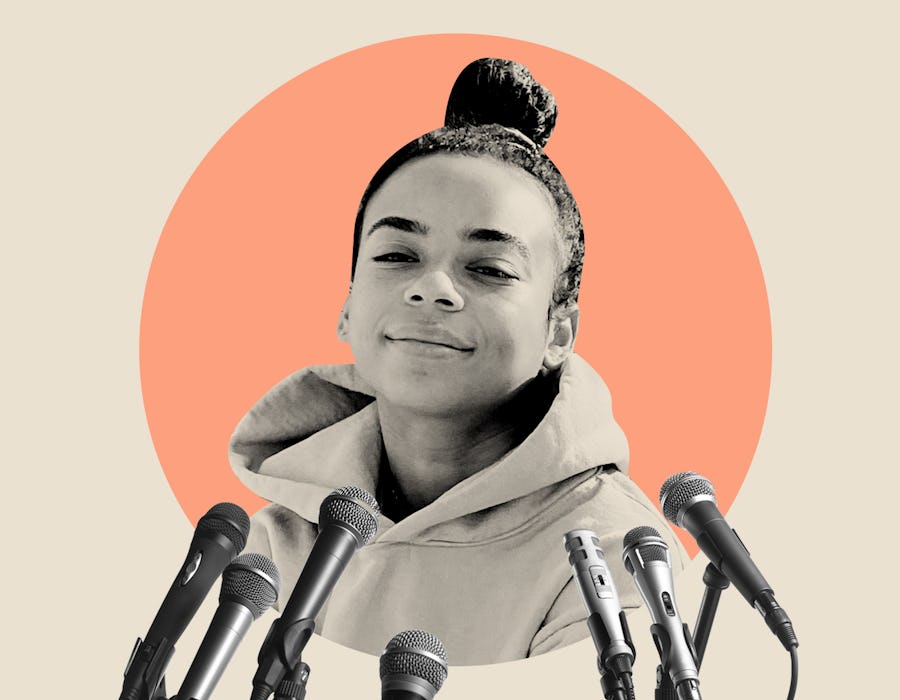 In Bustle's Quick Question, we ask women leaders all about advice — from the best guidance they've ever gotten to what they're still figuring out. Here, Maya Gold Patterson, the lead designer of Twitter's Spaces, tells Bustle about turning a college crisis into a career solution,
Maya Gold Patterson was "always the girl who had a plan." For college, the Champaign-Urbana native made a beeline for pre-law studies at Washington University in St. Louis. But after shadowing a lawyer and spending time in a courtroom, she realized law wasn't the right plan for her. "I was shook," she says, describing a "mini crisis" she had after changing majors only one semester into college.
She wanted to do something creative, but didn't see herself as a "creative type," save a knack for styling and fashion. Enter an opportunity to shadow an "information architect" at her mother's technology consulting firm; a role that requires collaborating with engineers to create a positive user experience on websites and apps. Patterson realized tech could be a new plan for her, one where critical thinking and creativity worked in sync.
Fast-forward to today: Patterson, who's in her 20s, is the lead product designer on Twitter's soon-to-launch-widely audio platform, Spaces. "We felt that audio would be really powerful because listening to the human voice can sometimes allow you to have more empathetic, nuanced sorts of conversations," Patterson says.
When Patterson found herself leading the Spaces initiative in January 2020, she focused on creating a corner of the internet where she says she felt safety in numbers for the first time as a Black woman. According to the 2019 Bureau of Labor Statistics, women make up fewer than 26% of the employees in tech, and of that, only 3% are Black women. Patterson notes that even when Black women secure jobs in tech, "they don't last" due to the environment. "I experienced all of the microaggressions, and some macro aggressions," she says. "It was pretty rough."
Patterson's mission to make tech more inclusive, however, kept her motivated. Here, she shares how she's creating space in the industry for women and BIPOC, and the advice that's shaped her career.
I'm having trouble picturing people running massive tech operations from their homes. Tell me about your pandemic WFH situation.
As a designer, I need a big screen to see what's going on with the designs and the pixels and everything. Typically, I use a LG monitor and my laptop. Today, I'm at my kitchen table but I have an office that I share with my fiancé. Working together makes us less lonely. We're big fans of spending 15 min in the morning sipping coffee (he reads the paper and I look at home inspo on Pinterest), and we try to carve out an hour for lunch together away from our desks. Quality time is major for us.
Is there anything analog in that setup?
I'm obsessed with Moleskine dot grid notebooks. I create a page at the start of every week of high-level things I want to get done. Currently, my everyday looks like opening Slack and Figma (a design tool) and reviewing in-progress designs from the team. My goal is to provide actionable feedback that leaves room for creativity but still enables us to ship new Spaces updates quickly. Outside of work, I have a newfound running list of errands of things I have to do for my house — hanging up a new hose was today's task. I've also gotten into listening to one full album every morning. It's a good vibe. Minnie Riperton's Adventures In Paradise is on heavy repeat. We're big '70s soul fans in my family.
What career advice do you hold onto while you're working?
A design colleague of mine — who has now turned into one of my best friends — and I were both working at Facebook. Being from the Midwest, I wasn't used to how fast things move in the tech world. I had so many questions about how my career should look. Her advice was really simple, and she's continued to repeat it over time — that I have to make the best decision for myself. What makes me happy? What brings me joy? That's not always obvious to somebody else, and everyone has a lot of advice for you.
What advice would you give your younger Midwest self?
When I started at Facebook, I was dealing with heavy imposter syndrome and did not feel like I was up to par with those around me. But my work demonstrated that it wasn't the case. Eventually my manager/mentor told me, "Maya, the only thing I have to say in terms of things you can improve, is to trust yourself and to trust your decision-making." It's really important for young women in their careers to know they can trust themselves and that no one really necessarily knows better than you.
How have you seen the tech industry change for Black women over the course of your career?
In the same spaces where I was learning about what it's like to be a product designer, there were also all these articles by Black women — not a ton because there weren't a ton of Black women in those fields — warning Black people about working in tech. It wasn't inclusive.
I remember joining Facebook or Twitter for the first time and being like, 'Oh my goodness, there's a lot of Black woman designers, this is kind of wild'— because that wasn't the experience that I had earlier in my career, as the only Black woman on a team of 40+ back in Chicago. I honestly feel a shift toward inclusivity.
This kind of job sounds like it stretches really beyond 9-5. How do you unplug?
Working on a computer all the time sometimes feels stifling, and I need a break and time for myself to be re-energized. I started my own vintage boutique, The Gold List, and a newsletter of the same name about all things fashion. That sounds like work, except for me, it's a more physical way of expressing my creativity outside of my job. Connecting with my family and friends is always really important to me. I try to move my body every day, so today I did yoga and meditation. Now that I live in California, I go on a hike maybe once a weekend. And that's been great because I'm not doing anything but looking at the beautiful world.
This interview has been edited and condensed for clarity.
Correction: A previous version of this article misstated where Gold Patterson grew up. It has been updated to include the correct information.
This article was originally published on