Met Police Officer Convicted For Far-Right Terrorism
The 22-year-old officer was a member of the banned neo-Nazi group National Action.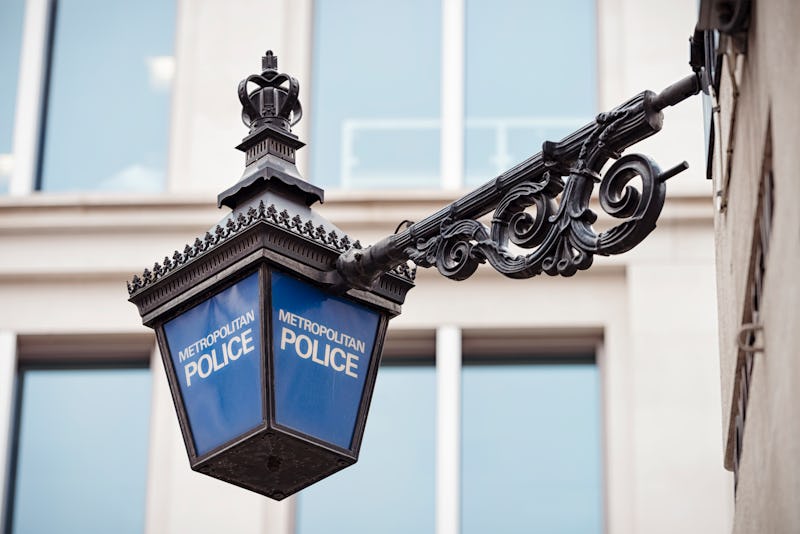 georgeclerk/E+/Getty Images
A 22-year-old Metropolitan Police officer has become the first officer in the UK to be jailed for involvement in far-right terrorism, Sky News reports. Following a trial at the Old Bailey, PC Benjamin Hannam from Edmonton, North London, was convicted of three terror offences on April 1.
Hannam, who joined the police in March 2018, is reported to have been a recruiter for National Action – a neo-Nazi group labelled as a terrorist organisation by the government in 2016. Hunnam's presence in the group continued throughout his application process to join the Met, with members of National Action aware that he had joined the police prior to his arrest, per BBC News.
Arrested in March last year, Hannam's far-right activity was initially discovered by an anonymous hacker who leaked his information from a neo-Nazi forum. Once arrested, officers found a photo of Hannam with a "superimposed Hitler moustache on his face and a Nazi badge on his lapel" and discovered he had downloaded a copy of Anders Breivik's manifesto. Breivik is a right-wing extremist responsible for killing 77 people in Norway in 2011. Among other disturbing and horrific entries, Breivik's manifesto included bomb-making instructions. When officers searched Hannam's bedroom, they found a number of Nazi propaganda posters on his wall.
Hannam's far-right links were not picked up during the Met's vetting process, but his school had "raised concerns internally" over comments the 22 year old said about immigration during a debate on Brexit, per Sky News. Teachers were also unable to submit one of his A-level projects centred on extremist ideology "because of the content."
The Met has confirmed that "no school reference was sought" during Hannam's vetting process in 2017.
Per BBC News, on Hannam's application form to join the police, he was asked if he had ever been in the far-right British National Party or any organisations whose aims "may contradict the duty to promote race equality." He ticked "no."
"Obviously there will be some concern that somebody who was a member of a group like National Action was able to become a member of the Metropolitan Police Service but once we had identified that fact we acted very swiftly," Commander Richard Smith, head of Scotland Yard's Counter-Terrorism Unit, said in a statement.
"We are highly concerned that we have a serving police officer who had previously been a member of a prescribed organisation such as National Action and we have followed every line of inquiry as you would expect us to do so."
Hannam is also facing charges for possessing prohibited images of underage girls, which will be subject to a separate trial, according to Sky News.