The NHS Plans To Share Your Health Records, Here's What You Need To Know
Campaigners are calling for the opt-out deadline to be extended.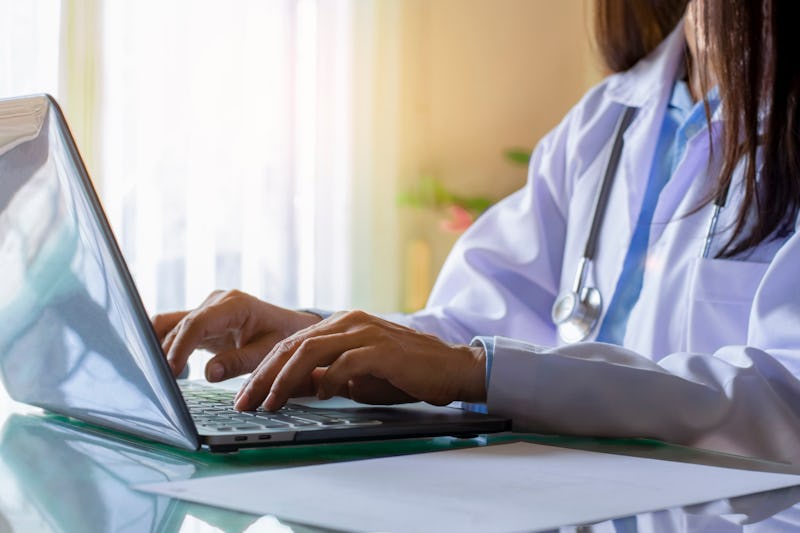 Shutterstock
Initially announced in April 2021, NHS Digital is proposing a plan to pool medical records on a database that can be accessed by academics and commercial third parties for "research and planning purposes," the Guardian reports. GPs have warned that this could "erode the doctor/patient relationship", and privacy advocates are concerned about the implications of personal data being shared with third parties.
At the time of writing, patients have a limited amount of time to opt-out of the data-sharing proposal, with a deadline of June 23. However, campaigners are now calling for that date to be extended, to give patients – including older people and those who may not be online – a fair chance to opt out. They are also calling for greater transparency from the government on which third parties will have the data and for what purposes.
If plans are not paused, the UK government faces potential legal action, per the Financial Times. A pre-action letter sent today (Friday June 4) on behalf of Conservative MP David Davis and a coalition of five organisations – including the National Pensioners Convention and Doctors' Association UK – outlined plans to sue the Department of Health and Social Care if the date to opt out is not extended.
The letter is reported to have said: "Rushing this major change through with no transparency or debate violates patient trust, and that doing so without patient consent is unlawful."
The Financial Times also spoke to Dr. Rosie Shire, a GP at Doctors' Association UK who said: "GPs were barely informed of this change – how are patients expected to know about it? [We] support safe, consensual uses of patient data, including for health research. But we want to see it done in a way that... won't erode the relationship between clinician and doctor."
So, here's what you need to know, and how to protect your medical data.
What's happening?
NHS Digital, which runs England's healthcare IT systems, is planning to move records of more than 55 million patients in England into a new database that will enable access from academics and third parties. The plan was first announced by Health Secretary Matt Hancock via blog posts on the NHS Digital website, as well as through flyers at GP surgeries across the country – which is why this may be the first time you're hearing about the proposal.
The data collection project is reportedly the "first of its kind", with the aim to "produce national statistics and management information, including public dashboards about health and social care which are published," according to NHS Digital.
What it means for your data & why it matters
Every patient in England who is registered to a GP clinic in the UK will have their records moved to this database, which includes "mental and sexual health data, criminal records, and more sensitive information." The data stored will be anonymous, being replaced with unique codes that only the NHS can unlock in "certain circumstances".
The Doctors' Association UK (DAUK) are concerned that the sharing of this data will leave patients "reluctant to share their problems due to where the data will be shared", and that there needs to be more time "to explain to patients how exactly their data will be used, who will benefit from it and what implications it may have for individuals" as Dr Ellen Welch, GP and editorial leader of DAUK told the Guardian.
While Prof. Martin Marshall, chair of the Royal College of General Practitioners (RCGP) supports "the principle of improved sharing of data for important healthcare planning and research", he is critical of it being "transparent that patients have confidence and trust in how the NHS and other bodies might use their information."
What you can do if you don't want your data shared
You can opt-out by filling in this form and sending it to your registered GP practice by June 23 before your records become a "permanent and irreversible part of the new data set," as ESEA Sisters writes on Instagram.
The form can be sent by post or email to your GP practice, and you can have the form sent to you by calling 0300 3035673.