OnlyFans Helped Me Pay Off The Last Of My Student Loans
With help from her parents and the subscription platform, this Reiki practitioner chipped away at the last of her debt.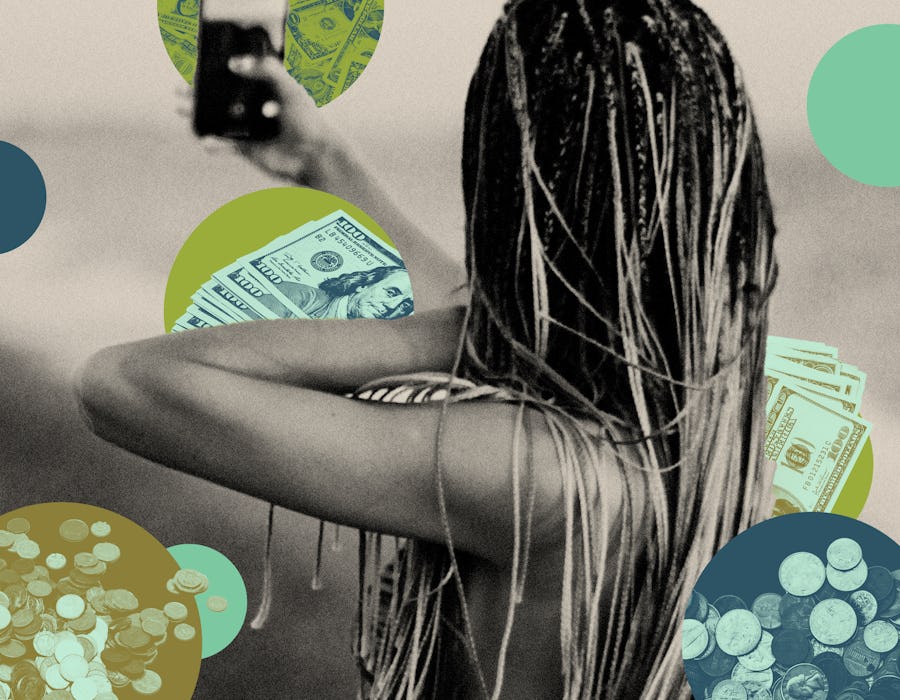 Fitria Ramli/EyeEm, John M Lund Inc, YinYang, John Scott, blackred, Rubberball/Mike Kemp/Getty Images
In How I Paid It Off, Bustle's asking real readers about the, uh, unconventional ways they paid off their student loans. Here, Rev Rucifer, 36, tells us about how she paid off $1,000 in a year through OnlyFans.
Tell me about yourself. What do you do? How did college help you get there?
I'm a reiki teacher, practitioner, and founder of Reiki Bondage. I went to undergrad at Virginia Tech and studied marketing management — luckily, I had supportive parents who paid for those four years. I went to the VCU Brandcenter for grad school to study creative brand management, taking out student loans to do so. I graduated in 2011 and had a very successful career in advertising for about a decade. Now I work in freelance advertising, teach advertising, and run my own businesses.
How much student debt did you take on originally?
I took out way more debt than I knew I was getting myself into. By the end of grad school, I was taking out student loans to pay for all of my classes and living expenses. When I graduated, it was about $80,000. They got up to $90,000 with interest. Interest immediately starts accruing from when you initially take a loan out. If you're just paying the minimum monthly payment, you will never, ever, pay your loans off.
What was the process of paying your loans down like, pre-OnlyFans?
At first, the only reason I was able to get my debt down was by working in advertising. I would throw so much money at my loans to try to get that principal down, to grow interest a little slower. Any extra money I was earning would go towards my loans. I paid approximately $1,500 a month in student loans, in addition to paying my rent and living expenses.
I made it down to $20K on my own. Then, in November 2016, my parents generously offered to pay the rest of the loans off with a home equity line of credit. My dad kept track of my loans in an Excel spreadsheet. I did the math, and over the course of 20 years, I would have ended up paying over $155,721 in student loans, with interest. They said I could pay them back instead of the bank to avoid the interest, and I took them up on it.
Why did you decide to join OnlyFans?
Before the pandemic, I'd wanted to get into sex work. I'd wanted to be a sugar baby and start taking sessions with clients. But I was initially reluctant to put myself on OnlyFans. I was, and still am, afraid that my images could be leaked. I was also concerned about my family passing judgment on my choices to engage in online sex work. Additionally, being on OnlyFans requires a lot of work, and I wasn't sure I felt ready to hustle that hard to build my following.
Then the pandemic hit, and I lost my job. I was struggling to make rent and to buy groceries so I was like, f*ck it — I'm not going to deny myself this money anymore. I started my OnlyFans in June 2020 and I could not have survived the year without the money I made on on the platform. It's helped pay off my student loans and other bills, and I like having an outlet for my work. Most of my OnlyFans consists of nude pictures, videos, and self-pleasure. It's a more intimate glimpse into my life.
What is it like running an OnlyFans page?
It's hard work. You have to be your own creative director, model, agent, publicist, marketer, and financial analyst. You have to be prepared to do it all. But I was freelancing and running my own business for two years, and my background in marketing informs my OnlyFans work.
My expertise is in strategic planning — understanding audiences and their needs, connecting what the brand has to offer based on what those customer needs are, and creating the best connection to make that happen.
For me, sex work is grounded in pleasure, healing, intimacy, and vulnerability. Does that mean that I'm the sex worker for everyone? Absolutely not. But my audience loves and appreciates what I'm sharing with the world. I know where my boundaries sit. I'm not making a ton of money, but I'm pulling in enough help with rent and bills. And I ended up paying off $1,000 of my loans through it. This January, I was being transparent with my parents about my financial fear, and they said they were going to forgive the rest of my loans. It was about $15,000. They said, "We want to see what your life is like when you don't have to worry about this debt."
Would you recommend other people use OnlyFans to pay off their loans?
OnlyFans can be a form of sex work. If you're getting into sex work, you need to fully consent to all that it entails. Imagine everyone in your family finding out about it and subscribing to it. That's possible. If you are not prepared to deal with that, I'd recommend getting a side job, like bartending, that you're more comfortable with to pay off your loans. Unless you're willing to be a sex worker and identify as a sex worker, don't start an OnlyFans.
What was the biggest money lesson you learned from paying off your student loans?
Only borrow the minimum that you need, then start paying it off as soon as you can to try to reduce the interest as much as possible. You will end up paying so much more than you need at that moment. At the end of the day, that $1,000 loan I needed to get me through turned into $5,000 with interest.
Also, don't be afraid to ask for help. My pride and my ego got in the way of me asking for help from my parents, which ultimately would have saved me thousands of dollars in the long run.
What do you think about President Biden potentially canceling some student debt?
I get really mad because I wanted mine canceled! But I get that timing is a thing. I don't know if "canceling" is the solution, but I definitely think that interest rates should be lower. Our government should not be profiting off of our access to education when we need that education to keep up with the economy.
This interview has been edited and condensed for clarity.