7 Organisations Fighting To Ban Conversion Therapy In The UK
Even as Pride month draws to a close, the fight against conversion therapy needs our continued attention.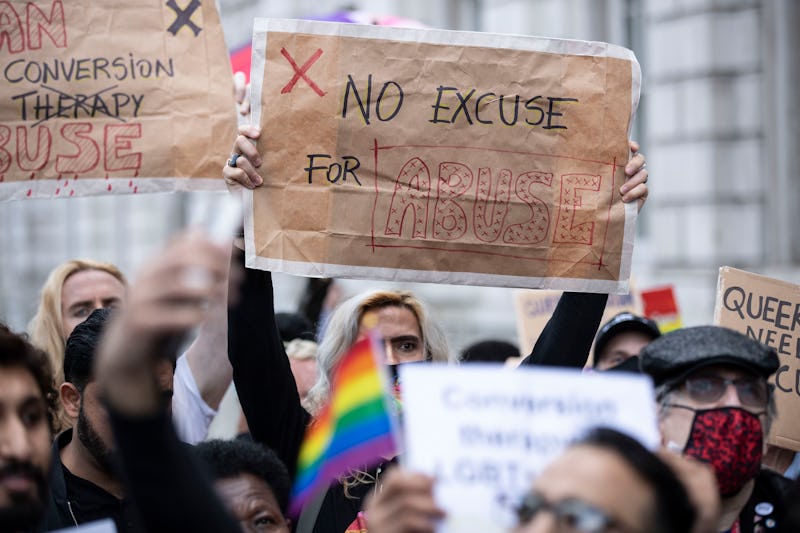 SOPA Images/Getty
Even as this year's Pride Month draws to a close, one important issue that deserves our continued attention is conversion therapy. Although the UK's LGBTQ+ legislation can be viewed as comparatively progressive, in reality, the cruelties of conversion therapy continue to cast a long shadow, with the official outlawing of the practice in England and Wales only taking place in May 2021.
Stonewall explains that conversion therapy (also known cure therapy or diversity eradication, repression and change efforts (DERC-efforts)) is a treatment that aims to change someone's sexual orientation or gender identity. "It is based on an assumption that being lesbian, gay, bi or trans is a mental illness that can be 'cured,'" the organisation writes.
A report from by Stonewall in 2020 explained that conversion therapy can take many forms. For some, it involves religious-based practices (praying or fasting, for example), for others it may take the form of talking therapy, verbal abuse, or behavioural conditioning and, in the most shocking cases, it can involve physical and sexual violence. The National LGBT survey found that at least 2% of the 100,000 LGBTQ+ people they spoke to in 2018 had undergone conversion therapy and a further 5% had been offered it.
As mentioned above, despite the government first pledging to outlaw conversion therapy in July 2018, it took three long years before the practices were totally banned in England and Wales. The government is yet to announce what the punishment for anyone found guilty of conducting conversion therapy will be.
Elsewhere, similar debates are ongoing in Scotland and Northern Ireland. In April 2021, Stormont passed a motion calling for a ban on conversion therapy, but an official outlawing has not yet occurred.
In Scotland, the government has said that it "fully supports moves by the UK government to end conversion therapy and does not support or advocate the practice of conversion therapy in the UK" but debates surrounding what exactly should be banned are still ongoing.
However, as these debates continue to be dragged back and forth through governmental bureaucracy, there are organisations across the UK working tirelessly to change the lives of LGBTQ+ people and take a stand against harmful practices like this. They give support those who have experienced conversion therapy, provide expertise on how it can manifest, and offer advice to loved ones on how best to support someone who has gone through it. In other words, their work is truly vital and you will find details about how to support them below.