Panera's New Sandwich Should Be On Every Cheese-Lover's Fall Mood Board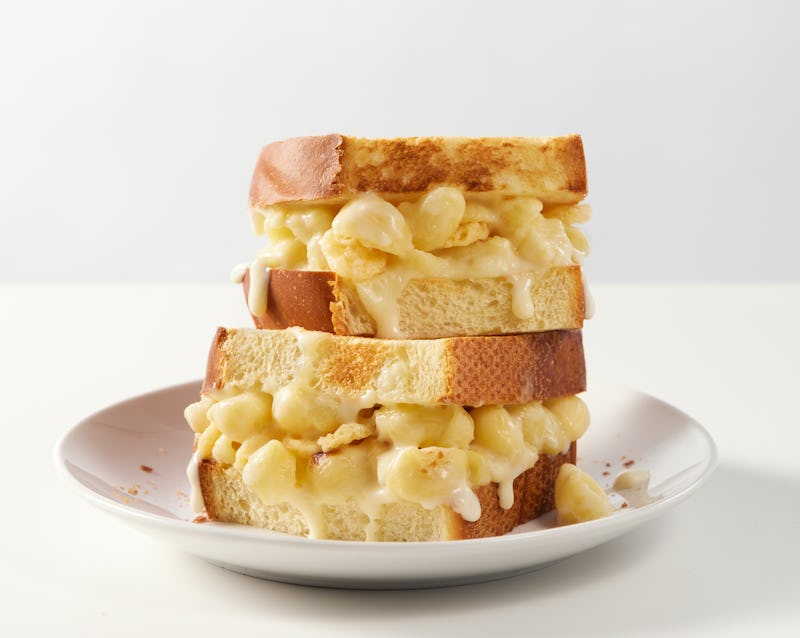 If you've ever looked at a piping hot skillet of macaroni and cheese and thought, "I love this, but I feel like it could be even more extra," then you're officially my type of person. You never say "when" until there's a literal mountain of fresh-grated parm on your plate, and no matter what the fashion gods say, your color of the year is consistently a delicious shade of yellow.
Well, I have some good news for you cheesy-as-hell humans: Panera Bread read your minds when they released the drool-worthy showstopper of the Fall 2021 season. Allow me to introduce you to the Grilled Mac & Cheese Sandwich. (Cue the airhorns, wedding bells, or whatever other sound you equate with pure and absolute elation.)
This creation, which is already becoming the accessory I'm never caught without, combines Panera's signature mac-and-cheese with their classic grilled cheese sandwich. Think: soft pasta plus creamy layers of fontina and mozzarella cheese, elevated with parmesan crisps, sitting pretty between two slices of rustic toasted Miche bread.
Pausing to let all that glorious, cheesy information sink right into your brain.
And since fall is all about embracing the latest fashion trends that'll soon become part of our everyday looks (ahem, like this sandwich), Panera even celebrated the release by creating a limited-edition gold-plated noodle necklace, which is the ultimate statement piece that tells people you love mac-and-cheese without actually telling them you love mac-and-cheese.
OK, but back to the Grilled Mac & Cheese Sandwich, because I'm not sure about you but it currently lives rent-free in my mind. This totally OTT (and yet somehow extremely necessary?) sandwich is now available at Panera and bonus: you can get it delivered straight to your front door for just $1 extra.
Not only will it look amazing on your plate, but it's also the ultimate food to brag about all over your socials (because you know that's also a factor). I mean, think of the cheese pulls… and the glossy noodles… and all that crisped-up toasty bread. Ahh, I can feel the likes and comments rolling in already.
The best part about this collab is that you'll never have to choose between your two Panera go-tos again. Instead, you get to enjoy the wonders of both. Some might say it lets you have your cheese and eat it, too. Who says you can't have it all?