People Are Singing The Praises Of This App-Controlled Wearable Vibrator — & It's 15% Off
We only recommend products we love and that we think you will, too. We may receive a portion of sales from products purchased from this article, which was written by our Commerce team.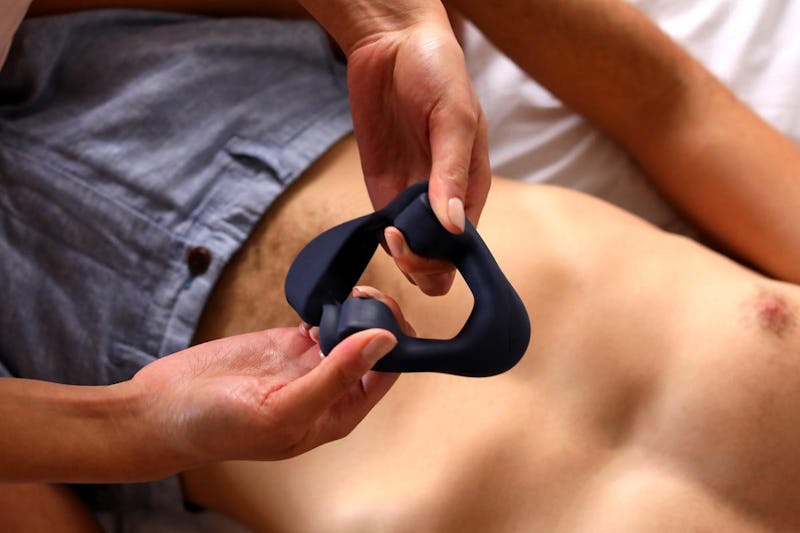 Too often, I think of sex toys as an explicitly solo endeavor. When it comes to sex with my partner, I tend to forget there's a world of sex toys for couples until I heard about MysteryVibe's Tenuto 2. A wearable vibrator for people with penises, the Tenuto 2 has generated a lot of buzz — and it's currently on sale, which means now might be a good time to make fall a little more exciting.
The vibrator has been receiving high marks from reviewers, with Vice describing it as the "Tesla of multi-tasking penis toys" and GQ calling it "no ordinary sex toy." At its original price of $249, this isn't a cheap toy, but with 15% off right now, you'll be able to save a good chunk of money on a high-quality wearable.
Fast Facts
Wearable silicone vibrator that can be operated remotely via a smartphone app
USB-rechargeable
Multi-purpose; use for solo masturbation, mutual masturbation, or sex with a partner
Designed to adjust to different penis sizes
Water-resistant
4 motor speeds and 16 vibration settings
2-hour battery life
What is the Tenuto 2?
The Tenuto 2 is a vibrator from MysteryVibe that's made for penises. In fact, the company calls it the "world's only wearable [...] vibrator that adapts to your penis, whatever your size." But, if you're using it with someone who has a vagina, it's also designed to stimulate the clitoris and vulva. At the same time as it stimulates, the toy is pulsating the vibrator's wearer from penis to perineum. It's a remote-controlled wearable sex toy for any occasion, whether you want it for solo masturbation, mutual masturbation, foreplay or sex.
With the goal of, as MysteryVibe put it, achieving "the ultimate couple climax," this vibrator has a super-flexible design that stretches over the penis to fit any size. Once on, it's designed to increase blood flow for harder erections and longer performance times. After unboxing your Tenuto 2, you can cycle through the 16 pre-set vibration settings to find the ones that you like most. Use the app on your phone to adjust the intensity and vibration during your session.
Once you've found your favorite settings, stretch the vibrator over the penis to find a comfortable-but-snug fit to reach the area on you or your partner's body that you want to stimulate. Experiment and try out different positions to find the ones that work best for your bodies. Cleanup is also easy because the toy is completely waterproof and fully submersible (which means you can also use it in the shower).
Who Is The Tenuto 2 Best For?
While the Tenuto 2 can be used by anyone with a penis, it's especially helpful for those who experience erectile dysfunction, hypoactive sexual desire disorder, or premature ejaculation.
"Vibration stimulation to the penis and pelvic floor is a proven solution for erectile dysfunction, especially for men with spinal cord injuries," according to MysteryVibe. A 2018 study published in the Sexual and Relationship Therapy journal backs this up, noting that "penile vibratory stimulation is a commonly used means to produce ejaculation in men with and without spinal cord injury and in men with multiple sclerosis."
What Are Shoppers Saying?
There's plenty of helpful info to be found on the MysteryVibe site, whether you're wondering how to wear the Tenuto 2 or curious about all the different ways you can employ it during sex (as a nipple stimulator, who knew?). You'll also find plenty of reviews giving the toy high praise:
"Amazing, forward-thinking tech that puts pleasure and communication first. Really impressed to see how technology can improve rather than replace intimacy." — Henry
"I was reading the reviews and I didn't believe it when people were saying stuff like, 'Omg this fixed my sex life.' So I got it and it definitely did rekindle our sex life after being married for over 30 years!" — Destine
"Tenuto cured my age related delayed ejaculation [...] my urologist advised me to get a vibrator for the perineum to enhance sensation. The Tenuto has successfully enabled me to consistently climax once again." — Ed
Rullo, J. E., Lorenz, T., Ziegelmann, M. J., Meihofer, L., Herbenick, D., & Faubion, S.S. (2018) Genital vibration for sexual function and enhancement: a review of evidence. Sexual and Relationship Therapy, https://www.tandfonline.com/doi/full/10.1080/14681994.2017.1419557
This article was originally published on