Here's How To Win A Free Tesla (& Get Your Finances In Order While Your At It)
We only recommend products we love and that we think you will, too. We may receive a portion of sales from products purchased from this article, which was written by our Commerce team.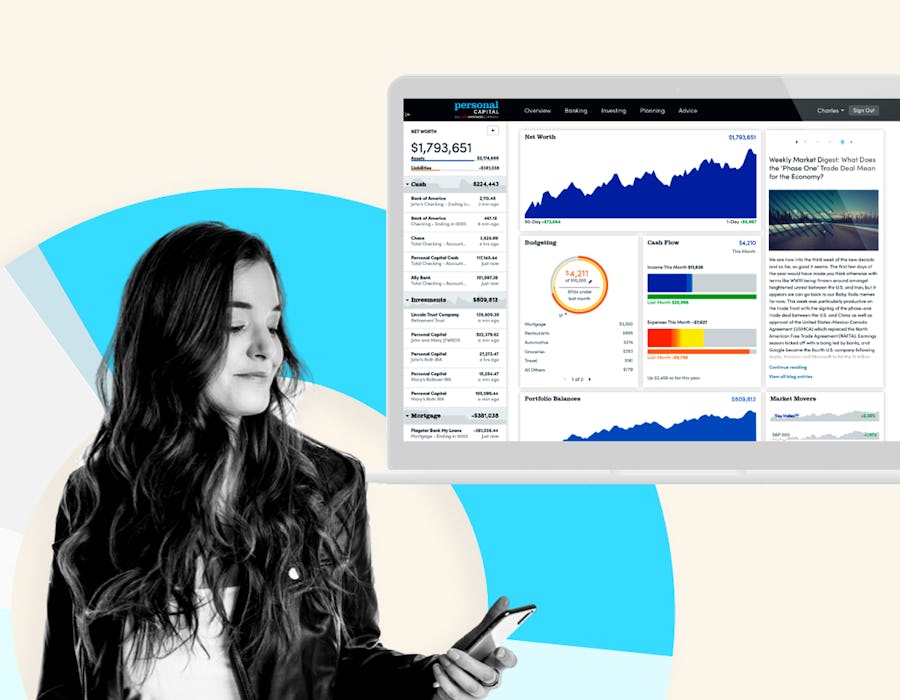 If you've been meaning to get a better handle on your finances, now may be a perfect time to start. The popular online financial advisor Personal Capital is offering a chance to win a Tesla just for signing up and using its services, which is something you might find yourself doing regardless.
Personal Capital is a financial company that offers personal wealth management services. With more than 3 million customers, it offers both free and paid tools to help you manage your money. One of the most utilized free tools is its dashboard, which gives users a digital overview of what they're spending and what they're saving.
While looking at your finances may seem a bit daunting, Personal Capital lays everything out in a user-friendly way, making it easy to get a better grasp of bills, investments, and your retirement. The New York Times even called the company "... the one to beat" for managing investments. Personal Capital has been around since 2009, and it's currently an Empower company, having been acquired by the popular retirement service in 2020.
Is Personal Capital secure?
Security should be a top concern when it comes to choosing a personal wealth management company. The company uses AES-256 encryption when it comes to its data, which is the same standard of encryption used by the military.
For those who have yet to explore the future value of their investments, Personal Capital is a good company to start with — especially since paid accounts can come with a financial advisor to help answer questions. And when it comes to money, there will be questions.
But, there's one thing that sets Personal Capital apart from other companies — they're currently giving away a Tesla.
According to a survey by Personal Capital and Empower, over half of Millennials are spending more time planning for vacations than retirement and travel spending is up over 41% from last year. Gas is likely contributing to that increase, with gas prices climbing in 2022. So it's no surprise that another study showed that 47% of Millennials are planning to buy an electric vehicle the next time they are in the market to buy a car. With the chance of winning a car that'll help reduce your need for pricey gas fill-ups, the company said it was looking to "meet consumers where they're going."
So, what do you need to do to enter?
The company is giving new users 20 chances to win a Tesla Model 3.
All you need to do is sign up for a free account to access their tools and dashboard, and then link your financial accounts. Every account you link from a different company — like your bank and credit card account — gives you another chance to win. Tesla aside, it's a good way to manage all of your finances and have everything in one place.
Basically, the more accounts you link to your profile, the better your chances of winning are. (And, the more in tune you'll be with how much you're spending and saving.) The contest ends on August 31, and a winner will be announced on or around September 15.
Tesla or not, it's a good reminder of the importance of planning ahead. Even if you think your brain is doing a good job with keeping track of everything, it can be eye-opening to see your accounts all in one place. Being able to plan for the future — whether it's making sure that enough money is set aside for a child's future education, or just planning a big trip with family — is important.
It can feel intimidating to get started — especially if you're totally new to financial planning. But Personal Capital's dashboard can take some of the stress away, showing a path towards financial stability in a user-friendly way. As one user told the company, "I'm an amateur personal finance geek, and I love watching my net worth grow."
It's never too early to think about your future.
Using a service like Personal Capital can help you make more informed decisions, which can make you feel more in control of your finances. If you like its free services and want to learn more about how to invest, the company can also shed a light on how to invest smarter with a paid membership.
There's nothing to lose by signing up with Personal Capital. From credits and loans to your cash flow and retirement savings, Personal Capital can help you build your path toward smarter money management. Sign up today and get to know your money on a personal level.
This article was originally published on