A Look Inside Disney World's Reopening During The Coronavirus Pandemic
You'll have to reschedule your 1:1 with Cinderella.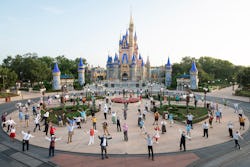 Handout/Getty Images Entertainment/Getty Images
On Saturday, July 11, Disney World in Orlando, Florida reopened after being closed for four months during the coronavirus pandemic. The closure, which started on March 12, marked the first time in Disney's history that all six parks were closed simultaneously. Then, at 9 a.m. on Saturday, the park reopened its gates for a limited number of guests — the exact number has not been reported — prompting concern from experts and Disney fans alike.
The same day Disney World reopened, Florida reported record-high numbers of new coronavirus cases, according to CNN. The Florida Department of Health reported at least 15,299 new COVID-19 cases for Saturday, July 11, which is the highest number of new cases in a single day by any state. Experts are still advising against going to bars and restaurants, let alone a theme park that sees an average of 53,000 guests a day.
Prior to Saturday, Disney shared its reopening updates which include some requirements to help preserve guests' and employees' health and safety. Here are few of those updates:
All guests aged 2 and older must wear a face mask. They have to be the over-the-ear kind; bandanas won't suffice.
Temperature screenings will be enforced at certain locations in the park.
Guests are encouraged to keep the recommended six-feet between parties.
If you think the scene sounds dystopian, you're not alone. Before its reopening, Disney posted a promotional video of masked employees standing and waving in front of iconic rides and attractions from Cinderella's castle to the Dumbo ride. Then came parodies of the Disney ad, pairing the video with music from a horror film or an amended voiceover message urging people to stay home.
Days after the Orlando park reopened, Hong Kong Disneyland, which opened its gates on June 18, announced it would close once again on starting on July 15. While it's uncertain whether Disney World Orlando will continue to stay open, images from the reopening weekend show what the park will look like for the time being, and it's a far cry from whatever pre-coronavirus wishes your heart made.
While the risk of transmission decreases outdoors, it increases exponentially the more people you come into contact with. If you want to play it safe, it's smartest to wait to enjoy the Disney park until health officials say the magic word: vaccine.