The Type Of Porn To Try, Based On Your Zodiac Sign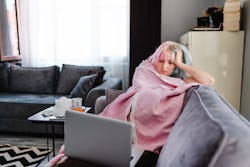 Kemal Yildirim/E+/Getty Images
Whether you're into threesomes, romantic subplots, or Star Wars parodies, there's porn out there for everyone. And your birth chart can reveal a lot about your sexual preferences. Believe it or not, your zodiac sign can even influence the type of porn you should try.
"As soon as we study the horoscope for an individual's sex profile, attention must be given to the fifth and 11th House," astrologer Clarisse Monahan tells Bustle. "The Fifth House represents the love and affection we give out, as well as our attitude to sex. The 11th House represents the love (and sex) we receive from others."
For example, if you have fiery Sagittarius in your Fifth House cusp, your sexual tastes may lean on the more adventurous side. But if you have a more conservative sign in that position, like Capricorn, you may have a cooler, more practical, or no-frills approach to sex. If Saturn falls in this house it can also indicate a restriction in your sexual approach or a block in this area, Monahan says.
Just like everyone's birth charts are different, everyone's porn preferences differ as well. Luckily, there's porn for pretty much anything. Here's the type of porn you're likely to watch, based on your zodiac sign.