Here's How To Post On Instagram From Desktop
Starting today, you can photo dump from anywhere.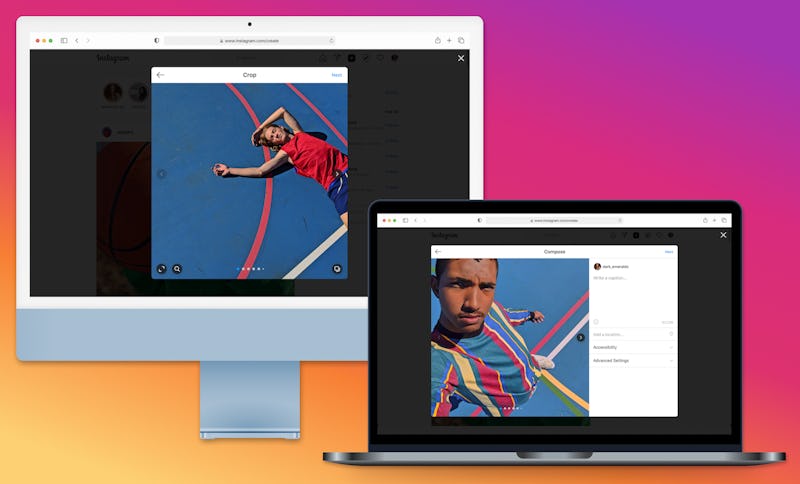 Instagram
Sometimes planning your Instagram posts and captions can feel like a job (and for some people, it really is). And when you're doing your job, it can feel more official to work at your desktop instead of your phone. While you may know that you can access Instagram from your desktop, what you might not know is that you can post pictures on Instagram from your desktop as well.
For most of Instagram's existence, you needed to hack the mainframe in order to post from your computer. Though you could always do most of what the app version allows — scroll through your timeline, watch stories, and even DM your friends and followers — you had to manually open the source code for the page and toggle on a setting in order to post a picture.
Starting on Oct. 21, Instagram is rolling out the ability to post to Instagram from desktop to all users. The update comes as part of the platform's "Product Week," a week of update drops that included a new feature called Collab and a test of how Instagram Fundraisers works. Now, all you need to do is go to Instagram.com and log in. You'll see a Plus icon in the top-right row of menu icons, and it looks the same as it does on the app. From there, create a post as you normally would on mobile. That's it!
The ability to post to Instagram from desktop began as a test over the summer, 9to5Mac reported, but the feature had been highly requested from users ever since, well, Instagram took off. Being able to post from desktop with an in-app feature eliminates the need to AirDrop or email photos back and forth to yourself, particularly if you're relying on images edited on a computer or similar.
Why Can't I Post To Instagram From Desktop?
The new ability is live for all users starting Oct. 21. If you can't post a feed pic from your computer, try clearing your cookies and reloading the page. If that doesn't work, you can reload your browser by quitting it and restarting.
If all else fails, you can revert to the original hack: After you're on Instagram.com, right click anywhere on the page (wherever there isn't a photo). When a menu pops up, click on Inspect. This should make another window pop up on your page that's filled with different codes for the site. Don't worry, you don't have to touch any of this. All you have to do is go to the top of the page and click the icon that shows a little mobile phone. If you scroll over the icon it should say "Toggle device toolbar." After you click it, refresh your page and voila! You should now be able to see the option to upload pictures onto your Instagram the way you would on your app. You can even caption the photo and tag whoever you want in it, too.
This article was originally published on