A New Business Owner Shares What It Was Like to Lease Her Own Storefront
The help of a REALTOR®, a member of the National Association of REALTORS®, made all the difference.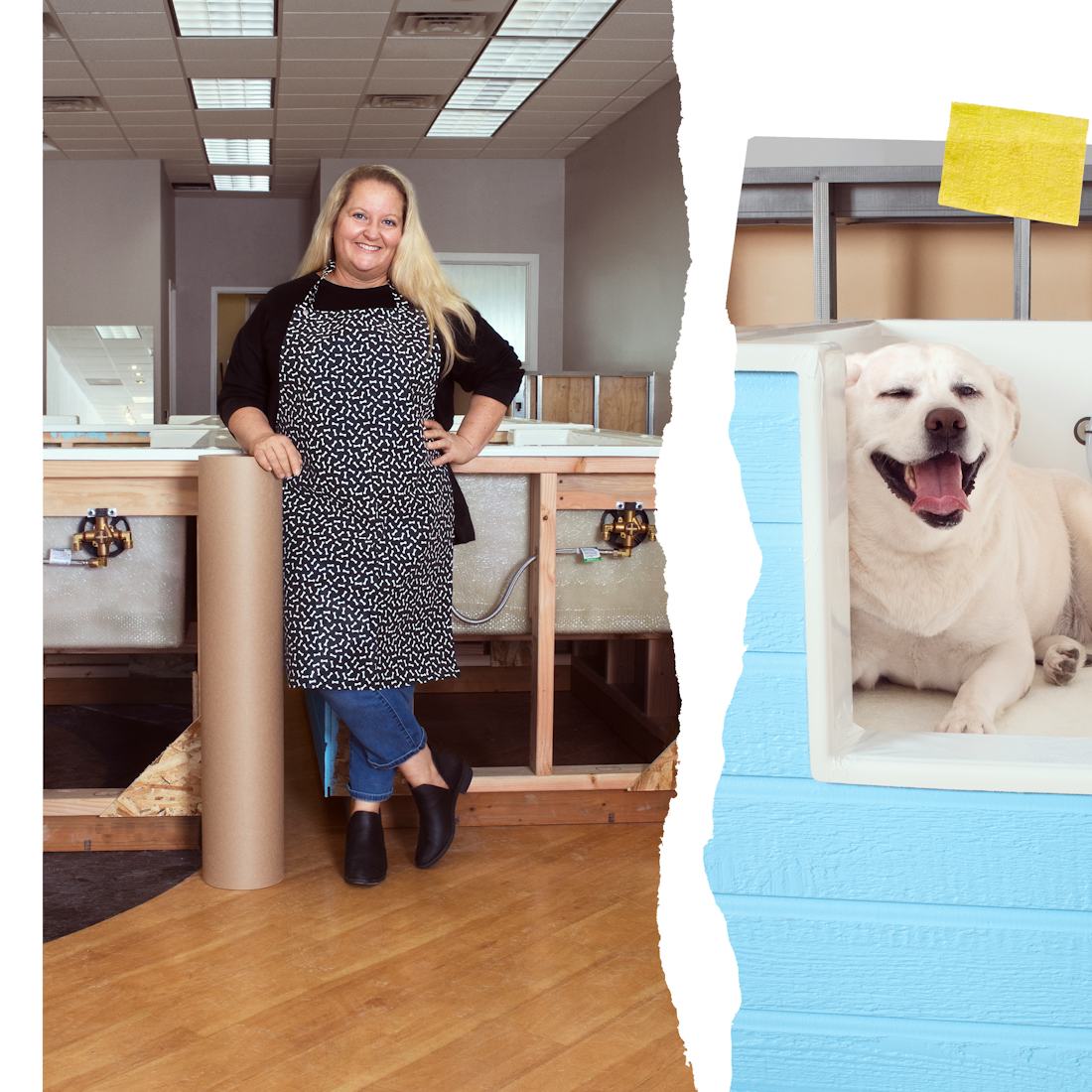 If you were going to pick an ideal time to open your first storefront, pandemic times probably wouldn't make the shortlist. But sometimes, life surprises you — and the worst circumstances can bring unexpected opportunities. That's what Rebecca Mulvain, a Navy veteran, discovered when she began her search for a brick-and-mortar location for her pet grooming business, Muddy Marley's Dog Wash in Williamsburg, Va.
Her dream got its first suds (er, sparks) when Rebecca was on active duty and living in San Diego. She loved to bring her two dogs, Marley and Simba, to the dog wash. When she moved back to Virginia after retiring from the Navy in 2012, she looked up the nearest dog wash. To her dismay, it was over an hour away. "No one in Williamsburg even knew what a dog wash was," she recalls. They thought the concept was a great idea though, and Rebecca, who had always felt that "hanging out with dogs all day would be [her] ultimate dream job," got to thinking.
In 2017, Muddy Marley's Dog Wash (named for Rebecca's lab, Marley) was born. She started small, using portable, outdoor dog tubs and partnering with local businesses and events that were pet-friendly. "Unfortunately, Mother Nature limits the availability window for outdoor washing," Rebecca says. Having to cancel events for thunderstorms or one of Virginia's infamous heat waves started to take its toll. The next logical step for the business? A (temperature-controlled) storefront.
That's where Janet Moore, a real estate agent who is also a REALTOR®, a member of the National Association of REALTORS®, comes in. Speaking to the challenges of the process, Rebecca doesn't mince words. "Nothing about the process of leasing a commercial space was simple in my opinion," she says, "but Janet made it easier on me." And Janet didn't just help Rebecca find the perfect space, negotiate a fair rate, and communicate with landlords. "She literally saved me from an almost devastating mistake," Rebecca says.
1. The Expert Guidance Of A REALTOR®
The first thing Rebecca asked Janet when they began working together is something you might have asked at the start of this story. "I asked her, 'Am I crazy for looking for a commercial lease space during a pandemic?' Luckily, she said no," Rebecca laughs.
As anyone with a wild dream can imagine, having the support of an expert is absolutely crucial. As an agent and REALTOR® whose local clients include numerous successful businesses, Janet knows the commercial spaces in the area inside and out, is steeped in her community, and understands what a new business like Rebecca's needs to succeed.
Williamsburg and James City County, VA have a total population of over 1.7 million. "It's a tertiary market that has been extremely attractive to those fleeing the larger cities," Janet says. Home to Colonial Williamsburg and Busch Gardens, it's also a major vacation spot, with many pet-friendly businesses and hotels. And as we know, the pandemic has resulted in a dog adoption boom — which means more happy animal owners, and also more fur babies in need of bathing.
Once the search for a storefront started though, it wasn't quite the smooth ride Rebecca anticipated. "My expectation was that I could find a space, the buildout and permitting could be quick and easy, and I could open the doors immediately," she says. The reality was a bit more complicated, with permitting, paperwork, regulations, and scheduling delays adding to an already complicated process.
Luckily, Janet came armed with the professionalism and expertise Rebecca and her business needed. First off, Janet is held to her professional association's strict Code of Ethics, ensuring that her clients receive service with integrity and fairness. REALTORS® also have access to a vast array of educational and training opportunities, including the latest information about market trends and economic news.
"Janet knows her stuff," Rebecca says. "It made a huge difference, and made me feel a lot more confident and comfortable in my decision-making process."
Janet is fully aware of the benefits conferred by her status as a REALTOR®. "I enjoy being a part of the National Association of REALTORS®," she says, "knowing that my fellow REALTORS® are bound to the same professional Code of Ethics and Standards of Practice. I also strive to provide services above and beyond, by trying to understand the needs of my clients' businesses."
Janet doesn't just understand what clients like Rebecca need. She also tunes into the perspectives of the other parties involved in a transaction — landlord, broker, tenant — while keeping her client's best interest front-of-mind. "Sometimes it's almost like we're speaking two different languages," Rebecca says. "Janet knows how to eloquently talk to the brokers and the landlord, and then translate that information back to me so that I can understand."
That wasn't Janet's only act of translation. First, she had to help Rebecca take the dream in her head and put it down on paper.
2. Making Rebecca's Vision A Reality
Before they could begin searching for a space, Janet helped Rebecca shore up her vision for a business which had, up until then, only existed as a temporary outdoor concept. Janet asked Rebecca what was most important for making her business successful, whether she'd secured financing, what she thought her space needs were, and whether she'd made a floor plan. That last question ended up being pretty major.
"She had not sketched out a plan," Janet recalls. "That forced her to realize some things hadn't been properly evaluated, causing her to completely change the dimensions of her preferred space."
For Rebecca, this exercise may have made the difference between success and failure. The idea of drawing out her concept for the space on graph paper had never occurred to her. When she finally did it, she realized the space parameters she'd had in her head "would have proven disastrous." Janet's experience with other commercial tenants smoothed out some potentially devastating roadblocks for Rebecca. "By doing that one simple task, I was able to pick an appropriate space, as well as talk intelligently to the contractor and architect about the layout," she says. "Janet literally saved me."
Once the spatial needs were confirmed, Janet sent an email blast to local commercial brokers specifying Rebecca's requirements.
3. The Art Of Negotiation
Of course, the search for commercial space doesn't just involve the tenant's wishes. "Some brokers wouldn't even meet with us due to a potential conflict of interest with existing renters," Rebecca explains. For example, Janet adds, "One location had a veterinarian that restricted her use due to their in-house groomer, due to a non-compete clause." But Janet and Rebecca were dogged in their search (pun very much intended).
Finally, they came upon a space, a former hair salon, that had been vacant for years. "It was like a perfect time capsule from five years ago," Rebecca recalls. "It was almost eerie."
Rebecca had actually seen the space earlier, prior to when she started working with Janet. The owner told her then it was off-limits. Due to the plumbing and the other ways the space was built out, the owner was hoping another salon would take its place.
Because of Janet's experience, she saw an opportunity to change the landlord's mind. "I advised Rebecca that given the conditions brought on by the pandemic, we should revisit this option since it was clearly the best one for her," she says. When Janet calmly asked the landlord to reconsider given the time it had spent on the market, they were persuaded.
Janet's strengths as a REALTOR® really shined, from the practical — like being an expert on inventory availability and key market players, helping landlords understand the value of a specific mix of tenants, and skillfully negotiating the terms of Rebecca's lease — to the emotional. "It helped to have Janet by my side to shield me from the other party's broker pressure, which gave me the time to make educated decisions," Rebecca says.
4. Sitting Pretty — And Giving Back
Just as the reality of the pandemic ended up helping Rebecca snag her perfect space, it similarly hasn't hindered her business either. The safety benefit of working with dogs and not humans is that she can take in her furry clients and still socially distance from people. And for Rebecca, who lives with two children, three dogs (the famous Marley, a Staffordshire mix named Sydney, and a Dudley lab named Cooper), a cat (Simon), a bearded dragon (Baby Blade), and one horse (Charlie)... furry clients make her happy. "Being around all these dogs all the time is rewarding because each one is so unique and special," she says.
The location has also proved to be exactly right. "We are in a very busy shopping center, surrounded by multi- and single-family housing, with extremely high foot traffic," Rebecca notes. "It's the perfect place to drop off your pet while you run errands or have lunch and return."
In addition to enjoying the day-to-day operations of Muddy Marley's Dog Wash, Rebecca is excited about the opportunities to give back to her community — and its pets. "We want to continue fostering a relationship with the local shelters and rescues by gifting adopters with complimentary dog washes," Rebecca says. "Having a storefront allows us to do that more often, since before that we could only do it seasonally."
For Janet, working with Rebecca to put her plans into reality epitomizes everything she loves about being an agent and a REALTOR®. "For me, it's all about developing a trusted relationship, possibly making a new friend, and using my expertise as an agent to help a client realize the dream of owning their own business."
In the end, it feels like the space Rebecca and Janet found was written in the stars. "Our space went from a hair salon to a dog grooming salon," says Rebecca. "I've joked that it's stayed mostly the same, except we groom a different species. Both leave more beautiful than when they came in."
This article is sponsored by the National Association of REALTORS®.