Samsung's Collab With The Met Will Turn Your Home Into A Museum
Yup, you can add a Van Gogh original to your gallery wall.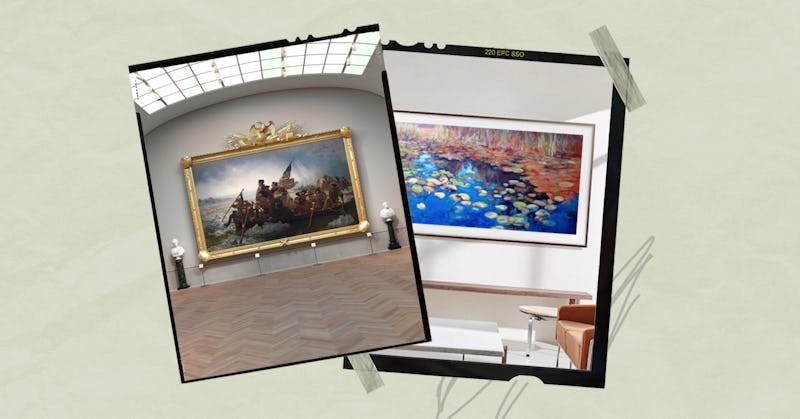 Courtesy of Samsung
Nothing beats strolling through the Metropolitan Museum of Art on a rainy day. But if you have a Samsung Frame TV, you don't have to wait for the perfect day to take in the works of Van Gogh, Seurat, and more. The tech company has teamed up with The Met to bring some of its most noteworthy artwork to the Samsung Art Store, which means you can transform your home into a fine art museum whenever you want.
Give your space a makeover with some of the most iconic pieces of art in history — all with the push of a button. Thanks to the collaboration, which was announced on Sept. 15, Samsung Frame TV owners will have access to 38 works of art from The Met. The featured options span across a number of the museum's curatorial departments, including the American Wing, European Paintings, Asian Art, Islamic Art, and Egyptian Art. From classic paintings such as Vincent Van Gogh's Sunflowers and Edgar Degas' The Rehearsal of the Ballet Onstage to unique artifacts like an Egyptian wedjat eye amulet, there's something for everyone to appreciate. And because the TV screen is in 4K, you can finally get up close and personal with the high-resolution reproductions to study all the impressive brush strokes and awe-inspiring techniques.
IYDK, the Frame TV comes with a Matte Display finish, so you don't have to worry about light reflecting off your gallery wall centerpiece when the device isn't on. You can also adjust the brightness of your screen to blend in with the rest of your art collection to give your living room that museum-like feel.
Just because your home isn't decorated like a fine art museum doesn't mean the artwork won't fit your home decor aesthetic. If you prefer to fill your space with color and maximalism, Paul Cézanne's Still Life with Apples and Pot of Primroses is sure to fit right in. If you're a mid-century modern fan, the moody color palate of Georges Seurat's Circus Sideshow promises to blend nicely with your sleek, minimalist furniture. And if your walls are decorated with a mix of eclectic vintage pieces, Katsushika Hokusai's Under The Mannen Bridge at Fukagawa will likely be right up your alley.
The curated selection can be found exclusively on the Frame TV with a Samsung Art Store subscription for $7 a month, along with other works from a range of different artists including Sandro Botticelli, Leonardo da Vinci, Shinique Smith, and more.