Spotify Has Major Updates In Store To Make Streaming So Much Easier
You'll be volunteering for AUX duty in no time.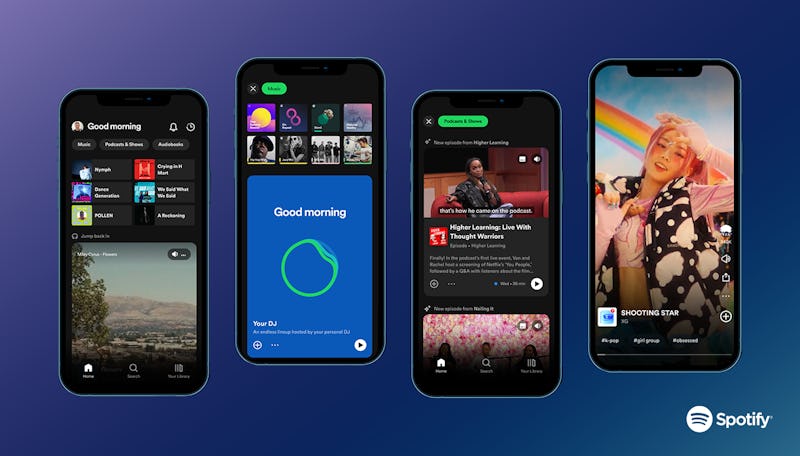 Courtesy of Spotify
Spotify users have probably noticed some major changes to the platform recently, and there's more to come. From an AI DJ that recommends personalized songs based on your preferences to a homepage overhaul that has fans doing a double-take. It's safe to say Spotify is going to look a bit different in 2023. Here's the rundown on everything you need to know about Spotify's new features, including what they are, how to use them, when they're expected to hit the app, and more.
The streaming service shared previews of the upcoming changes coming to the platform during its annual Stream On event on March 8. Among the updates include new features to help you revamp your library, like Smart Shuffle and DJ, as well as changes to improve the Spotify experience such as new feed designs within Search. These updates feature visual previews of genres, podcasts, and more. Plus, you can expect to see Autoplay rolled out to podcasts. And if you're a creator on Spotify, the company also announced a series of helpful tools for you to build your audience, like a new pay-for-play option called Discovery Mode and other incentives to get your music on listeners' radars. The first set of changes began rolling out on March 8, and are expected to continue rolling out in waves in the near future.
Spotify's New Features
Figuring out how to use one new feature is hard enough as it is, so when getting used to Spotify's new setup there might be a learning curve. To make the transition a bit smoother, let's break down the most noteworthy changes coming to the platform and how to use them, so you're not blindsided when they finally hit your app.
Updates To Home Feed
Probably the biggest change coming to Spotify is the updated feed design which allows you to preview music, podcasts, and audiobooks with a visual element before saving them to your library. The feed change is only available on the mobile app, which is probably why it has been compared to TikTok's FYP by some.
Feeds Within Search
Sticking with the visual updates, this feature lets users scroll up or down to get a taste of short clips of songs from their favorite genres. This makes dipping your toes into a new genre so simple, and who knows, maybe you'll find some solid recommendations. You can also find this feature within playlists like Discover Weekly, New Music Friday, RapCaviar, and more.
DJ
If you're a Premium subscriber in the U.S. or Canada, you can use Spotify's new AI DJ to serve up song recommendations based on previous listening habits and editor's picks to keep your playlists fresh — and maybe even broaden your horizons, too. DJs do have the best music taste, after all. The feature even talks to you with personalized commentary, so you can bond with the DJ over your shared love of music.
To use the feature, select the "Music" tab at the top of the Home page, then tap anywhere on the DJ card. The DJ will switch songs every time you touch the page, so make sure not to speed through the recommendations. Tracks will be selected from a mix of familiar and new songs that are sourced from recent listening, recommended for you, editor's picks, and throwback playlists.
Smart Shuffle
Admit it: listening to the same playlists over and over can get pretty boring. Thankfully, the Smart Shuffle button is here to breathe new life into your playlists by tossing in songs that perfectly match the vibe. You can turn it on by tapping the Shuffle button twice and turn it off by doing the same. Once it's off, your playlist will go back to playing only the songs you've added to it manually.
Discovery Mode
A tool for artists on Spotify, Discovery Mode lets artists choose which songs they want to reach more listeners, and helps to increase the number of users who are recommended that song. However, according to a YouTube video from Spotify For Artists, the algorithm "takes note when a listener isn't engaging with a song," and takes that into consideration when recommending future songs. So if you're worried about your Discover Weekly playlist getting bombarded with pay-for-play songs, the algorithm has got your back.