15 Refreshers & Iced Drinks You Can Order Off Starbucks' Secret Menu
There's even a WandaVision-inspired frapp.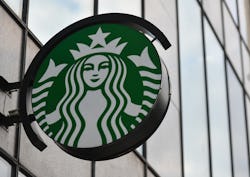 NurPhoto/NurPhoto/Getty Images
Everyone loves getting in on something exclusive, especially if that exclusive thing is a sweet treat. With the warm weather almost here, everyone will soon be trading in their hot cups of coffee and lattes for drinks that are more on the refreshing side. That's why you're going to want to get in on the latest iced drinks from Starbucks secret menu.
While it's no secret that Starbucks secret menu isn't a real part of the franchise, it is near and dear to many of those that regularly consume caffeine. From decadent dessert drinks like Raspberry Cheesecake Frappuccino to nerdy-inspired sips like the Baby Yoda Cold Brew, fans Starbucks fans are always coming up with new ways to express their creativity through their liquid libations.
Secret menu lovers have even more to be excited about as oat milk has now arrived on Starbucks' menu. What kinds of drinks can you make with oat milk you might ask? Oh you know, just a Chocolate Chip Oatmeal Latte or a Churro & Oats Frappuccino. Needless to say, you'll be happy that Starbucks finally put oat milk on the menu once you give these secret recipes a try. Check out these 15 Starbucks secret menu drinks.