The 16 Best Goal-Setting Journals For 2023
The journey of a thousand goals starts with one journal.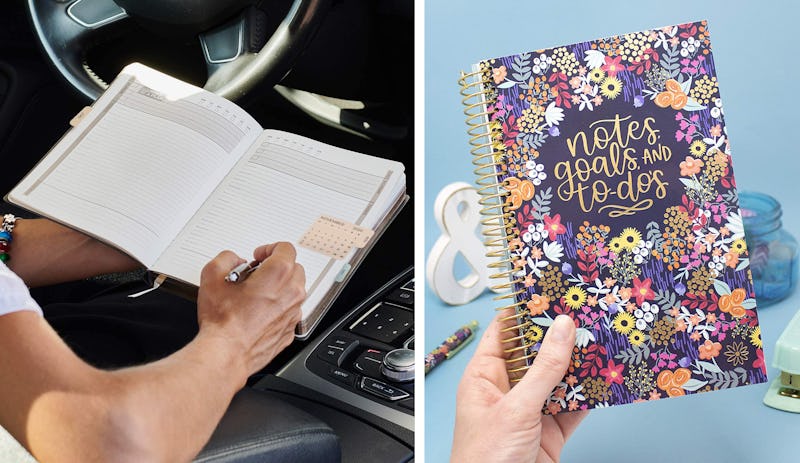 Amazon
We may receive a portion of sales if you purchase a product through a link in this article.
If you've struggled to reach your goals in the past, writing them down can be an easy place to start. Licensed psychotherapist Kristin Papa, LCSW, explains to Bustle, "Journaling is an intentional practice where people can review what they've set out to accomplish in one location." The best goal-setting journals are designed to help you implement new habits and boost your productivity. They utilize scientifically proven methods, fun activities, and smart structures to help you get the most out of your day.
Papa recommends a goal-setting journal that has space to reflect on your biggest wins and lessons learned throughout the month. A journal that emphasizes growth in all aspects of life such as family, fitness, fun, or personal development can also be helpful. "At times people tend to focus on one area of their life, but if the journal has you evaluate your accomplishments from a more holistic perspective it allows you to create a more grounded and balanced approach to your goals," she says. A planner can be an extension of your brain, and these genius planners have been specifically created to help you organize any jumbled thoughts and achieve your goals.
Remember that consistency is key when using a journal to reach your goals. "Building a daily habit to review and write your goals down is a powerful tool to keep yourself accountable," says Papa. You may also experience some other positive benefits to using a planner once you no longer have to-do lists swarming around in your head.
Whether you're looking to streamline your day-to-day tasks, plan long-term projects, boost your creativity, or achieve career goals, these are the best goal-setting journals on Amazon. Plus, all of them have glowing reviews from real people to back them up.
The Expert
Kristin Papa, LCSW is a licensed psychotherapist who practices in California, Florida, & Puerto Rico.
This article was originally published on