I Tested 8 Of The Best Pillowcases For Acne-Prone Skin — & This Is The Winner
We only recommend products we love and that we think you will, too. We may receive a portion of sales from products purchased from this article, which was written by our Commerce team.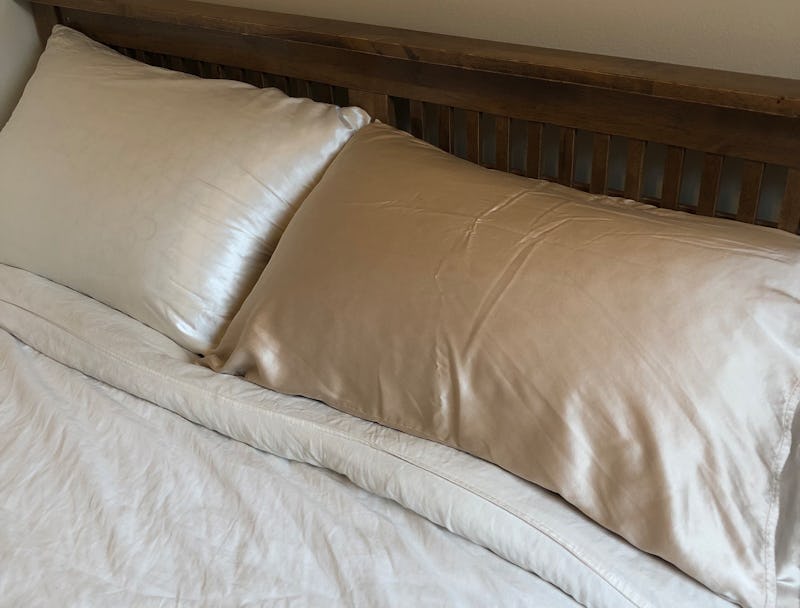 Amy Biggart
If you've had your ear to the ground, you've probably heard lore that silk pillowcases are game-changers for your hair and skin. But for those struggling with acne (I'm with you!), the conversation is a little more nuanced than that. So I set out to try eight of the most popular pillowcases for acne-prone skin in a range of fabrics and price points. After 700 hours of testing, I have some thoughts. But before I tested any of the pillowcases on this list, I asked a dermatologist for her advice.
How often should you wash your pillowcases?
According to board-certified dermatologist, Dr. Liv Kraemer, MD, PhD, and founder of Dr. Liv Skin Clinic, "It's essential to swap out your pillowcases every two to four days (or sooner if you get into bed dirty or sweaty)." For this reason, "I always recommend 100% cotton. It's affordable so you can have an extensive collection of pillowcases and, most importantly, it's easy to wash. Cotton is an excellent material because you can wash it with regular laundry detergent and at a high temperature, ensuring you are eliminating bacteria."
Are silk pillowcases good for acne-prone skin?
While anecdotally, there is a lot of support for the benefits of silk pillowcases, the most important factor you should consider when choosing a pillowcase for acne-prone skin is how easily it can be washed and changed out. Machine-washable pillowcases are really the best choice for those with acne-prone skin, and that restriction will largely dictate which fabric you choose.
In fact, Kraemer says, "There seems to be a big hype around silk pillowcases at the moment — but I am not a fan. Silk is expensive and challenging to wash. Plus, dry cleaning or hand-washing is not a good way to sterilize bedding." And, one last tip from Kraemer? "Always buy white pillowcases. This makes it easier to see when it is starting to get dirty."
So, which pillowcases should you buy for acne-prone skin?
I tested eight of the internet's most popular pillowcases (many designed specifically with acne-prone skin in mind), in a range of fabrics, like cotton, silk, and satin. I tested them for over 700 hours, and put each pillowcase through a diligent washing and drying process to see exactly how difficult they are to clean. Ultimately, the best pillowcase for acne-prone skin will be the one that you are most likely to wash, dry, and change out frequently, so keep this in mind as you read. But, without further ado, here are eight of the best pillowcases for acne-prone skin.
Pro tip: I ordered these from best to worst.
This article was originally published on