The 7 Best Wool Dryer Balls
We only recommend products we love and that we think you will, too. We may receive a portion of sales from products purchased from this article, which was written by our Commerce team.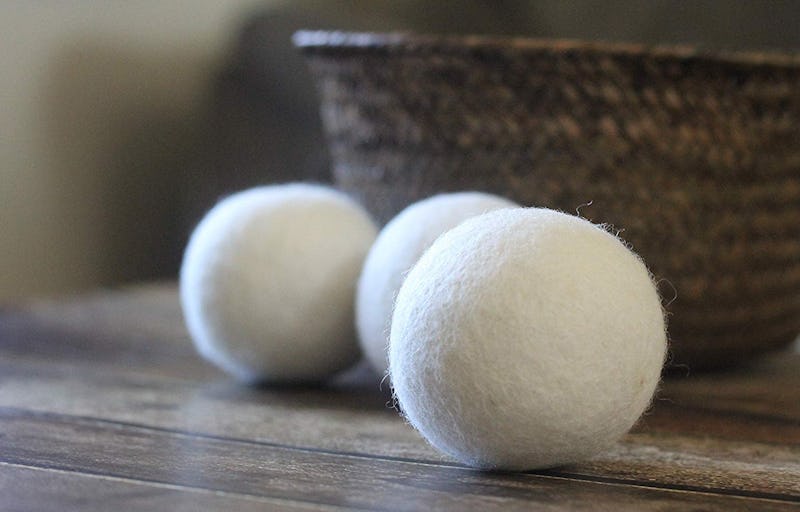 Amazon
Making the switch from dryer sheets to wool dryer balls can benefit your budget, eliminate the number of chemicals in your laundry, and minimize the waste you produce from doing your weekly load of laundry. After all, the best wool dryer balls out there will separate clothes and absorb static without all the chemicals and waste of dryer sheets.
Further, swapping dryer sheets out for dryer balls can reduce excess residue on your clothes and the inside of your dryer that traditional dryer sheets can leave behind. This in and of itself can lower your energy bill. So there are a lot of reasons to make the jump.
That being said, not all wool dryer balls are the same, and it's important to pick the right set for you. First, consider how you want your laundry to look, feel, and smell after it's done. Wool dryer balls come in both fragrance and fragrance-free options, and there are even some that allow you to infuse your own essential oils into them, giving a familiar smell to your laundry. Alternatively, if you love a green cleaning product, consider investing in an eco-friendly, organic wool dryer ball.
With so many options, it's not always easy to figure out exactly what you need. Here are some of the best wool dryer balls out there to help you get the softest, static-free laundry possible.
In a hurry? Here are the best wool dryer balls:
1. An Affordable Starter Set: SnugPad Wool Dryer Balls
2. The Award-Winning Set With 50,000 Reviews: Smart Sheep XL Wool Dryer Balls
3. The Organic Pick From A Brand That Gives Back: Friendsheep Organic Eco Wool Dryer Balls
4. A Scented Choice: Woolzies Organic Wool Dryer Balls (Lavender Scent)
5. These Black Wool Dryer Balls For Darker Loads: Nervana Organic Wool Dryer Balls
6. The Cutest Animal-Print Wool Dryer Balls: HAUSSIMPLE Wool Dryer Balls
7. These Gift-Worthy Dryer Balls That Remove Pet Hair: LAMBID Wool Dryer Balls
This article was originally published on