Sleep Troubles? These Calming Melatonin Gummies Have Thousands Of Glowing Reviews
We only recommend products we love and that we think you will, too. We may receive a portion of sales from products purchased from this article, which was written by our Commerce team.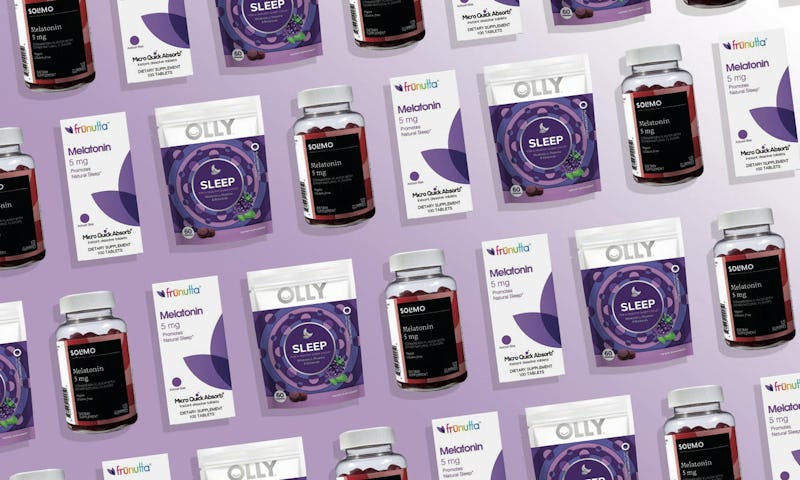 Bustle / Amazon
Sleep disruptions are a common problem, but if your doctor recommends that you try melatonin, a chewable melatonin gummy may be more pleasant — and easier to take — than pills. Plus, the best melatonin gummies come in a variety of doses, to help mimic naturally occurring melatonin in your body, so you can rest.
A Note On Dosage
Most gummies start with a dosage of 3 or 5 milligrams, but some are also available over the counter with 10 milligrams for a higher dosage. Dr. Nicole Avena, assistant professor of neuroscience at Mount Sinai School of Medicine, tells Bustle it's best to start with a smaller dose (5 milligrams) and then to take more as recommended, if needed. Serving sizes for some brands are two gummies, which means you can easily try a smaller dose; just keep in mind the overall gummy count listed on the bottle will go faster if you take two.
Consider All The Ingredients
Some melatonin gummies are also supplemented with other ingredients intended to help with sleep and relaxation, like L-Theanine (which is a proven anti-anxiety supplement), chamomile (which has been studied for insomnia), or lemon balm (which has been found to help with anxiety and sleep disturbances). It's helpful to figure out why you can't sleep to find the right one for you, Dr. Avena says. "For example, if it is because you are stressed about something and need to relax, something with L-theanine in it may help," she explains.
Gummies are also typically fruit flavored, and some may be made with organic ingredients or without specific ingredients you might want to avoid, including high fructose corn syrup or artificial sweeteners or dyes.
Though melatonin supplements are safe to use regularly, Dr. Avena advises that taking them long term for sleep shouldn't be a habit. If you're having trouble falling asleep for more than a week or two, she recommends considering lifestyle changes that may help.
With all this in mind, below are the best melatonin gummies.
This article was originally published on