Thanksgiving Is Almost Here — And This Simple Tool Will Make For A Delicious Turkey This Year
We only recommend products we love and that we think you will, too. We may receive a portion of sales from products purchased from this article, which was written by our Commerce team.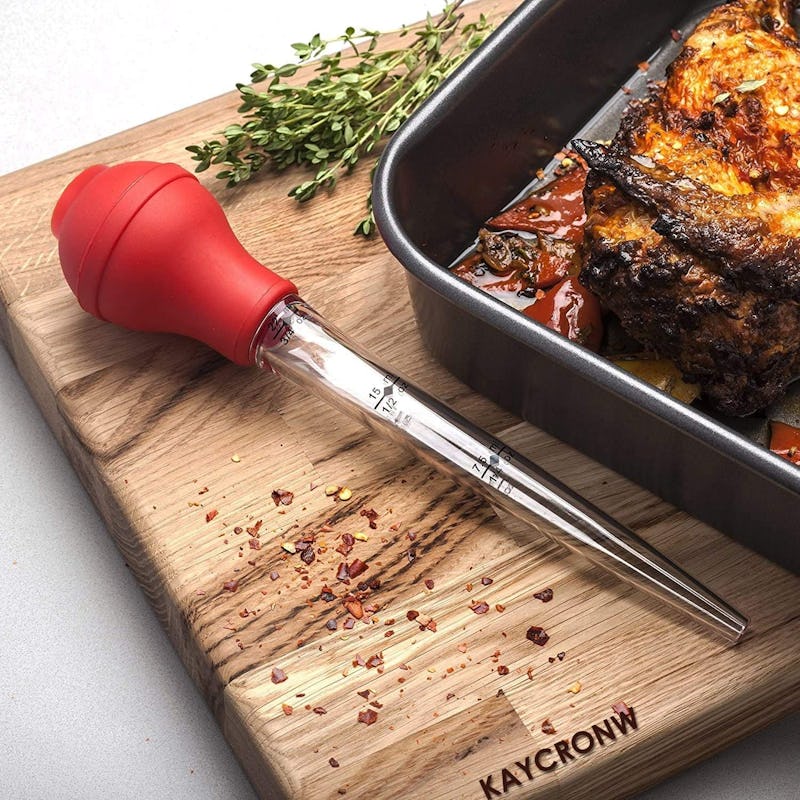 Oven roasting creates beautifully browned meats and vegetables, but all too often, moisture that's released collects in the pan. And, while there's some debate around the effectiveness of basting as a technique, a great turkey baster allows you to recapture these flavorful juices, transfer hot liquids safely, and infuse foods with marinades and sauces as they cook. Here are a few things to keep in mind as you shop for the best turkey basters.
While all turkey basters have a similar design — a flexible bulb attached to a tapered tube — they don't all perform the same. Some basters leak, which is messy and potentially dangerous. Minor dripping can be expected, but look for one whose bulb attaches securely to the baster to create an air-tight seal.
The bulb should be made from heat-resistant silicone, and you can find basters with tubes in stainless steel, plastic, and tempered glass. Make note of the baster's capacity and how much heat it can tolerate. If you'll be using your baster on a grill, look for one that's long enough to keep your hands at a safe distance. Keep in mind: Cleaning your baster between uses is important for preventing bacteria, so it can be helpful to get one that comes with a brush or is dishwasher-safe.
In a hurry? These are the best turkey basters.
1. The Best Overall: Norpro Deluxe Stainless Steel Baster
2. The Runner-Up: OXO Good Grips Turkey Baster
3. The best Non-Drip Turkey Baster: Tovolo Angle-Tipped Dripless Baster
4. The Best Value: Kaycrown Turkey Baster Set
Whichever you choose, the best turkey basters will help to intensify the flavor of your recipes — whether you're cooking on a weeknight or a holiday. We've rounded up our top picks below.
This article was originally published on